Captains lead boys' soccer team to record season

Nov 27, 2013 06:08AM ● Published by Community News Service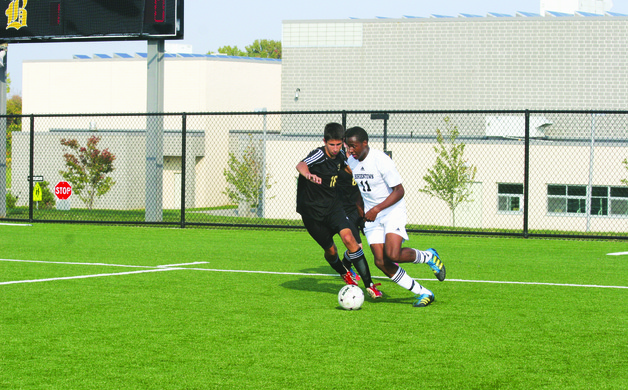 Michael Okafor battles with a Burlington Township player during a home game on Oct. 4, 2013. The Scotties won 2-0. (Staff photo by Samantha Sciarrotta.)
By Samantha Sciarrotta
Bordentown Regional High School boys' soccer head coach Michael Brennan says if being a good athlete were an easy option, everybody would choose it. It's not a switch his players can turn on and off; it's the extra work that makes the difference between good and great.
It's also something his players have come to recognize in recent years. Brennan calls his players, specifically senior co-captians Michael Okafor and Robert DiPierro, among the most disciplined he's ever coached.
"They've both been part of the varsity picture for four years, and they're just extremely hard-working kids," he said. "They have a lot of goals for this season, as do a lot of the kids. Every day, they really do whatever they can to work towards meeting those goals. This is not an easy sport to play if everything isn't met preparation-wise, and they kind of thrive on that. It's not the fun part of the sport, but they're two of the kids that really grasp the understanding that the more you put into preparation, the better off you're going to be in the long run."
The Scotties, as of press time, currently sat at 11-3 with four games left in the regular season. Brennan attributes this entirely to the work his team put in during the offseason.
Brennan organizes summer workouts for local high school and college soccer players. They meet at different locations to practice and participate in conditioning drills.
The catch?
The only convenient meeting time was 7 a.m.
"You get to find out really fast how dedicated a 16- or 17-year-old kid is, if they're willing to get out of bed and work, work, work at 7 a.m. when a lot of kids don't see the a.m. hours period," Brennan said. "Waking up at 6 to get to a training field at 7 is a lot for these kids, but we had a handful of kids participate this summer."
Several Bordentown players attended the sessions, but none were as diligent as Okafor and DiPierro. Brennan can only recall one or two days when he was there and the two weren't.
For the boys, though, it was all for the love of the game.
"I'm motivated because I want to play college soccer," Okafor said. "Waking up in the morning was hard, but it was fun. All of us, we were not fit. We had like two people throwing up during preseason. That's why we're where we're at right now, all of that hard work."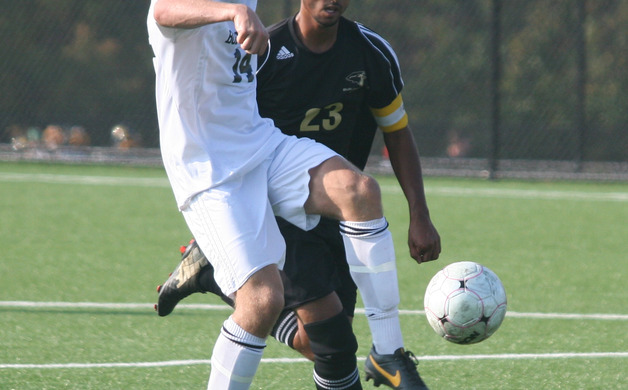 DiPierro said getting to play in an organized setting every day was worth the early wake up call.
"Once you got out there and touched the ball, since we love soccer, it started to get fun," he said. "We had a lot of fun doing 3-v-3s and a little conditioning here and there. It gives an additional weight to it. We do different things here as a team, but the summer practices were just individual hard work helping us get better."
The presence of the college athletes, some of whom play for Division I schools, was an added bonus. Brennan said it was hard not to learn from the older men just by watching them.
"We had a lot of college kids come and help us out, Okafor said. "It was a lot of fun. They gave us a lot of tips, like what we should do in certain situations. They're like our role models. We're trying to be like them."
The influx of hard work allowed the Scotties to accomplish one of their main goals set at the beginning of the season. For just the third time in school history, they qualified for the South Jersey Coaches Association tournament, a collection of the top 16 teams from Trenton to Cape May.
"It is not something that small Group I and Group II schools typically qualify for," Brennan said. "We tend to be a school that bounces up and down in between the two. We're currently the smallest Group II school in the section. It's a big task to be able to qualify for that."
Okafor and DiPierro also said they hope to win their conference, win their group, and host a handful of playoff games.
Brennan said any one of those goals is defintiely possible due to his two captains and their teammates.
"It's really exciting," he said. "You get to learn a lot about people. They are willing to work so hard for the group, and they know the big reason they do all of this is to help the team get better. I love it. A lot of kids say they want to get better, but these guys mean it."
Sports
,
Schools
brhs
soccer