Model trains bring out 'kid in everyone'

Dec 02, 2013 05:55AM ● Published by Community News Service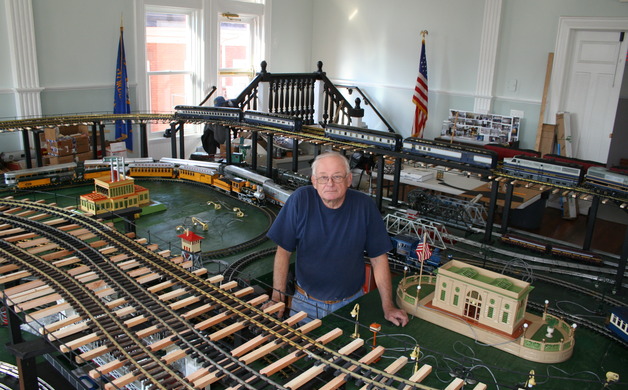 Bordentown City commissioner Zigmont Targonski stands in the middle of his model train display in Old City Hall Oct. 29, 2013. The annual event is set to open to the public Nov. 29, 2013. (Staff photo by Lexie Yearly.)
By Lexie Yearly
With noses pressed up against plastic guardrails, some children watch, mesmerized, as model trains zoom past a hulking power plant and across the Hell Gate bridge.
Others scamper around the displays, trying to keep up with the locomotives chugging steadily along winding tracks. And without fail, youngsters can always be found bouncing alongside the controls of Thomas the Tank Engine, a crowd favorite that roams the snow covered landscape of a tiny, twinkling village.
The annual Holiday Train Display at Old City Hall has become a tradition for community members since it began four years ago. Set to begin Nov. 29, both the upstairs and downstairs of the historic building in Bordentown City are set to be filled with model trains zooming around more than 10 different displays, each with unique themes and designs.
In late October, Bordentown City mayor Joe Malone and commissioner Zigmont Targonski had already spent the past three weeks setting up their displays. The plywood boards had been measured and assembled, piles of boxes full of trains and accessories mostly unpacked, with hardware and tools dispersed around the upstairs room of the building.
Targonski and Malone will have their sets on display, as well as train displays by Bob Liberman, Targonski's wife Nancy and Bordentown City resident Mikki Quinn, who began participating in the event's second year.
The event is free, and all the trains on display come from the participants' personal collections.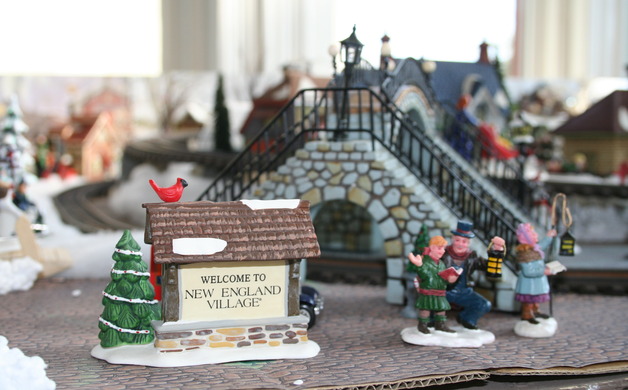 The largest display is situated in the center of the upstairs room, this year with an added level of trains elevated around the perimeter. That display features Targonski's trains, complete with bridges, lighting and model-size factories and buildings. For the past three weeks, Targonski and Malone continued to tweak the displays, and said they still had plenty of work to do just a few weeks away from the event.
Targonski's collection, he said, has slowly been eating up space in his own home — only a fraction of his collection actually makes it to Old City Hall every year, and his setup has become so extensive that he doesn't even have time to construct any models in his own home.
While he's always had an interest in trains, Targonski didn't seriously begin his hobby of collecting until about six years ago.
"(He started collecting) as a result of me bringing down an old steam locomotive that my father had," Malone said. "We were down on the porch of the Yapewei Yacht Club … And all the sudden, he buys all these Buddy L trains."
On that porch is where the idea for the show was born, too. The event began as just a single day on Thanksgiving weekend, where Malone and Targonski displayed a few of their favorite trains.
"We didn't know if anybody would show," Targonski said. "And then the line was down past St. Mary's Church. It was a cold, snowy day, but everybody waited in line."
The pair first began the event for two reasons.
"Number one, we like to be big kids," Malone said. "But the real thing is, is to bring people to town. For them to get to understand what the town is, go to the restaurants, enjoy their holiday season with us, go to the holiday tree lighting, and make it sort of a community event every year. To share with people in the community some things we enjoy."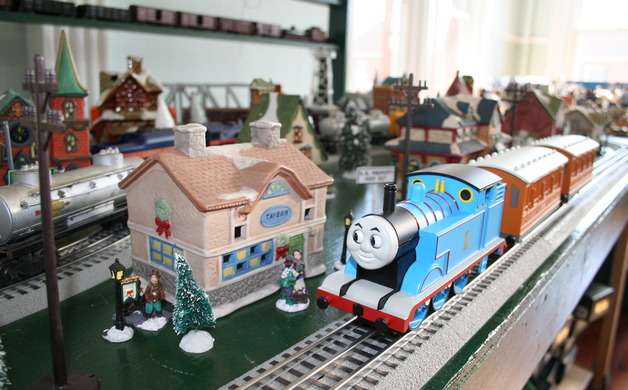 For Malone, the sound of a chugging steam engine reminds him of his favorite pastime, a tradition passed on from his father, to Malone, to now Malone's son. Malone's father used to take him on steam excursions, mostly in the Western U.S., when they would go and ride steam trains. That, Malone said, got him interested in real trains just as much as model trains.
Many of his model trains were his father's, Malone said, though he tends to display some of his newer sets at the show so as to preserve the most sentimental pieces.
His two displays are laid out on neighboring tables: the first, the popular Thomas the Tank Engine, where he even lets kids take turns sitting at the controls. The second display featured the tiny town of Bordentown, surrounded by a backdrop of neighboring cities and sites. Some of those sites are long gone, preserved only in the photos Malone has enlarged, while others still stand today.
The same is true of the tiny buildings scattered throughout Malone's display, many of which are older businesses that have come and gone in Bordentown over the years.
Even the location of the show draws some nostalgia for Malone as he considered the work done thus far to restore the historic building.
"My grandfather was the city clerk in Bordentown back at the turn of the other century," Malone said, "so to walk around here and see how the building is getting fixed up, it's personally very rewarding to see it."
Despite their own interest in model trains, Malone and Targonski will be the first to say that the most rewarding part of the annual event is to see the looks of joy and amazement on kids' faces when they walk into the room.
"I think what we do here awakens the hobby and promotes it to a lot of kids," Targonski said, who noted that collecting model trains is an easy and inexpensive hobby for a family to adopt.
The excitement of the show's first year was contagious, and convinced others to join the next year — and each year since.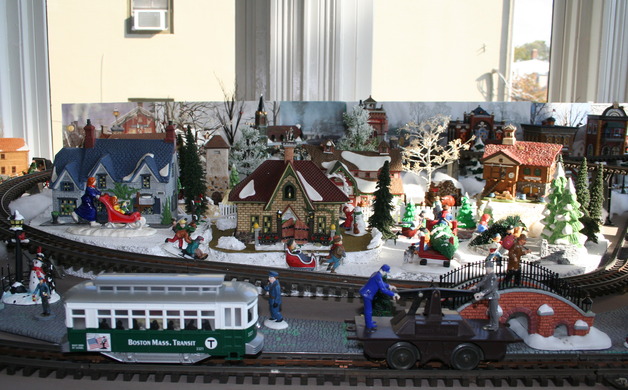 After Nancy Targonski had helped her husband and Malone with overseeing the event, she decided it was time for her to get on board. After all, she'd also had an interest in trains as a kid.
"My sister and I had trains when we were kids," Nancy said. "So I've been interested in it, but it's kind of gotten renewed since Joe and Ziggy decided to start this program."
She designed a trolley display, and then a wintry New England village display. This year, her newest creation is a replica of Seaside beach and boardwalk, complete with rides, games, ticket booths and a sandy beach crowded with sunbathers. She also has photos and newspaper clippings to put on display, including a story in the Asbury Park Press from the 1950s about an earlier boardwalk fire.
"It's a lot of work, but we do get a lot of enjoyment out of it, too," Nancy said. Quinn also had to get involved after the show's first year — she said it evoked memories of the fascination of trains she had as a kid.
Now, Quinn takes over the downstairs level of Old City Hall with her Candyland and Polar Express displays.
She designed the Candyland layout to go with her granddaughter's "girl train," which has different pastel-colored cars. She began purchasing cars for a second train, with each boxcar representing a different candy. She's also added a more realistic candy factory section, with plans to make a Hershey's factory and candy billboards.
"Everybody seemed to get a kick out of it," Quinn said. "I thought it was cute when 20-something year-olds would walk through the door and go, 'oh my god.' That was reaching the kid in everybody."
The train show is free to the public. It is set to open Friday, Nov. 29, and will remain open every weekend until Christmas. It is located at Old City Hall, 11 Crosswicks St. in Bordentown City.
Community
,
Arts+Entertainment
train
toys