BCC partners with FirstBook to provide books for children

Dec 02, 2013 07:48AM ● Published by Community News Service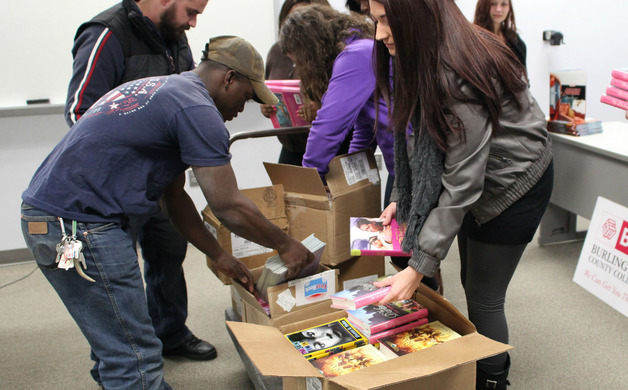 BCC students in Kidane Yohannes' English 101 class sort through books donated by the African American Chamber of Commerce of New Jersey as part of the college's First Book initiative. (Photo by Traci Soto).
Burlington County College is seeking groups in the county serving military, disabled and low-income children to apply to receive new books at no charge as part of its effort to deliver 40,000 books to children in need.
BCC is the first college in the nation to partner with First Book, a nonprofit enterprise that provides new books and resources to schools or programs that work with kids in need as part of a community service initiative aimed at improving reading skills and education gaps.
Students in Chris Gazzara and Kidane Yohannes' English 101 classes are researching organizations and groups that would qualify for free books under this initiative.
The students have also started sorting through 500 books, donated by the African American Chamber of Commerce of New Jersey, to help them prepare for the 40,000 books set to arrive on the Mount Laurel campus this spring. As part of the initiative's service-learning component, BCC students will spend their spring break sorting through all 40,000 books, donated by local publishers and worth nearly $400,000.
Groups are eligible if 70 percent of the children they serve are from low-income families or if they serve children with disabilities or children from military families. Programs serving kids from multiple groups are also eligible to sign up. Final eligibility is determined by First Book.
BCC is also partnering with the African American Chamber of Commerce of New Jersey and New Jersey's secretary of higher education Rochelle Hendricks in hopes to establish a model for the rest of the state to follow.
More information is online at bcc.edu/firstbook.
News
,
Schools
bcc