Green Team accepts Sustainability Champion award

Dec 03, 2013 07:14AM ● Published by Community News Service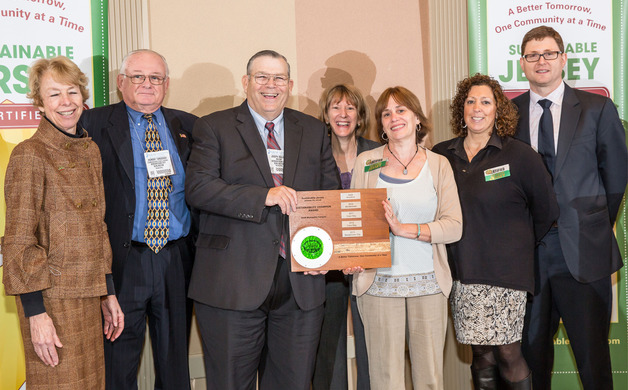 Bordentown City Green Team accepts Sustainability Champion award from Sustainable Jersey in November. Pictured are Sustainable Jersey Board of Trustees chair Pam Mount, Bordentown City Commissioner Zigmont Targonski, Bordentown City Mayor Joseph Malone, Sustainable Jersey co-director Donna Drewes, Bordentown City Green Team co-chairs Cathy-Elliott- Shaw and Cindy Gallagher and Sustainable Jersey co-chair Randall Solomon.
Sustainable Jersey awarded its silver certification to the Bordentown City Green Team, who accepted the award on behalf of the municipality.
Bordentown City also won the Sustainability Champion award in the Small Municipality category. The Green Team accepted the award at the New Jersey League of Municipalities Conference in November.
The Sustainability Champion award recognizes municipalities that have scored the most points in the Sustainable Jersey certification program in three population categories.
Bordentown City exceeded the minimum requirement of 150 points needed for certification. The municipality earned 390 points.
The Bordentown City Environmental Commission and Green Team volunteers spearheaded many activities this year that contributed to Bordentown City's successful Sustainable Jersey application. The commission earned points for the fourth annual Green Fair, rain barrel and backyard composting workshops, formation of a creative team, a Lighting Fair, education and outreach about the negative impacts of vehicle idling and establishment of no-idling zones within the City.
Currently, 399 of New Jersey's 565 municipalities are registered with the Sustainable Jersey program.Twelve have a silver certification.
More information is online at sustainablejersey.com.
Community
environment