Local artists to display work at First Presbyterian Church

Dec 19, 2013 06:43AM ● Published by Community News Service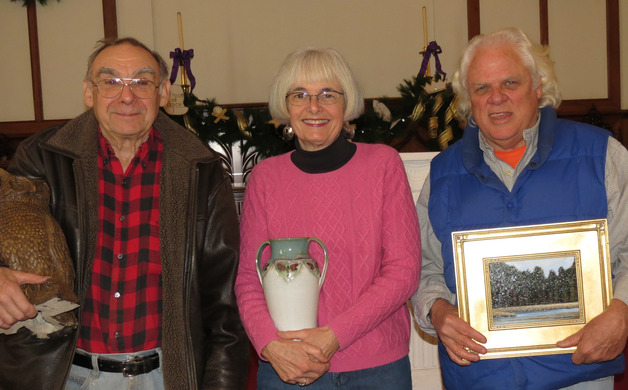 Bordentown resident Rich Gerster, Marsha Dowshen and Al Barker are set to display their work at the First Presbyterian Church of Bordentown Art Exhibit and Sale.
First Presbyterian Church of Bordentown is set to host its first Art Exhibit and Sale featuring local artists.
Proceeds from the sale are set to benefit church ministries.
The sale features artists from New Jersey and Pennsylvania, including Bordentown residents Al Barker, Marsha Dowshen and Rich Gerster.
Barker paints landscapes, seascapes, wildlife and tidal marshes characteristic of his home state, where his fine art career has thrived for 30 years. He paints with oil and watercolor. Barker also does etchings.
His specialty is miniature painting. Barker has entered numerous National Miniature Society exhibitions and his work can be seen across the United States.
While working on a Bachelors of Fine Arts in painting at Rhode Island School of Design, Dowshen discovered her love of clay. After graduating RISD and attending graduate school in London, she started experimenting with the medium.
Dowshen combined the craft of wheel throwing to create objects that could be both useful as well as pieces of art. She also developed unique glazes and application techniques. Her functional and decorative-ware and mosaics are part of private collections world-wide.
Gerster received a degree from Temple's Tyler School of Fine Art and has achieved prominent status in the local field of sculpture. After having apprenticed with Professor Joseph Brown, sculptor in residence at Princeton University, Gerster taught sculpture at several local studios and at the Johnson Technical Institute of Sculpture. Now, he works independently on commission at his private studio.
Other artists include Kathie Ackerman, Marlene Craig, Lara Darpino, Barbara Elliott, Diana Gawlinski, Jane Lawrence, Robert Lipartito, Tom Kimball, M. Naperski, Abigail Pelliteri, S. Pindar, Carol Risko, Claudia Teal, Pat Todd, Zina Umyn, J. VanDer Ree and R. Viola.
An opening reception is scheduled for 5:30 to 8:30 p.m. Feb. 7. The show is set to continue 12 to 3 p.m. Feb. 8 and 9.
Bordentown Presbyterian Church is located at 420 Farnsworth Ave.
For more information contact the church office at 609-298-1243.
News
,
Arts+Entertainment
exhibition