Dog park to give pets room to run

Dec 23, 2013 06:39AM ● Published by Community News Service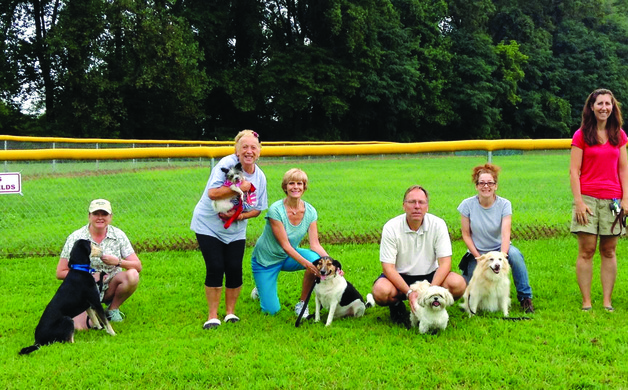 Tracy Antozzeski, Shirley Chant, Linda Haun, Bill Popko, Jill Popko and Barbara Ring Eget pose with their dogs at Northern Community Park.
By Jessica Talarick
Deputy Mayor Jill Popko was walking her dog in Northern Community Park when she noticed a sign reading "no dogs on ball fields."
The park's baseball fields were a popular spot for the township's dog owners to let their furry friends run free. However, some owners neglected to pick up their dogs' waste, making it an unsafe environment for the township's athletes. Hence the sign.
Popko realized the township lacked a place for dogs to play without a leash. "When I was walking my dogs, I would hear people talk about wanting a dog park," Popko said. With piqued interest, Popko began researching dog parks. She discovered the Bordentown City Dog Park group on Facebook, started by Tracy Antozzeski.
Antozzeski, who walks dogs for several city residents, also thought her neighborhood lacked a place for dogs to play.
Despite having a large backyard for her own dogs to run around in, Antozzeski said most of her clients do not have space on their property their pets to exercise, and the closest dog parks are in Mercer County. She started the Facebook group to see if the city's dog owners were also interested, and then heard buzz of a dog park in the township.
"We seemed to have the same idea at the same time,"Antozzeski said. Popko reached out to Antozzeski via the social networking site and asked for help. Antozzeski, who is a founder of the James Tolin Memorial Fund, agreed to assist with organizing fundraising events.
With the support of the city and township dog owners, Popko began to set the foundation for a park. She approached Public Works director Dean Buhrer, who had researched dog parks. Buhrer handed her a folder filled with documents about dog park rules and regulations; it also contained a grant application from a pet food company. Popko decided to apply.
In October, she received word that the township won The Nutro Company's Room to Roam Grant for $2,000 and logged onto Facebook to share the news. In addition to the grant, Bordentown resident Roger Plew donated $1,500 to build the park in honor of his dog, Hanna, who passed away. The park will be named Hanna's Bordentown Dog Park.
HomeDepot has also signed on to help with building the park. Popko said the park will be built on an empty field near the baseball field, behind the tree line.
The 100 by 150 foot park will be divided into two sections: one for small dogs and one for large. A water fountain will be installed in the center and will be accessible to dogs on both sides of the park.
Popko said plans for the park may include a waste disposal system. If funds permit, the township will build an underground septic system that will allow owners to flush their dogs' waste away. Popko said she hopes this system will alleviate the waste problem that inspired the signs on the baseball field.
Additionally, the park will feature exercise equipment like teeter-totters and tunnels, and benches for owners.
"I am very excited about the dogs having the place to run a socialize in a safe setting," Popko said. She expects the park to open in April.
Once Popko breaks ground on the park, Antozzeski plans to start organizing fundraising events to enhance the area with agility courses and other equipment. Antozzeski changed the name of her Facebook group to Bordentown City Dog Lovers, which has more than 100 followers. She said she updates it weekly with photos, mainly from her volunteer work with a transport group that brings dogs from the south to New York and New Hampshire.
The page has helped bring attention to animals who need homes. Antozzeski said one follower posted information about a stray dog in the area. Group members banded together to catch the dog, which was later adopted by a local resident.
She said in the future she would like use the page to set up events for dog lovers and their pooches to meet up.
Community
,
News
pets