Burlington County College freshman leads men's soccer from the goal

Jan 09, 2014 06:21AM ● Published by Community News Service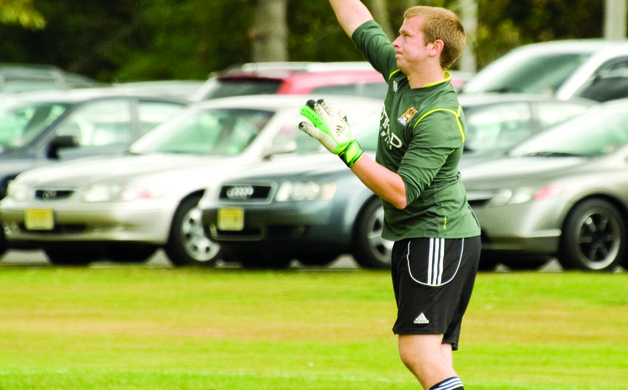 Andrew Morris makes a save for Burlington County College earlier this season.
By Samantha Sciarrotta
Andrew Morris went into his freshman season with the Burlington County College men's soccer team expecting to be a backup. He finished it as a starter in the first game of the National Junior College Athletic Association championship tournament.
Morris, a freshman and 2013 Bordentown Regional High School graduate, came to BCC behind starter John Richards, but after Richards was ousted from the second game of the season with a red card, Morris was forced to step in. He entered the game in one of the most stressful situations a goalie can face: his first task was to stop a penalty kick. Adding to the pressure, he entered in the middle of a heated game against rival Mercer.
"It was a lot of pressure, but luckily I had a really good sophomore defense that really helped me through," he said.
Tense situations, though, are Morris' specialty.
"Andrew's best performances have always come in the most stressful situations," Bordentown head coach Michael Brennan said. "Some people just have that knack to thrive in those spots. The more difficult the situation, the better Andrew plays. We have a saying: 'in crunch time, you either own the moment, or let the moment own you.' Andrew always owns the moment."
Burlington won, 2-0. Richards was out for four additional games, so Morris filled the void until he returned. Head coach Craig Dewar liked what he saw, though, so he had the two keepers share the starting role for the remainder of the season.
"Andrew did a great job coming in as a freshman goalkeeper," Dewar said. "He made the transition from high school to college really well."
Morris amassed six shutouts on the season—not bad for a kid who was a defender until middle school.
"For my club team, our goalie got hurt and we needed a new one, so I just stepped in," he said. "After that, I kept playing."
He was a natural from the start. Morris said he had quick hands, an ability to catch the ball and a taste for high-pressure situations, three key skills for any goalie.
Once he reached high school, Morris said he started to take the position more seriously, aided by Brennan.
"He was a goalie trainer," Morris said. "He really got me from being a good goalie to one that could play in college. He's been through a lot, so I heard a lot of stories from him. He really got me ready mentally and physically. The training has really helped a lot. It's really good to have him as a trainer."
Before joining the BCC team, Morris trained with Brennan and other local college and high school players over the summer. Playing with DI and DII athletes as well as some of the top high school players in the area, Morris said, helped prepare him for his inaugural college season.
"It was good because he gets a lot of the best players in the area, and he gets a lot of the best college players in the area," Morris said. "It's good training. We train a lot of kids from Rider. I think a kid from Lafayette came out. Mr. Brennan used to be Rider's goalie coach, so he definitely helped me out a lot."
It turns out Morris had a lot to prepare for. He and the BCC squad used to joke at the beginning of the season about advancing to the NJCAA national tournament in Texas. That "joke" became more of a reality with each win, though. The Northeast District Championship tournament in Syracuse, N.Y.was the team's true test. A finals appearance would earn the Barons their tickets to Texas, as both the champion and runner-up teams advanced to nationals.
Sure enough, after wins over Bryant & Stratton (N.Y.) and Essex County, the team found itself in the regional final, where it eventually lost to ASA College (N.Y.).
"Once we made it to the finals for the region, and we were one game from nationals, that's when reality set in," Morris said. "We could actually do this. That's when we got really serious. That week before nationals was crazy. It was so hard to concentrate in school."
It was the first time in 17 years the school reached the national tournament. Morris was in goal for the first game, a 4-3 penalty kick loss to Yavapai (Ariz.). BCC didn't advance out of group play, but Morris said he and the team were just glad to be there.
"It's good exposure, especially as a freshman," he said. "Hopefully, we'll do it again next year. I think that the level of talent that was at the tournament will help me wherever I go after BCC. If we make it to a tournament like that again, I'll be ready for it."
Morris still has another year at BCC and is looking to keep the momentum going and maybe even improve on the end result. He plans on playing soccer after he graduates and is currently in touch with the University of New Haven.
Wherever Morris goes, Brennan said success if almost a given. When Morris joined the Bordentown squad as a freshman, the coach described him as "a fearless shot stopper" who needed a little fine-tuning. Soon, he realized it wasn't all about the diving saves.
"Andrew began to study the position and improve his ability to snuff out opportunities before they could turn dangerous," Brennan said. "He also dramatically improved in dealing with crosses in the air. The man I get to train now is much more of a complete GK."
Sports
soccer
bcc