County clerk inspired by Fieldsboro roots to help others

Jan 16, 2014 05:49AM ● Published by Community News Service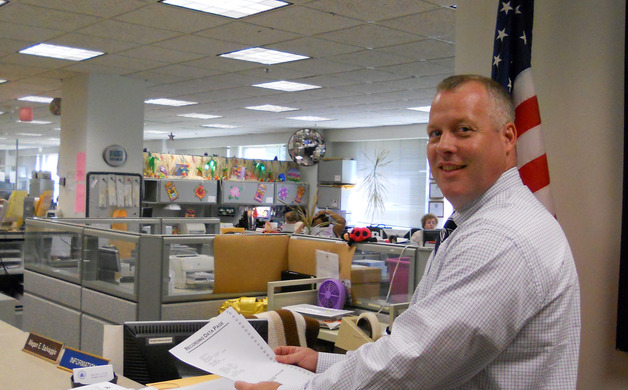 Burlington County Clerk Timothy Tyler has lived in Fieldsboro his entire life. He was just re-elected to a second term as clerk in November 2013.
By Ryan S. Murphy
The Burlington County Clerk's office may not be the most well known or glamorous political institution in the area. But for County Clerk Timothy Tyler, the position is not about glamour — it's about providing a vital service to the community.
"We're that service that you don't know about until you need it," Tyler said. "It's when you have a flood and your insurance company says they need a copy of your deed. You know that you can come to the clerk's office and get a copy of that deed."
Tyler was re-elected as county clerk this past November, along with his running mates Freeholder Director Joseph Donnelly and the Sheriff Jean Stanfield. But Tyler's sense of duty towards his community started at an early age, growing up in the small town of Fieldsboro.
"I knew everybody in town, I can tell you that," he said. "We actually have seven streets."
His father, Edward Tyler, was mayor of Fieldsboro for nearly 28 years until his death in 2011. For many people, he was considered the face of Fieldsboro, but he was also a controversial figure. In 2003, he fought to ban the display of yellow ribbons, in support of American troops, on public property in order to ensure that more offensive symbols would not be used either.
"He showed me that people don't agree all the time, but when you make a decision, you need to be able to explain it and listen to others' opinions," Tyler said. "I watched him take 150 phone calls from people who did not agree with him, but he took every single call. It was inspiring because he wasn't just preaching. He was walking the walk."
It was around that time that Timothy Tyler decided to fill a vacant seat on the town council, and said that his father's perseverance was a major factor in that decision.
"He did expose me to a thought process of helping people, my neighbors," he said. "I remember putting out generators for people during a snowstorm, shoveling sidewalks. That's what I grew up doing. When I shovel my sidewalk, I shovel my neighbor's sidewalk."
Tyler still lives in Fieldsboro; the only time he lived elsewhere was when he attended college at what was then Baptist College, now called Charleston Southern University.
"I actually studied business there and also a bit of economics and history," he said.
Tyler pointed out that history is an important aspect of the clerk's office. "This is a fantastic office for history fans," he said. "There's such a great history in what's kept here. I can track a piece of property back to the late 1700s. It's a wealth of knowledge."
Before he officially got into politics, Tyler was a special education teacher at a juvenile detention center. He did this for 17 ½ years, continuing to teach while serving on Fieldsboro's council.
"It's a very humbling place because unlike public schools, where everyone is expected to succeed, none of these kids are expected to succeed. So when you get that one kid who gets something as simple as the next math problem and the light goes on in his head, it's a very rewarding experience," Tyler said.
Tyler believed his teaching experience helped him prepare for politics as well. "When you turn your back in the classroom, the kids are trying to get away with stuff," he said. "And when you're not paying attention in politics, someone's trying to take advantage of you."
He had to give up his teaching position when he was elected county clerk in 2008, which he said was a difficult decision. However, he strongly felt he could bring something new to the clerk's office.
Tyler can easily explain the functions of the clerk's office, something many people may not know.
"We look at the office as three separate entities," he said. "The first major function is recording land deeds and mortgages. That's a big revenue generator. We also tally the results on election nights. And we register businesses, passports and things like that. Our entire office has been cross-trained in at least two of those three areas."
In a controversial decision, one of Tyler's first acts as clerk was to reinstate the previous deputy clerk Wade Hale. At the time, Tyler was a Democrat and Hale was a Republican.
"I believe it's not just one party that holds all the answers. So reaching across party lines, so to speak, I thought it would be great for the clerk's office," Tyler said. "And it turns out that our working relationship is great now. It didn't help me with my party though."
Deputy clerk Hale agreed that despite the initial bipartisan nature of their work together, they have had a successful collaboration over the past five years.
"We don't always agree on everything, and we get some spirited discussions going back here, but it's easy when we're all working to make this office the best we can make it… It's a simple matter of respect that's evolved over the time we've worked together," Hale said. "I don't think we philosophically disagree on much of anything."
Eventually, Tyler left the Democratic party and is now a Republican.
Some of Tyler's accomplishments as clerk include updating the land records management system with modern technology, as opposed to the 1980s technology that was in place before. Tyler's office has also reconstructed the county's website to make it more accessible and user-friendly. They also have some more ambitious long-term goals.
"We're undertaking a huge project, back-scanning all the documents in here so that we can make them available on the website," Tyler said. "That way we can send some of the older books over to records retention and do some restoration on them. That's the plan over the next five years, maybe ten years if necessary." Hale believes Tyler has earned the respect of the community through his hands-on approach.
"It's all about the customer, the constituent…When you walk into this office, you'll see him at the front counter, directing people to where they need to go," Hale said. "He's a hands-on kind of guy…I'm very fortunate. He's one of the best bosses I've ever worked for."
According to Tyler, the respect is mutual.
"I have a great staff," he said. "I would say my deputy clerk is the best in the entire state…Everyone in this office knows his or her job, and I'm able to bring my little skill set to make this office better."
Tyler said he believes one of the most important parts of his job is being available to the community as much as possible.
"I take this job very seriously," he said. "I make sure I'm here Monday through Friday. I think the people want politicians that show up. They want to walk in the clerk's office and see the clerk there."
Community
burlington county