Papp continues family bowling legacy

Jan 23, 2014 05:46AM ● Published by Community News Service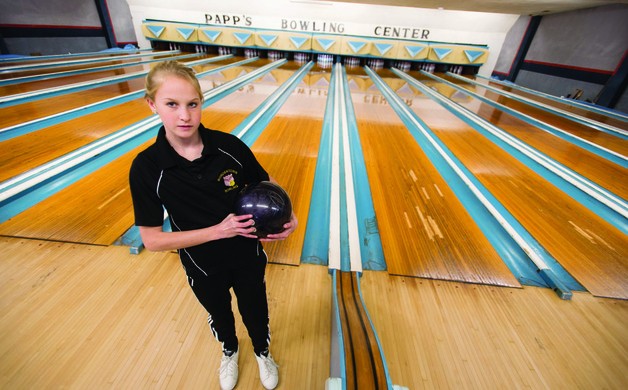 Bordentown High freshman Morgan Papp, whose grandparents own Papp's Bowling Center, made a big impact on the Scotties' bowling team this year. (Photo by Albert Rende.)
By Rich Fisher
As little kids, most folks would visit their grandparents for a day and maybe visit the playground or the zoo or the circus.
Not Morgan Papp.
Morgan's grandparents, Betty and Andy "Babe" Papp, have owned Papp's Bowling Center on Route 130 since 1964. They live above their business, and Morgan didn't want to go anywhere but downstairs during her visits.
"My parents would bring me over there before work," Morgan recalled. "They would babysit me for a day and I would bowl every day I was there."
Like most little kids, Morgan started by just heaving the ball down the lane with two hands. But Andy — whom Papp refers to as "Pop Pop" — saw her potential once she started throwing with one hand.
"She just seemed to have a natural form, a natural talent," Andy said. "There was no awkwardness at all with whatever she did."
And although she didn't marry herself to the game of bowling, Papp has become one of the top bowlers on another outstanding Bordentown High girls' bowling team in just her freshman year.
The senior-laden Scotties were 4-0-1 after their first five matches. Senior Nicole Weaver was leading the way with an average over 190, while Papp was right behind with an average in the 180s. Seniors Michelle Haltmeier, Arianne Bascara and Diamond Davis were also major contributors.
After an autumn of playing varsity for the Scotties' soccer team, Papp had the option of bowling, playing basketball or doing both. Being that it was her freshman year, she wanted to get firmly entrenched in the high school routine, and chose to bowl even though she had not played in a league since age 11.
"I've been doing both since I was little," she said. "I just figured maybe I'd have a little bit more fun with bowling."
Not to mention she still plays AAU basketball as point guard for the Hamilton Cougars, so she's not really giving up the sport.
"It would have been too much to do both my first year in high school," Papp said just prior to Christmas. "I'm glad I did it. It looks like it's gonna be a good year. Last year they had good players and there are a lot back. We're undefeated so far and we have really good players on the team."
Papp also recruited a couple of her freshman buddies, Debra Jones and Haley Kohfeldt, to join the team.
"It's always more fun when you have your friends there," Papp said. "I recruited a couple people that are my friends and they are loving it."
It didn't surprise Andy that Papp got some girls to follow her. She was voted eighth-grade president at MacFarland Intermediate School and is now the ninth-grade president at Bordentown.
"She's popular," Andy said. "People like her, and she loves talking to people. Even when she goes to other matches, they say 'You have an adorable granddaughter.' Little comments like that make you feel good. And she talks to players on the other team, she talks to everybody."
Papp is the latest high school performer representing the First Family of Bowling in Bordentown. Andy's two sons and daughter all bowled, and Papp's uncle Ronnie Papp was on the pro tour for numerous years, won three state titles and nearly won the Masters Championship one year.
Several family members are in the Mercer County Hall of Fame. Papp's older brother Austin, now an engineering major at Rowan University, graduated last year after an outstanding four-year bowling career with the Scotties.
Now it's Morgan Papp's turn, and like her brother, she is getting help from Pop Pop.
"My dad bowls in leagues and he's a big supporter, he goes to all my matches," Papp said. "My Pop is the one who helps me the most. Not only does he help me during practices, but after practice I'll stay there for an hour or so, and he'll give me tips."
Because the Scotties bowl their home matches at Papp's Bowling Center, Andy and Betty are fans of the entire program and support them at home and on the road. But Andy has been paying extra attention to Morgan since her youth.
He says some of the most important aspects in bowling are learning the hand positions on the ball for different releases, where a person should stand in trying to pick up spares, and the approach to the line before releasing. He puts a special emphasis on the latter.
"It's all about timing," he said. "The walk up to the line, swinging the ball in the hand. The timing of the arm swing and the footwork is so important. Morgan has an outstanding way she walks up to the line.
"You can do a three, four or five step walk–up, and she is doing the four step. Her form is excellent, her timing and swing is excellent and she's learning how to develop even further. She throws a hook but she's learning how to throw an even better hook and rotate the ball even better. That takes a lot of time, it's not something you learn overnight."
What amazes Andy is that Papp has become so good without dedicating a ton of time to the sport.
Papp said she stopped bowling in leagues because it would have been too much of a strain.
"In middle school I was doing school soccer and basketball, and also doing AAU basketball," she said. "It was easier for me to just go on my own time and bowl with my Pop Pop."
Papp said her first big memory of bowling was getting her own ball in fourth grade. Around that time she graduated from throwing a straight ball.
"I was always excited, saying 'When do I get to throw the hook?'" she said. "That was a real big thing for me."
With all her grandfather has taught her, one of the things that has left the biggest impression is the mental aspect.
"He told me you just have to focus," she said. "When you're on the approach, you have to have everything go through your mind about what you're gonna do. You just can't throw a ball, you have to think about it every time."
Papp is unsure about her future, whether she will continue to just bowl, or if she might play basketball as well.
"I would never ask her to just bowl," Andy said. "She's a good basketball player too. She could do anything she tried.
"She can be an outstanding bowler if she put the time into it; anyone could who is athletic. It would just take a lot of work. You only get out of it what you put into it."
As the owner of a successful business for 49 years, Andy knows all about putting work into something.
Asked if he has any big plans for a 50th anniversary celebration, Andy said he hadn't thought of anything yet. It was jokingly suggested that he should have Papp come in and sign autographs.
"Yeah," he said with a laugh. "That might be nice."
Sports
,
Schools
brhs
bowling