Staff helps Salon DSK owner achieve dream

Jan 31, 2014 05:43AM ● Published by Community News Service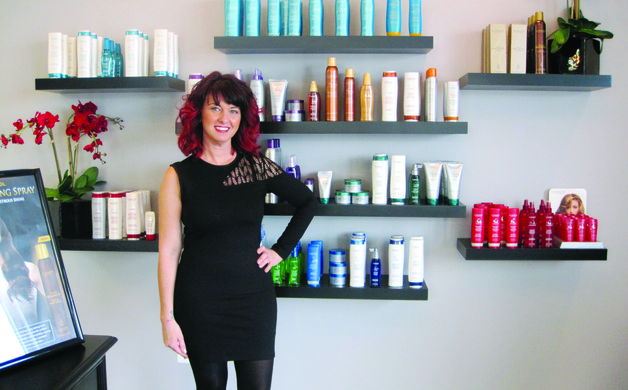 Dora Sue Kakarides stands in Salon DSK, which she opened last October.
By Lisa Zola-DeLibero
It has been said that dreams can last minutes, hours, days, or a lifetime. When Dora Sue Kakarides, the owner of Salon DSK, decided to follow a four-year dream, it was her staff who pushed her along, believing in her every step of the way.
Kakarides, a graduate of Nottingham High School in Hamilton, Mercer County Vocational School and The Paul Mitchell Academy in Ewing, knew as a kid that she wanted to do something pertaining to hair and makeup. She attended many summer camps with all sorts of activities, and realized her favorite activities of all were in the cosmetology camps.
When she moved to the area 14 years ago, Kakarides believed that a new place was needed for women to get their hair styled. She decided to pursue this idea a bit further four years ago.
"I wanted my own place that would be hip, trendy and upbeat," said Kakarides. "Being a single mom of 7 and 5 year old sons, I wanted to be able to take care of my family as the sole provider, like my mom Jackie Thomas did for me. The business is here today because the girls here were such a huge help in giving me the support and confidence I needed to take the steps in opening the salon. They said they would join my team if I opened this salon in Columbus, and they did. I feel so fortunate to have each and every one of them working here."
After 13 weeks of construction at the last vacant spot in the Columbus strip mall at 23202 Columbus Road, Salon DSK opened this past Oct. 16. The salon offers designer hair cutting and blowouts, formal styling, color, highlighting, ombre, keratin treatments, retexturizing, makeup artistry, lash application, waxing and other services. Appointments can be made in advance, and walk-ins are always welcome.
Customers feel that the staff is very friendly and talented, and that the atmosphere at the shop is one that makes everyone feel like a family. Rita, who has been a client of operator Izzy Kutinow for years, has come over to the salon because she feels that "Izzy is a magician."
Several clients feel that the place is beautiful, calming, and a place to just go to and relax. Lorraine, who has been having her hair done by operator Nicole Pangaldi for over 20 years, said, "I love my hairdresser Nicole. I always leave feeling like she did such a great job on my hair, and this makes me very happy."
The relationship goes both ways at Salon DSK, with the operators feeling the same way about their customers, their coworkers and about Dora.
"The environment here is wonderful, and we all love our clients and Dora," said Pangaldi, who has been a hairstylist for more than 20 years. "I get inspired by the other stylists that I work with because they do such a great job."
Specializing in the L'ANZA haircare line, known for its healing hair color, Salon DSK staff believes that this organic, gluten-free product actually heals the hair by replacing all of the essential nutrients.
"Everyone who has had their hair colored repeatedly by our L'ANZA products say that the color has never lasted as long, and has never looked as healthy," said operator Kristin Kakarides. "This product is a cut above the rest, healing the hair, and making it healthy and beautiful."
After about four months of business, Kakarides says she loves doing what she does every day.
"One of the things that we plan on doing in the future is more teaching at our place," Kakarides said. "I have my teaching certificate from the Paul Mitchell School, and I would like to have workshops at the salon. Right now though, I am doing what I want to do every single day, which is focus on my clients, so that when they leave here, they look and feel amazing."
Salon DSK is open Monday, noon to 5 p.m., Tuesday through Thursday, 10 a.m. to 8 p.m., Friday 10 a.m. to 7 p.m., and Saturday 9 a.m. to 4 p.m. Their website, salondsk.net, offers specials, like the current 20 percent discount on the first cut and color offered now.
Business
salon
beauty