Sisters take over Bordentown basketball court

Feb 10, 2014 05:55AM ● Published by Community News Service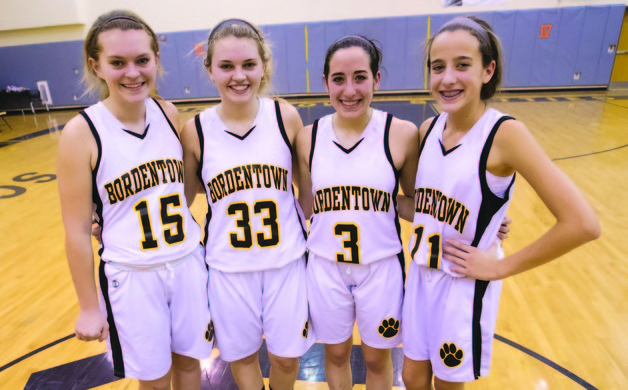 Brianna Pagnani, Sam Pagnani, Sam Schenck and Danielle Schenck gather before a game against Palmyra on Jan. 16, 2014. The Scotties won 42-38. (Staff photo by Albert Rende.)
By Samantha Sciarrotta
Brianna Pagnani and Danielle Schenck grew up watching their older sisters play basketball in middle and eventually high school. Brianna, now a freshman at Bordentown Regional High School, and Danielle, a sophomore, decided to follow their sisters' leads and picked up the sport in rec leagues as children.
"Once I saw her play as a freshman, or even in middle school, it was like, 'I have to be out there with them,'" Danielle said. "It was just cool to watch. I liked it a lot when I used to watch her play in middle school. I was in fifth grade. It was just a lot of fun and I always called her name out. I always cheered for her. It was a lot of fun. I like playing with her now."
This year, Brianna and Danielle joined their sisters, both named Sam, on Bordentown's varsity squad, currently 5-3.
"It feels good," junior Sam Paganini said. "I want to see her excel. I want to push her as best as she can. We want to push everybody." Brianna has noticed.
"I've always liked basketball, and Sam kind of pushed me through it," she said. "I like how it's a fast-moving game, where it's on one side and then it's on the other. It just keeps going. I like how it does that. I have a lot of energy, so it helps get that out. She always makes me go to the next level. She always pushes me harder. She makes me better."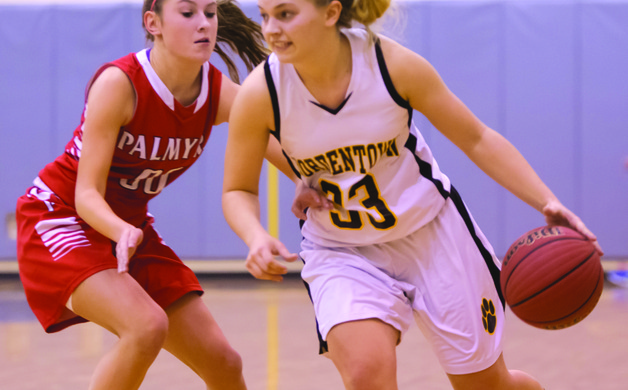 Sam Schenck, who leads the team in points with 76, said their teammates have noticed, too.
"I definitely think the other girls on the team see how close we are to each other and push each other," she said. "I think that they want that, too, so it helps as a team to push each other harder."
Head coach William Lloyd sees the roles occasionally reversed.
"It's always neat to see, sisters or not, them grow and improve as players," he said. "That's what you want as a coach. But the sister stuff is just kind of a bonus, especially when you have the older ones pushing the younger ones and sometimes the younger ones pushing the older ones, which is neat. Just to watch them grow and develop as players, that's the neat thing as a coach."
Sam Schenck is enjoying it while she can. As a senior, this is the last time she'll be able to share the court with Danielle.
"We like playing with our sisters," she said. "It's the only time we're going to get. We're all on one team. We're out there together, and we're out there to win." The sisterly prodding paid off. Brianna and Danielle both made varsity as underclassmen, a feat their older siblings take pride in.
"She's also sitting varsity," Sam Schenck said. "It's a good feeling because both sisters are actually all here, so it's pretty cool to be all on varsity." Sam Pagnani agreed.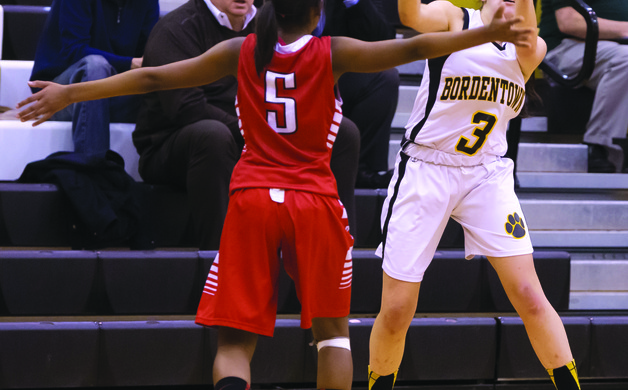 "It felt really good to see her name on the board right below me, it's really nice," she said. "As a freshman playing varsity or sitting varsity, it's a good feeling. I'm proud to be her older sister."
Sharing the court has allowed the Sams' protective instincts to flourish. Pagnani recalls an instance during a game this season where Brianna was hurt. "I just ran to her right away," she said. "I was just like, 'Listen, no one hurts my little sister.' That's how it is."
Still, though, Lloyd said he doesn't see the Pagnanis and Schencks as sisters. Instead, he sees the whole team as one cohesive unit, its own family.
"To be honest, when they're on the floor, I never look at them like they're sisters," he said. "I'm sure in their minds, it's probably different, especially the younger siblings looking up to their older siblings. As a coach, I never look at them like they're sisters. It's funny. You're basically a family for three months.
You spend every day together. You have to grow close. You have to depend on each other to make plays. You hope that happens. Sometimes it takes longer than you want it to."
Sports
,
Schools
brhs
basketball