BRHS students to present 'The Wedding Singer'

Feb 13, 2014 05:47AM ● Published by Community News Service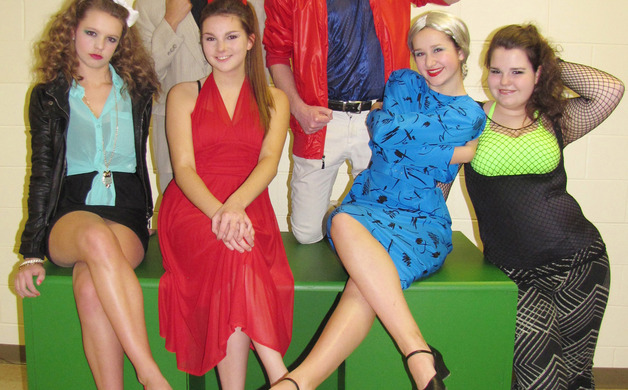 The cast of 'The Wedding Singer.' Front: Kaitlyn Anthony, Haley Szenczi, Cynthia Reynolds and Dakota Torres. Back: Jordan Browne and Matt Dalton.
Bordentown Regional High School cordially invites you to the party of the year. Well, not this year.
The year is 1985, so break out your legwarmers, jelly bracelets and big, big hair.
The award-winning students of the Bordentown Regional High School theatre program are set to present the musical "The Wedding Singer" on Feb. 27, 28 and March 1 at 7:30 p.m.
The upbeat musical comedy is based on the move starring Adam Sandler and Drew Barrymore. The production is not recommended for audience members under age 13.
"The Wedding Singer" takes the audience back to a time when hair was big, greed was good, collars were up, and a wedding singer might just be the coolest guy in the room. Rock star wannabe Robbie Hart is New Jersey's favorite wedding singer. He's the life of the party until his own fiancée leaves him at the altar. Shot through the heart, Robbie makes every wedding as disastrous as his own.
Enter Julia, a winsome waitress who wins his affection. As luck would have it, Julia is about to be married to a Wall Street shark, and unless Robbie can pull off the performance of a decade, the girl of his dreams will be gone forever.
With music by Matthew Sklar, book by Chad Beguelin and Tim Herlihy (based on his script for the New Line Cinema film), and lyrics by Chad Beguelin, "The Wedding Singer" will have audiences dancing in the aisles.
The Bordentown production stars seniors Matt Dalton (Robbie Hart), Kaitlyn Anthony (Linda) and Hannah Ayars (Angie); juniors Haley Szenczi (Julia), Dakota Torres (Holly), James Bullock (Sammy) and Jordan Browne (Glen), and sophomores Cynthia Reynolds (Rosie) and Scott Price (George).
Prior to the Friday evening performance, the BRHS Theatre Club Parent Boosters will be sponsoring "Dinner and a Show" in the school cafeteria for $20, which includes salad, beverage, pasta dinner and dessert, as well as a ticket and reserved seating to that evening's performance. Tickets to the event must be purchased in advance at seatyourself.biz/brhs.
Tickets are on sale now, and cost $10 for adults and $8 for students and seniors. The Bordentown Performing Arts Center is located at 318 Ward Ave. in Bordentown.
For more information on the performing arts at Bordentown Regional High School, go online to Bordentown.k12.nj.us. Email: bordentowntheatre@yahoo.com. Phone: (609) 496-1452.
Arts+Entertainment
,
Schools
brhs
theater
acting