BCC soccer team honored for successful season

Feb 20, 2014 06:24AM ● Published by Community News Service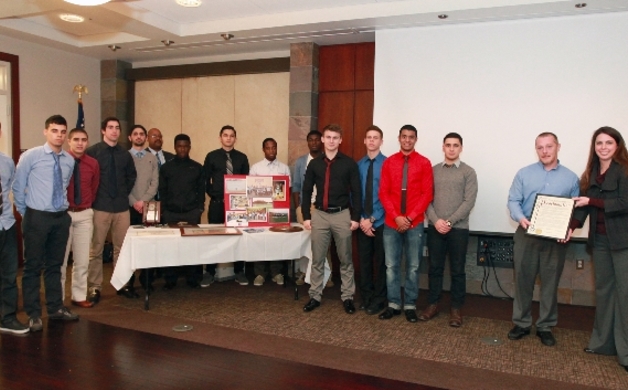 Burlington County Freeholder Director Leah Arter (far right) presents proclamation to head coach Craig Dewar and the Burlington County College men's soccer team on Feb. 18, 2013.
Freeholder Leah Arter presented the Burlington County College Barons mens' soccer team a proclamation in recognition of their most successful season in nearly two decades.
The Barons advanced to the National Junior College Athletic Association championship tournament for the first time since 1996.  The Division I team ended the season ranked 11th in the country with a 15-3-3 record.
Arter congratulated the team during a board of trustees meeting on Feb. 18.
"The Burlington County College Barons were terrific ambassadors for the college and Burlington County and proved they can compete with any team in the country," Arter said at the meeting. "They embodied teamwork, sportsmanship and community service. We are very proud of their accomplishments, both on the field and in the classroom."
Head Coach Craig Dewar, who was a player when the team last reached the national finals 17 years ago, Captain Jack Verth, the first BCC Baron soccer player to be named an All-American since 1996, and several team players accepted the accolades and displayed the plaque won in the tournament held in Tyler, Texas, in November.
News
,
Schools
soccer
bcc