BRHS Athletic Hall of Fame honors Randi Roohr and track team

Feb 27, 2014 06:06AM ● Published by Community News Service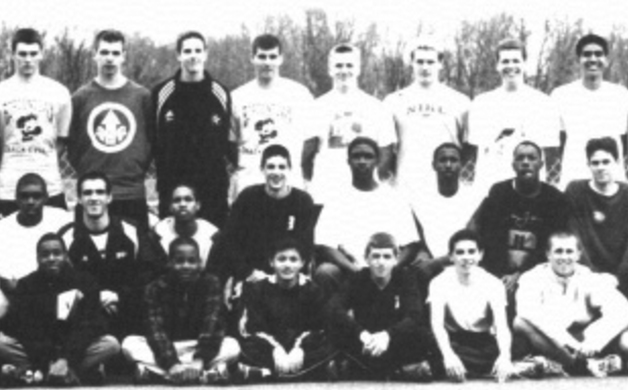 The Bordentown Regional High School boys' track team won the state championship in 2001, and is being recognized this year in the school's Athletic Hall of Fame.
By Samantha Sciarrotta
Some of Bordentown Regional High School's most memorable athletes and teams have been enshrined in the school's Athletic Hall of Fame each year since it was established in 1999, and this year is no exception. Three-sport athlete Randi Roohr, née Temple, and the 2001 state champion boys' track team earned their places and will be inducted at the ceremony on Feb. 8.
Roohr played soccer, basketball and softball for the Scotties, though she had to leave the soccer team after her sophomore year due to knee troubles.
She found most of her individual success on the court, where she was a four-year varsity starter. She ended her career with 1,362 points, hitting the 1,000-point milestone during her junior year. She set school records for career three-pointers (139), three-pointers in a single season (42) and three-pointers in a single game (5). She was named to the Burlington County Scholastic League's All-Division team three times and to the All-Group team twice. She was an Albert J. Carino South Jersey Outstanding Player during her senior year, helping lead the team to the BCSL Patriot Division title in the process.
Roohr was also a four-year varsity starter on the softball team, where she played first base. She made the All-South Jersey second team and the All-Group first team as a junior and was named first-team All-Division as a junior and senior.
Surprisingly, Roohr said in an email that she felt very little pressure as a three-sport athlete. She started in soccer, basketball and tee-ball at 5-years old after watching her brother play each sport. Her parents got her involved with different sports to help her choose one she liked. She obviously decided to stick with all three.
"I was involved in organized sports all year round since a young age, so I was used to balancing school and sports," she said. "I think being involved since a young age taught me about time management and how to balance academics and sports without too much pressure by the time I got to high school." Roohr, who graduated in 2004, called playing in Bordentown's athletic program "a great experience."
"It's nice to be recognized and an honor to be inducted into the Hall of Fame," she said. "I can't believe it's almost been 10 years since playing in high school. Being inducted into the Hall of Fame brings back a lot of great memories."
The 2001 state champion boys' track team will share the honor with Roohr. Coaches Charlie Miller, Tony Haneman and Jay Kipp as well as athletes Jason Alm, Andrea Bontya, John Browdowski, Robert Burns, Maurice Coleman, Steven DiLiemme, Anthony DiLemme, Joseph Dolina, Donald Fillinger, Daniel Fillinger, Patrick Flaherty, Daniel Havens, Robert Higgins, Joshua Lewandowski, Joseph Minch, Douglas Ralph, Cody Scott, Paul Solimine, Clint Walker, Michael White and Justin Zaremba were all part of the landmark team.
"I don't think we realized how significant it was at the time," said Brodowski, who competed in the 110 high hurdles, 400 hurdles, high jump, long jump and 4x4. "We're still able to say that we won the state championship. It still kind of carries a little bit of weight."
Brodowski and Miller, the team's head coach, said the state title momentum started building during the 2000 season. The team won the South Jersey Group I meet and hit its peak just in time for the state meet when Brodowski, who Miller calls his "star hurdler and jumper," sustained a knee injury in gym class. He tried to compete in the meet's first event, the 400 intermediate hurdles, but ended up limping his way around the track.
After a strong winter 2000 season, Miller said the team was "ready to prove something."
"We made a pact to work hard each practice, give it all at meets and to improve each meet," he said. "The team enjoyed practicing and asked for more each workout. We trained our student-athletes carefully and designed differentiated workouts to meet all of their needs."
Brodowski said he and his teammates viewed the winter season in a way they hadn't before.
"Most of the team was still coming back," he said. "We just had to be able to go that extra distance. We were that close in 2000. With a little more training, a little more practice, we could go a long way. We knew that from the start, before the actual season started. Some of the guys in the winter were training harder to get prepared, and that hadn't happened before. There was the sense that we had an opportunity to take advantage of."
Miller said the team set three goals prior to the spring 2001 season: winning division, South Jersey and state titles. Each was fulfilled. Brodowski was a standout—he took the individual high hurdles state title—as well as distance runners Fillinger, Minch and Dilemme; Flaherty, who threw javelin; and pole vaulter Walker.
"What stands out to me was the dedication of the students and maintaining their focus for the entire season…dealing with running, jumping, throwing in the snow, rain, wind, heat, and thunder and lightning," Miller said. "The personalities on this team were eclectic and inspiring. I will always remember the incredible support from our parents and community."
Zaremba said he can't believe how long it's been since he was a junior thrower for the team.
"It's neat and strange to think how much time has passed since high school," he said. "We were in the old high school at the time, which had undergone improvements from a gravel track to a rubberized track during my time there. It's great to hear that BRHS still maintains some prominence in track and field."
Sports
,
Schools
brhs