At new practice, there's more than meets the eye

Mar 01, 2014 06:47AM ● Published by Community News Service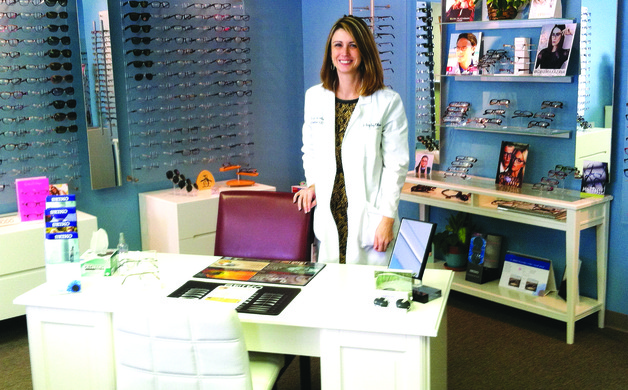 Dr. Kerry Longo Williams opened her new practice, Eye Care Center of Bordentown, in June 2013. (Photo by Ryan S. Murphy.)
By Ryan S. Murphy
In a time when computer screens are becoming more common, the role of an optometrist has turned into a vital part of society. So if that smart phone starts to look a little blurry, Dr. Kerry Longo Williams at the Eye Care Center of Bordentown might be able to help.
Even though many people may think they don't need to see an optometrist because they have 20/20 vision, Williams said there's more to it than that.
"Glaucoma is a condition where if the pressure were high in your eye, you wouldn't know it at first. That could damage the optic nerve and peripheral vision. If that's diagnosed early, all of that vision loss can be prevented," Williams said. "Sometimes there are issues with the vessels of the retina or the optic nerve. There even might be things I could see about the eyes that tell me more about what's going on with overall health."
Williams said she was once able to diagnose diabetes because of vision loss coupled with other symptoms. And when a woman came in for new reading glasses, Williams saw a little bit of plaque in the vessel of her eye and suggested she see a cardiologist. The woman later found out her carotid artery was 95 percent blocked. If she didn't find out when she did, the woman would have been at risk for a stroke.
Williams just opened her own practice in June of last year, but she has 12 years of experience at a large group practice as well. A Bordentown resident, Williams said the primary motivation for opening her own practice was to be closer to the home she loves.
"Around the time my daughter was born in 2008, I started thinking about having my own practice. I had worked for the other group since I got out of school. It was a big practice, and I was at a different office every day. I felt there wasn't enough continuity," she said. "When I looked into it, there's not a whole lot of eye care in this area."
When a sign went up in January of last year indicating there was office space for rent, Williams wasn't sure at first that it was the right time.
"My daughter's five, and my identical twins were only two at the time. And I wondered if I should wait until they go to school," she said. "I've lived here for seven years, and it didn't seem like there were a lot of vacancies really in this strip. It seemed like once people got in, they stayed. So then I thought maybe it was the right time."
Williams said the transition to running her own practice was a little jarring at first, particularly in figuring out how to handle patients' insurance plans, but the additional responsibilities have also been rewarding.
"In a way, I like doing everything myself because I've been learning, even as far as fitting people for glasses or teaching people how to put in contacts," she said. "It's good because it connects you to the patient a little bit more. Because this is a new business and I'm not as busy as before, I have more time to do those things."
Williams graduated with a chemistry degree from Saint Joseph's University, but after trying an internship in a lab, she realized that research wasn't for her. Instead, she looked into the health profession and worked part-time at the office of a Philadelphia eye doctor.
"Once I started working at that office, I thought it was a really good fit for me. Eyes are interesting, and I do everything with eyes except for surgery," she said. After four years of optometry school, she was finally able to start practicing.
Some of Williams' patients from her previous practice like her so much that they travel the extra miles to see her when they need a check-up.
One of the ways Williams gets the word out about her practice is by offering a special deal to patients that refer others to her. Patients who come in for an exam and refer a friend receive a $25 gift card to The Vault, owned by Williams' friend from high school, Terry Loda.
Williams is also incorporating new technology into her practice, including a retinal camera.
"I still need to dilate patients, at least when they're new, because I really need to get a look inside," she said. "But if everything is normal, instead of dilating every year, I have a retinal camera, so I don't need to use the drops as often. It's just a little tiny probe that takes a very quick measurement. You blink and don't even notice."
She also has an app for her tablet that allows her to take more detailed measurements. Patients can even send a picture of themselves with glasses to friends and family if they're not sure about how they look.
Williams is looking into low vision technologies to help people with eye diseases that require more than just the assistance of glasses.
"There are telescopic glasses to help them watch TV, a handful magnifier, and even more technologically advanced devices," she said. "I'm not up and running with it yet, but there's a big vision expo coming up in March. So I'm going to go there and go to some of the different low vision centers with a specific plan."
Williams said the most satisfying parts of her job are ensuring good eye health and building relationships with patients.
"I remember treating a little girl who was about to turn 11 when I first saw her. She had a very high prescription, very near-sighted and very self-conscious about her glasses being thick. I prescribed her first set of contacts. Now she's in college and she's doing great," she said. "Just to see people grow up and change, it's nice to build those relationships that way."
The Eye Care Center of Bordentown is located at 231 Crosswicks Road, Suite 1. Phone: (609) 379-6014. On the Web: eyecarebordentown.com.
Business
,
Community
wellness
health