G.A.N.G. visits Bordentown Township Police Department

Mar 12, 2014 07:33AM ● Published by Community News Service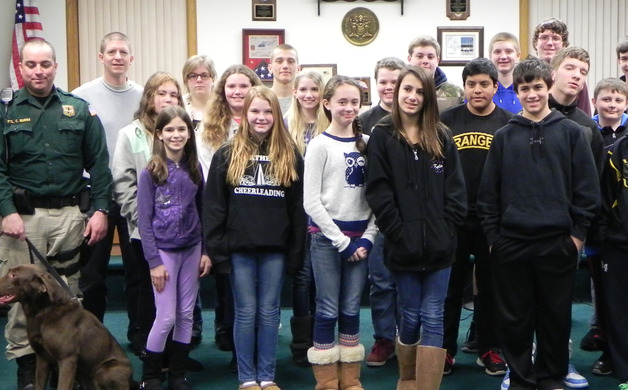 Holy Cross Lutheran Church G.A.N.G. poses with Bordentown Township police officers on Feb. 16, 2014.
Holy Cross Lutheran Church youth group met with Sergeant Crowell of the Bordentown Township Police Department for a tour of the station on Feb. 16.
The youth group, known as HCLC's G.A.N.G. — God's Anointed Next Generation — saw the cell area, fingerprinting system, interrogation room and Breathalyzer.
After the tour, Sergeant Crowell spoke to the criminal activity involving children in their age group, such as, drug use and shoplifting, and the danger of social media.
The G.A.N.G. participated in a question and answer session. Group members asked questions ranging from driver's license laws to penalties for underage drinking.
In addition, Bordentown School District director of Safety and Security Ricardo Pina spoke and Office Burns, a K9 officer, brought his drug sniffing dog to meet the G.A.N.G.
HCLC's G.A.N.G. is for young adults in sixth through eighth grade. They meet at HCLC or an alternate location the first and third Sunday of each month from 6:03 to 7:45 p.m.
More information is online at hclconline.org.
Community
,
News
religion
faith
teens