Snow days keeping public works busy

Mar 13, 2014 05:51AM ● Published by Community News Service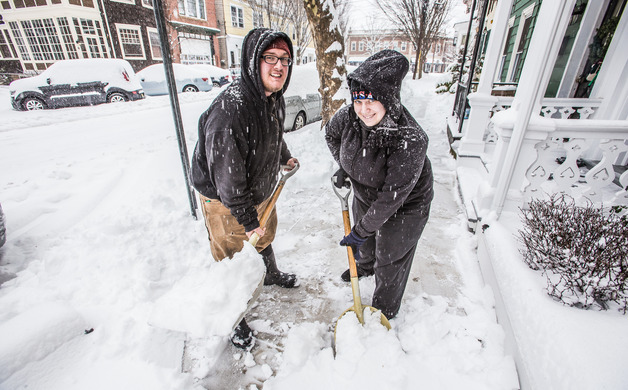 Bordentown had no shortage of snow in February 2014. Pictured above, Kody and Nicole Nelson shovel the sidewalk in front of their house on Walnut Street in Bordentown City Feb. 13, 2014 after one of many snowstorms. (Photo by Albert Rende.)
By Lexie Yearly
When the weather forecast predicts snow, the public works departments in Bordentown City, Bordentown Township and Fieldsboro prepare to roll into action.
In a winter that's brought more than 50 inches of snow to Bordentown, snow removal and road conditions have been a primary concern for both residents and municipal governments. Icy temperatures have also had an effect on conditions, often turning melted snow into dangerous patches of ice overnight.
Each municipality has its own strategy mapped out; from salting the roads to maintaining equipment, public works employees have been working overtime this season to keep the roads passable and safe.
Residents may not realize just how much work and planning goes into preparing for each storm, no matter how small. Department workers are often busy days before a storm even arrives, checking that trucks are in working order, filled with fuel, and that enough salt is purchased and stockpiled to account for any winter weather conditions.
While each municipality has a slightly different approach, the main goal is always safety.
Narrow streets a challenge for city snow removal
Though the city public works department will salt the roads when a storm is predicted, the process only works to a certain degree—literally. Once the temperature sinks below 26 degrees, the salt becomes less effective, said Bob Erickson, superintendent of public works for the city.
It takes about four hours to salt the city roads once a storm begins.
"You cannot do it the day before, because when you use sand and rock salt like we do, it has to have something to grab onto, so snow has to begin to accumulate," Erickson said.
Midway through February, Erickson said the city had used more than 100 tons of salt, not even including the amount just purchased in anticipation of the Feb. 12-13 storm; the norm is closer to 30 tons per season.
The county and state have the option to use additives in the salt, which can help better withstand freezing temperatures and remain effective. But it's an expensive process—one the city has never used, nor needed—because it requires more high maintenance and costly equipment, and the chemicals are more corrosive to vehicles.
The city does have an agreement with the county, though, to purchase salt and plow county roads, including Burlington Street, which extends through Fieldsboro.
One of the unique challenges to plow in the city is how narrow the roadways are. The city machinery includes two large dump trucks, two front end loaders, a smaller front end loader, and six pick-up type trucks.
The front end loaders come in handy for some of the city's smallest streets. But residents in the city also have a way to assist public works, commissioner Zig Targonski noted; if residents on one street collaborate to move all their cars, they can call the city and have someone come out immediately to plow the street from curb to curb.
During storm cleanup Feb. 14, residents even caught sight of mayor Joe Malone and deputy mayor Jim Lynch maneuvering trucks to assist public works' efforts.
"People are generally very good...It's pretty gratifying when you go down the street and you clear it," Erickson said. "The guys like doing it and they interact with the residents. It's really positive, I always have enjoyed it."
Township cares about concerns
Meanwhile, in Bordentown Township, the public works department employs 11 workers—including the superintendent and director—to clear 70 miles of roads when a storm hits.
They work in 12-hour shifts, mayor Stephen Benowitz said, and have 12 trucks at their disposal (the shifts are staggered, so it's possible to have as many as 11 trucks on the road at once).
While snow removal in the township has mostly kept residents happy, Benowitz said they also try to address any concerns.
One way has been to look at the plowing schedule; the township now tries to mix up the plowing routes so the same developments are not always last, Benowitz said, noting that main roadways are still addressed first.
"They never stop," Benowitz said about the public works employees. "They give their all, they're great guys. A lot of them live in the township and they care about what's going on."
After purchasing more than 100 tons of salt, as of Feb. 13, the township still hadn't gone over budget, Benowitz said, though if winter weather continues this season, it remains a possibility.
But even when the snow and ice melt, another concern lingers on the roads—potholes. And while the public works team does work to repair what it can, Benowitz hoped for a more widespread solution.
A bond ordinance, tabled for the next committee meeting, would include repairs to 12 roads over the next 5 years. The project is one Benowitz has emphasized, noting how important it is to invest in maintaining the township's infrastructure.
New machinery lowering salt costs in Fieldsboro
Next door, the tiny municipality of Fieldsboro has relied on one man to get the job done for the past eight years; he actually started the job when the former mayor, Ed Tyler, needed someone to fill in the position because of an impending snow storm.
Public works employee Rodger Redwanski said he takes pride in the job he does to plow and salt the town's 13 streets, which he estimated at a total of just more than five miles.
But while the city and township have seen increases by the ton when it comes to purchasing salt, Redwanski has seen no change. Instead, the change was in the machinery attached to the borough's one truck.
"The interesting thing was we used to have a rubber blade on our plow," he said. "It was rubber bottom, and what that did is it kept compacting snow until then I would have to put down a lot of salt to try to break through the snow."
Last year, Redwanski installed a metal blade that clears snow almost to the pavement, eliminating the need for more salt, which this year has been more difficult to come across; he was unable to purchase salt for a few weeks in February from Yardville Supply, but was finally able to get about 1.5 tons in preparation for the Feb. 12-13 storm. He uses standard rock salt—about 12 tons so far this season—if the forecast calls only for snow. If it calls for rain, then snow, he doesn't bother salting.
"It's not that we don't need it," he said, "but if it rains first and then turns to snow, the rain washes away the salt."
And that's also the reason for using the rock salt, Redwanski said. He avoids using any salt mixes because it will all drain into the river, increasing the salinity and over time lead to buildup in the river.
While each municipality has its own challenges, they all have one rule of utmost importance—don't throw snow in the street.
News
weather
snow
winter