Pipe bands take pride in their Celtic roots

Mar 17, 2014 05:50AM ● Published by Community News Service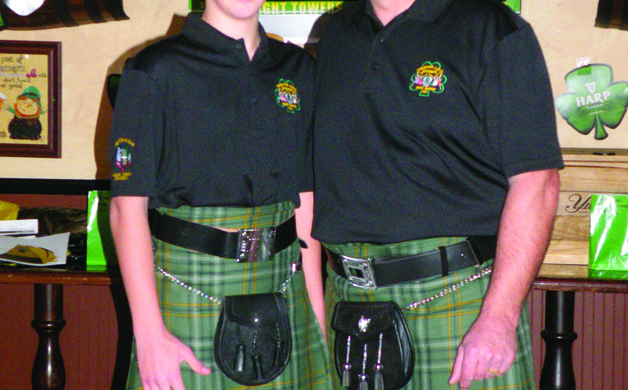 Father and son pipers for AOH Pipe Band, both named Andrew Cary, at the 2012 Hamilton St. Patrick's Day Parade Kick-off party at Killarney's.
By Scott Morgan
Let's roll the clock back 30 years: on South Olden Avenue, the border between Hamilton Township and Trenton, the only wearin' o' the green around St. Patrick's Day occurred at St. Anthony's School, whose emerald-colored uniforms may or may not have had anything to do with that end of town's Irish-American population.
Then, in 1985, an idea brewed.
Hamilton Township in particular was filled with Irish-Americans proud of their heritage. So why not start a St. Patrick's Day Parade that began in front of St. Anthony's Church?
Jim Walsh, an officer at the Ancient Order of Hibernians on Kuser Road in Hamilton, took up the task of finding at least one Irish pipe-and-drum band to march in 1986's inaugural parade. One trouble, though: in 1985, there were no Irish pipe bands anywhere near Trenton.
Everybody thought it was a good idea to sponsor a band, Walsh said, but the AOH's nearest option was a group from Cumberland County whose members weren't enthused about lugging their gear all the way up to Trenton.
So they started our own band. Walsh and the AOH parade committee brought in the Cumberland County band's pipe major to teach the Hibernians how to play. None of the members had ever played the pipes before, but that's what lessons are for, after all, right?
When the AOH band played its first tunes in that first parade in 1986, they were the only local pipe band. Today, the Hamilton/Trenton region is rife with Irish pipe bands: the Trenton AOH Pipe Band, the Tir Na Nog Pipe Band (named for the pub on Hamilton Avenue, which, in turn is named for the Irish "Island of Perpetual Youth"), Greater Trenton Pipe & Drum, and Lia Fail.
The newcomer on the list is the Hamilton Township Fire Department Pipe and Drum Band, formed in 2009. It's not an Irish band, per se, but it does add to the explosion in pipe bands that appear at parades, funerals, weddings and parties all over Mercer County.
For years, the AOH band was the only one of its kind in Mercer County, yet even that had its own issues. Today's Tir Na Nog band is comprised of much of the former AOH band. About a decade ago, some clashing ideas over what kind of group (competitive versus just for fun) the AOH wanted to operate caused the band to dissolve and reform as the Tir Na Nog band.
The reason?
"I don't want to get into all that," Walsh said.
Patty Downey, a Ewing resident, music teacher and pipe major of Greater Trenton Pipe and Drum, was an original member of the first AOH band in the 1980s. According to her, the reasons for the four separate bands vary from differences in philosophy or pedagogy to matters of location and rehearsal scheduling.
However, she said, "we all share one common mission—to educate, promote and preserve the music of the great Highland bagpipes and drums, which we all love. We believe that our contributions to this end help to make our little corner of the world a better place."
Today's quartet of Irish pipe bands in Mercer County "are essentially all spin-offs from the original AOH pipe band, mine included," Downey said. When Walsh and his brother, John; brothers Mick and Gabe McCabe; Michael O'Leary; and Tim Connery formed the Tir Na Nog band, many AOH members went with them, leaving the AOH bandless for a couple years.
Then about eight years ago, Colin Duffy of Hamilton and some other members of the AOH resurrected the idea and started a new AOH band. Downey decided to form her own band, and today, Greater Trenton Pipe and Drum boasts a 25-member roster. Tir Na Nog has 10 members.
Duffy, a member of the AOH on Kuser Road, first took private lessons—which he calls "a very unique learning process"— with Lia Fail about nine years ago, and was a member of that band for a while. A Hibernian friend suggested that since the order no longer had a band, and Duffy at least had some experience on the pipes, why not start fresh?
Duffy is the pipe major now, and his father, Jim, who lives in Florence, is the bass drummer and band manager, meaning he books gigs, handles the money and negotiates rates and routes. Colin picks the music and calls out the tunes when the band is gathered to play.
Two of the many things all these bands have in common are a lot of practice and a long learning curve. Most members practice regularly. Colin Duffy prefers band members to practice more frequently for shorter times because he feels the lessons stick better that way. The AOH band practices under the leadership of pipe instructor Mike Ahnell.
Practice, however, may not be quite what you think. Stop and think: Have you ever heard a neighbor practicing his bagpiping? Practice actually takes place with a practice chanter, a long, wooden instrument played like a recorder.
"It's much quieter," Jim Duffy laughs. "It has holes so you can work on your fingers."
Indeed, the familiar skirl of bagpipes only comes once a student has reached a level of proficiency. And that takes a lot of time and effort, typically a year, often more. It also takes a lot of energy.
"Playing bagpipes is exhausting," Colin Duffy said. "It takes a lot of stamina to keep the tone steady and air in the bag."
Duffy, at least, is used to playing instruments requiring a certain fitness. Outside of AOH he still plays drums, as he has since his high school marching band days.
"More of a rock band," he said. "Or as a fill-in."
The right teacher for a piper (or drummer, for that matter) is key. Walsh, for example, is not remotely shy about bragging about Tir Na Nog's pipe instructor, Marty Ferrick.
"Marty is the man," Walsh said.
A competitive player from an early age, Ferrick has actually won first place in bagpipe competitions in Scotland. Walsh credits Downey and the McCabe brothers with finding Ferrick "across the river" and bringing him over to teach.
When the Tir Na Nog band started, Ferrick was teaching the First Highland Watch band in Pennsylvania. Tir Na Nog had been working with another instructor, "then Marty came in and started us all over again."
At 64, Walsh admits it's a lot harder now to muster the energy to practice and play a lot. Commitments and distances make it difficult to keep Tir Na Nog together. The band, after all, doesn't practice at the bar, but in Hightstown, making the drive and timing too tough for some members to get there frequently.
Still, the band plays on, as do Mercer's other pipe and drum acts. And lest you think these bands only suit up for St. Patrick's Day parades, they do a great many other things. Lia Fail, for example, has performed at the New Jersey Governor's Annual Saint Patrick's Day festivities at Drumthwachet and for several Princeton University events, such as the annual P-rade before graduation.
Dave LaBaw, a piper since 2009 with AOH and a Ewing police officer, has played with the Hibernians at Lawrence High School's graduation at Trenton's Sun Bank Center. There are also countless funerals and weddings to keep pipe bands busy around the calendar.
LaBaw is no newbie to music. A horn and oboe player since fourth grade, he had always loved the pipes, but never got around to learning them. A few years ago, on a police trip to Washington, D.C., he heard a band playing and asked "How does one learn that?" The rest is a small slice of Celtic history.
One of the appeals of pipe bands is tradition. Bagpipes are an ancient—if temperamental—instrument that signify Celtic heritage more than probably anything else. And because of the ties to heritage, families tend to get involved whenever one member of the family joins a pipe band. In LaBaw's case, his 10-year-old son Chris is learning the snare drum for AOH. And past the related McCabes, Duffys and Walshes, there are John Sturgeon and his son, Conor.
Sturgeon, a Robbinsville resident, took up the pipes about three years ago.
"I tried to take them up 14 years ago, but the birth of my daughter and other things did not let me continue at that time," he said. "I took them up because I really love the music and what you can do with them. I also love that they are not easy and they are not everywhere. I like that there is a relatively small cadre of pipers in the world."
Sturgeon plays for the AOH band. Conor, age 10, is learning the drums for the band, and Sturgeon hopes the traditions of his Irish heritage carry on through his son. He also is the vice president of communications at the Robbinsville Irish Heritage Association, which, according to its website, strives to be "the nexus of Irish cultural events and activities in the local community, promoting Irish heritage and cultural values."
There is also Andy Cary, a Bordentown resident whose father was a piper several years ago and whose brother, Bill, has piped for Lia Fail for about 14 years. "My brother always bugged me, 'When are you going to learn to play, when are you going to learn to play," Cary said.
In 2009, with his kids grown, Cary finally took his brother up on the idea and learned to play with the AOH band. He marched for the first time in 2010.
Though he doesn't speak directly for Mercer's pipers and drummers, Sturgeon does espouse a common theme spoken (and unspoken) by most of them.
"I am proud of my heritage, and I am proud of what the AOH is and stands for. I also really like the group of guys we have," he said. "It is a dysfunctional family, but I consider them all friends who would do anything for me, and I would do the same."
As for the number of pipe bands in the greater Trenton region these days, Sturgeon also speaks a common sentiment—that there could never be too many pipe bands.
"That said, we do need drummers," he said. "The other pipe bands hog them all."
Community
music
st. patrick's day