BRHS swim club strives to dive

Mar 24, 2014 05:50AM ● Published by Community News Service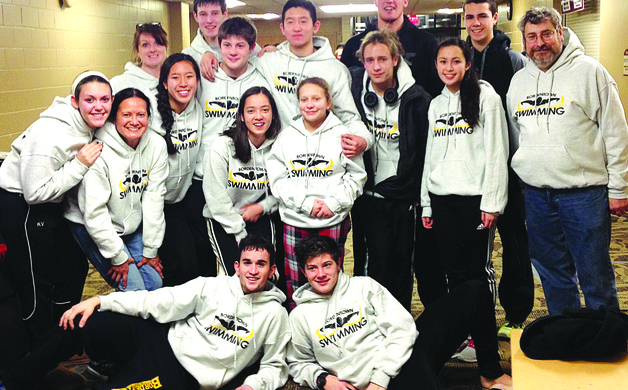 The Bordentown Regional High School swim club finished its first season in February 2013. Pictured are members (front) Robert Gallo, Zack Schuck, (middle) Kaitlyn Valeri, coach Debbie Tams, Leahanna Ritter, Caroline Tams, Katie Chilelli, Chris Chilellim Steffi Agbulos, coach Nick Chilelli, (back) coach Debora Tartaglia, Evan Bokma, Ethan Schuck, Richard Kim, Brady Hudik and J.T. Rupp.
By Samantha Sciarrotta
Bordentown Regional High School junior Chris Chilelli has been swimming competitively for nine years. He wanted to compete at the high school level as a freshman, but there was just one problem: Bordentown didn't have a team.
Thankfully, there was a way to get around that detour. Students can swim independently at larger meets like counties, even if they aren't affiliated with a team. Chilelli, along with 2012 graduate Alysha Schenker, swam during his freshman year, and he went for it alone last season.
Now, though, it's a different story. Chilelli, junior Caroline Tams and coach Debora Tartaglia started to recruit others to join the team in hopes of attaining official Bordentown varsity status within the next couple of years. Twenty-eight students signed up.
"I've been talking to Chris about trying to get a swim team since last school year," Tams said. "I guess it's kind of nice that all of our bus conversations finally paid off and we actually had a team now. It's fun."
Tartaglia, an art teacher at Bordentown, talked to some of her students about the team and got a lot of interest.
"For the first year, I think the fact that we had 20 kids in the pool was amazing," she said. "That was already successful. There is a draw."
Junior Kaitlin Valeri and senior Grant Hill were discussing the team with Tartaglia early in the school year when they decided to give it a shot. Valeri and Hill, like the majority of the team, were first-time swimmers.
Valeri, a lifeguard, already had some acquaintance with the water, but she had never competed before. Hill was admittedly less experienced. He decided to go out for the team because of a desire to try as many new things as possible before graduation. It was a good opportunity for a different kind of exercise, he said, so he hopped in the pool with the rest of his teammates.
"I had a lot of trouble with all of it, basically," he said. "I could physically swim before, but not very fast. Diving was also a big difficulty for me. Despite my anxiety and fear of it, eventually I got a lot better at it than I was before. That's all because of the coaching and all of my teammates being very persistent that I should try it. I figured I might as well just do it so I don't have to dive ever again."
Several of the first-timers had moments like Hill's throughout the season. Senior Robert Gallo recalls swimming the 100 yard butterfly at a scrimmage against Chilelli's club team, the Jersey Devil Rays.
"After the first 25 yards, I forgot how to breathe," he said with a laugh. "It went downhill from there. I would have been disqualified at least three times because I did a lot of things wrong. It was fun. I choked a couple of times, but I finished." Valeri, senior Evan Bokma and junior Emily Vernon each had similar experiences while swimming the backstroke.
"The whole time, I'm thinking about how a fellow classmate of ours is a lifeguard," Valeri said. "If I drown, I know Keith is there to hopefully save me. I'm never doing that again. It was a good experience though, and I tried."
This seems to be the team's unofficial motto; try it, and if it doesn't go as planned, laugh it off.
"We have a lot more fun than those other teams," Vernon said. "It's not as serious, but we're still getting the experience out of it. Our coaches are a lot nicer, more encouraging. I heard some mean coaches, but not ours. They make us feel good."
The team practiced two times a week at Burlington County College, making the 20-minute trip to and from on its own dime. They carpooled with each other and hitched rides with Tartaglia and other parents.
Hill said that's indicative of the adults' dedication to the club.
"I think that it shows how much we really do owe to Coach T and Mr. Chilelli and Miss Tams," he said. "A lot of us wouldn't be able to do it if they weren't willing to take the time to take us. Some of us drive, some of us don't. BCC isn't five minutes away, and they're willing to take the time to take us in their cars, and it really makes a huge difference."
In fact, because the swimmers are not officially affiliated with the school, they had to raise all of their own money for pool use, meet fees and other expenses.
Despite the lack of practice time and easy access to facilities, the team was still competitive. Both girls' relay teams finished in seventh place at the Burlington County meet, while the boys' medley relay team finished 24th out of 33 teams at the all-South Jersey meet. Bordentown's overall top finish was sixth place in the boys 200 relay at counties. Richard Kim finished in 12th in the 50 freestyle, and Chilelli finished sixth in the 100 butterfly and eighth in the 100 backstroke.
"They really put out 110 percent," Tartaglia said. "They tell me 'No more sprints,' and I tell them to do it so they can get good. When we only have two practices, to see them up against kids that are practicing all the time, they did really well. Some people had a hard time diving in, now they can dive in. There's a handful of kids who have improved tenfold, and it's just awesome to see that progress. It's quite exciting."
If interest keeps up, the club could become an official school team within the next two years pending Board of Education approval.
"We are going to lose seniors, and then even the seniors next year," Tartaglia said. "We have to make sure that there is a want and a need, so by 2016, we would be able to be a team. I would love it just because it would be a big success story. We're one of the only schools that doesn't have a team yet. All the schools that don't have pools, they make it work. It would be nice for the school to recognize us as a team."
Senior J.T. Rupp said even though he'll graduate before the team becomes official, it's still something he'd like to see because of the positive experience he had this year. Valeri agreed.
"My dream after this swim season is that like 50 years from now when I come back and visit Bordentown, I hope to see a nice swim complex near the high school, some state championships for the swim team and a nice picture of us, the founding fathers," she said.
Sports
,
Schools
brhs
swimming