Book details Trenton's legendary City Gardens, promoter Randy Ellis

Mar 27, 2014 05:39AM ● Published by Community News Service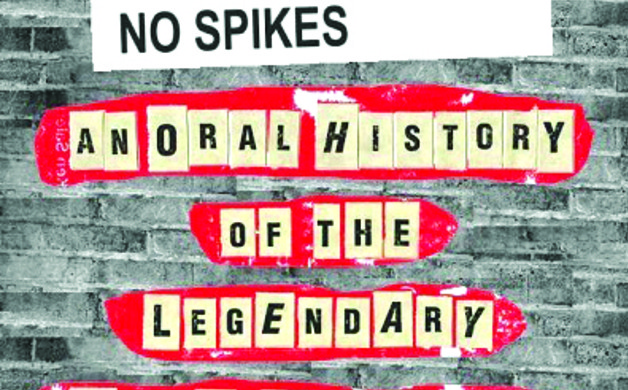 By Lisa Zola-DeLibero
Fifteen years. That's how long it took Amy Yates Wuelfing to write a book about a place where so many wacky, happy, funny, scary and sweet things happened. That place was City Gardens.
"I really felt like the universe sort of burdened me with writing this story," Wuelfing said. "I just couldn't rest until it was done."
On March 8, from noon to 3 and 4 to 6 p.m., and on March 9 from noon to 3, Wuelfing will have her first of many book signings at Randy Now's Man Cave, located at 134 Farnsworth Ave. in Bordentown. For Wuelfing, this is the perfect spot for her first signing because she and shop owner Randy Ellis (often referred to as "Randy Now") go way back.
"Randy Ellis, who booked and promoted all of the bands at City Gardens, always wanted to write a book about the place," Wuelfing said. "After we talked about the idea, I decided that I was going to write the book, which started out about Randy, then expanded to the bands. The book has all quotes from over 200 people, with no editorial narrative, and it is written in an oral history format." The 400-plus page book—entitled No Slam Dancing. No Stage Diving. No Spikes.—captures a time and a place in history that Wuelfing feels will never be repeated.
"I used to go to City Gardens, a place that many called the house that Randy built … Although it was a grubby night club in Trenton, people could be themselves in a judgment-free zone where they formed a special bond," Wuelfing said. "I am still friends with everyone I went to City Gardens with, and so many people have made long-lasting friendships there."
Frequented by those whom many would call misfits, outcasts, black sheeps of the family, preppies and punk rockers, the building at 1701 Calhoun St. was a place where bands that no one had ever heard of made their debut before becoming famous.
Ellis loved his City Garden days.
"When booking bands to perform, I was competing on the same level as Manhatten's CBGB's," he said. "Since the drinking age was 18 back then, college kids from all around the area would come to listen to music by Nirvana, Nine Inch Nails, Red Hot Chili Peppers, Flock of Seagulls, Joan Jett and even the funk band Parliament. Sinead O'Connor actually did her first (American) concert here."
Ellis said the only rule at City Gardens was that there were no rules.
"It was such a special time when the place opened in 1978," he said. "We created something out of nothing there in Trenton. I was only booking original bands, and everybody who came here enjoyed the music, made great friendships, and for many people, they met their life-long significant other there."
The book, which was an on-and-off process that sometimes left Wuelfing discouraged, needed an additional person to spark the project. That person was Steven DiLodovico.
"What re-motivated me was finding Steven," Wuelfing said. "We met through a Yahoo news group for City Gardens people. We decided to email each other off group so we could really talk about the place. After I told him all about the book, he got me excited about finishing it, since I was about 10 or 11 years into writing it. Steven took on a big part of researching the bands in the book, and our friendship ended up becoming a great partnership."
With the support of her mom Virginia, and her husband Howard, Wuelfing, who is in her mid 40s, and the mother of her stepson Severin, is very excited about the official kick-off of her book signing.
"Randy and I are excited to see a lot of our friends at the signing, especially the regular core group," she said. "It is going to be a good time seeing all of the old faces and catching up."
City Gardens closed its doors in 2001. But Wuelfing and DiLodovico's book will open the doors for those who never visited this iconic music emporium, and reopen the doors for those who shared the love for this special place in time.
And the story doesn't end there.
Another pending City Gardens project is a movie written by Steve Tozzi, titled "Riot On The Dance Floor—The Story Of Randy Now and City Gardens." The movie will have to make its rounds to the different movie festivals before it can be shown to the public, which Ellis hoped would be this summer.
"The book centers around the entire club—the dances, the bands, the 'stars' on their way up, and what happened and how it changed people's lives," Ellis said. "The film centers around me and how I created such an amazing buzz for a club in the ghetto in Trenton, a third class city."
The documentary will be told through an oral history format of in-depth interviews and archival footage, DiLodovico said.
"Randy's story mirrors that of the music and Riot On The Dance Floor captures the past by following the present-day endeavors of both Randy and the bands," he said.
More information is online at citygardensfilm.com.
To purchase the book, go online to noslamdancing.com. Copies are also available at Randy Now's Man Cave.
Community
trenton
environment