Bordentown basketball star earns respect on defense

Mar 31, 2014 05:40AM ● Published by Community News Service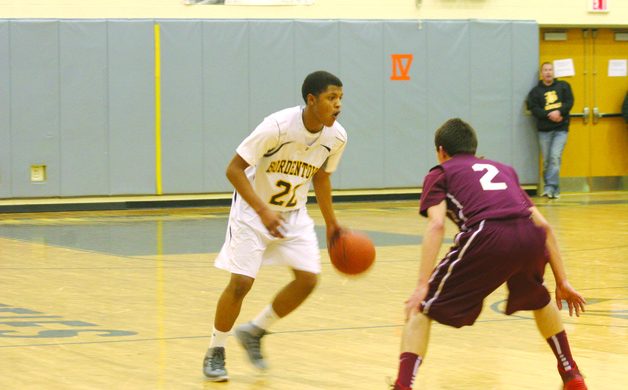 Brion Teel-Scott tries to get around a Holy Cross player during a home game on Thursday, Feb. 6, 2014. Bordentown won, 66-57.
By Samantha Sciarrotta
It took Brion Teel-Scott a few games, but he finally settled into his groove in his first year back with the Bordentown Regional High School boys' basketball team. He returned to his home school after spending a year at Notre Dame, and the junior is already making a name for himself as a first-time varsity squad member.
But he's not doing it quite the way he thought he would. Head coach John Myers said Teel-Scott initially saw himself as a point scorer, but he soon learned there were other ways to excel on the court.
"I think he had to be sold on the fact that he needed to be selfless and that it's valuable for everybody to be selfless," Myers said. "It took him awhile to understand that. I think now he takes a lot of pride in it. It was a process more than anything just to make him understand it wasn't just about points. You can make such a difference in so many other ways."
Myers said Teel-Scott has been a stopper on defense. He leads the team in rebounds and is second in assists and steals. He had a breakout game against Medford Tech on Jan. 24; it was a 59-47 loss, but Teel-Scott held leading scorer Dennis Tunstall to just eight points all game.
"I came out motivated," Teel-Scott said. "I like challenges. I'm a big competitor. If I'm guarding a big kid, 6-foot-7 averaging 19 points a game and I can hold him to eight points, that's a pretty good accomplishment for me. I come out motivated, and I just play the best I can to stop the guy from scoring."
Myers said Teel-Scott altered the course of the game that night.
"I just hugged him and I was like, 'This was such a phenomenal display of selflessness and defense. You totally changed the game,'" he said. "We got beaten by them by 30 the first game and we lost here by 12. It was a lot closer even than that because he held their best scorer down. He did such a great job. I'm very proud of him."
Tunstall isn't the only one he excels against, though. Myers said Teel-Scott can stop any player he faces because he values the "me against you" kind of rivalry.
"He's a very competitive kid," Myers said. "He's going to be really, really competitive because he can focus on a single task and say, 'You're the one I'm going to stop.' I think that he recognizes that. He likes that kind of competition, the singular competition."
Teel-Scott said he's a "natural defender" who enjoys the footwork and general movement that comes with playing on that side of the ball.
"I just do the best I can to guard whoever I'm guarding," he said.
The junior plans on playing basketball in college, and he has garnered interest from The College of New Jersey and Messiah College.
Myers said Teel-Scott's new approach will be beneficial as he moves toward the next level.
"I think he's beginning to realize that at the college level, coaches value what he does more than they do scorers," he said. "They can find scorers anywhere. The interest level will start to grow as people recognize what he has the ability to do. It's a very unique skill. Maybe not so much this year, but next year, they're going to recognize what he does."
For now, though, Teel-Scott has to focus on, well, focusing. And Myers has faith.
"I just want him to realize that he's got to improve every day," he said. "It's hard for teenagers to focus like that every day on getting better. He does most days. If he did it every day, he would accelerate his development that much faster."
Sports
,
Schools
brhs
basketball