Title Evolution insurance partnership takes pride in customer service

Apr 01, 2014 06:57AM ● Published by Community News Service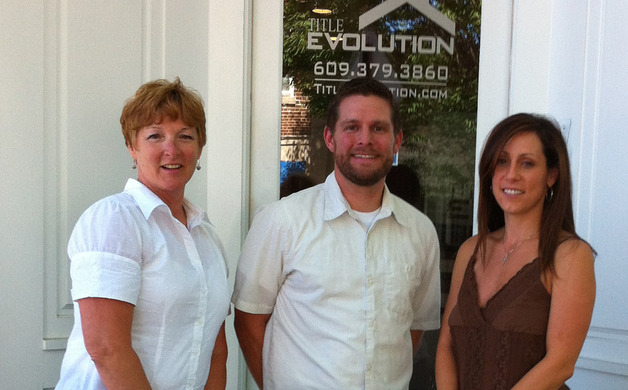 Title Evolution partners Joanne Paul, Stephen Barry and Jennifer Costner outside of their Bordentown City business.
By Ryan S. Murphy
Title insurance may not often be a topic discussed in the spotlight, but it is still vitally important in giving a property a clean bill of health. Title Evolution, located on Farnsworth Avenue in Bordentown, makes sure that clients never have to worry about adverse claims on their properties.
Jennifer Costner, one of three partners at Title Evolution, has been working in title insurance for 21 years.
"The purpose of title insurance is to insure the past," she said. "When an order comes into our office, we'll do a county search, examine those county records, and make sure that all loose ends are tied up."
She explained that the company, which insures both residential and commercial properties, needs to make sure each property has a clear title. That means that all heirs must have signed off on the estate, there cannot be a spouse with an outstanding interest, and there cannot be any easements or restrictions on the property.
Joanne Paul, another partner at the firm, further elaborated.
"The idea is that you're never going to need to use your insurance, but the reality is that things happen," Paul said. "Let's say there's a tax claim against the property. It does happen where during the process of the transfer of title, a bill gets missed, like a sewer bill. The owner, who we've now insured, can come and claim against their property."
Costner said she fell into the title insurance business almost by accident.
"I had no interest in real estate at all. I had been going to school, paralegal school. My focus was going to be on criminal justice," she said. "I was able obtain an interview with a title agency in Princeton Junction. I interviewed with them, and I liked what I saw. I was there for a couple of years, and I really liked what I was doing. I was involved in residential and commercial transactions. I think at some point I knew I wanted to open up my own title agency. Ever since that title agency sold, I've had a loyal client base."
Paul, on the other hand, broke into the title insurance field in a different way.
"I was selling real estate for years, and then I bought a house. During the process, I had chosen to not use an attorney. So, I got a title company affiliated with the broker I worked for," she said. "During the process, the seller of the property had title problems. The woman who was conducting the settlement and doing the transaction for me asked if I wanted to come in and clean up title. I said, 'Sure, anything to get this done.' In the process, she told me she needed a closer. After selling real estate for years, working odd hours and weekends, it offered something a little more stable."
The firm's third partner, Stephen Barry, also comes from a different background. He was a county searcher for many years, researching properties' histories and preparing reports for title companies.
"I started searching in Mercer County in 1995 after I graduated high school. I had to find a summer job, and my uncle owned a little company of his own," Barry said. "I ended up going to school for history, so there was something about the research that I really took to. I've always been really big on researching and finding answers to problems. It slowly turned into my forte, and I made a name for myself in Mercer County."
Costner, Paul and Barry originally met at another title insurance firm where they were all working together.
"We noticed how well we were able to work through problems and developed a respect for one another," Costner said. "It's been a great experience, probably the most fulfilling experience in my entire professional career… Historically, partnerships don't work and this one is unique in that it does."
Paul agreed.
"We all bring something different and together we fill gaps, like what Rocky said to Adrian," she said. "Even though it's a young partnership, I don't have any doubt that its longevity will prove itself. We have a mutual respect for each other."
Barry was also confident in their working relationships.
"Our differences are like pieces of a puzzle that don't look anything like each other but when you lay them down and snap them into place, it forms a beautiful picture. That seems to be how we function," he said. "I've had other people tell me, 'Partnerships are really tough. It's like a marriage.' And two and a half years into it, I'm still waiting for that moment that people warned me about."
Both Costner and Paul live in Bordentown with their families and realized that it was a perfect location for their company.
"Our kids are in the district, and I grew up in Bordentown," Paul said. "It's right on the edge of what's considered North and South Jersey, in relation to how settlements occur in closing title to real property. North Jersey is primarily attorney closing, and South Jersey is title closing. Even though we're from Bordentown, all of our connections are from Mercer County because we worked there for our whole careers."
Title Evolution has seven employees, all of which are licensed title insurance producers. The partners agree that the success they have had in competing with larger title companies is due to their outstanding customer service.
"People know us. They know we do the job," Paul said. "People know that when they call, we are going to answer the phone. And they're going to get their needs met."
For example, Costner said, the team worked to complete seven closings at one time.
Costner explained that this customer service is handled even more efficiently due to the technologically savvy approach they have adopted, which has primarily been spearheaded by Stephen Barry.
"As a searcher," Barry said, "I had seen how all these other places handled things. To be totally honest, title insurance is a pretty archaic system. I'm trying to update something that is historical records… I had always seen flaws in the way that the system functioned, and I thought it was inefficient. Seeing as we were going to start something from the ground level, I suggested we try something different. If you start with the process you're always used to, with folders and hundreds of sheets in every folder, it's kind of hard to stop that."
Costner spoke of how this technology makes everything more efficient.
"The way our software is set up and our phone system is set up, we are accessible no matter where we are and what time of day it is," she said. "And we're paperless as well."
Clients are even given a flash drive that contains their closing package after they sign. Costner said this is somewhat of a trademark for the company.
Title Evolution is located at 230 Farnsworth Ave. in Bordentown. For more information, go online to titleevolution.com or search Title Evolution, LLC on Facebook. Phone: (609) 379-3860.
Business
,
Community
insurance