BRHS seniors lead on the field and in the classroom

Apr 07, 2014 05:43AM ● Published by Community News Service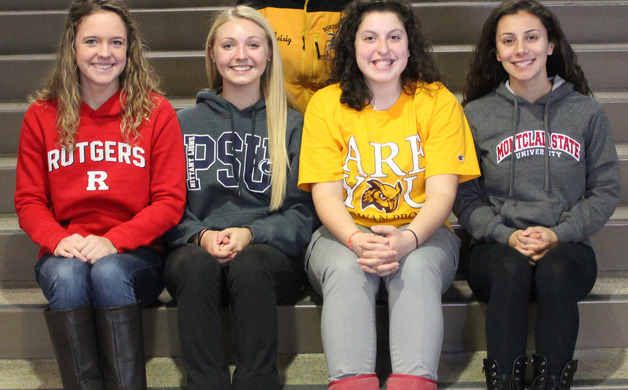 Jess Carey, Katie Brodowski, Suzy Mansour and Koedi Shakir sit inside Bordentown Regional High School with head coach Julie Reisig. (Staff photo by Samantha Sciarrotta.)
By Samantha Sciarrotta
Bordentown Regional seniors Katie Brodowski, Jess Carey, Suzy Mansour and Koedi Shakir have been key components of the school's field hockey team througout their careers. When the girls graduate in June, head coach Julie Reisig said she'll lose a solid goalie in Mansour, one of the area's best midfielder/attackers in Carey and her top two defenders in Browdowski and Shakir.
They've been dynamic on the field, but it turns out they're just as productive in the classroom. All four seniors were named to the National Field Hockey Coaches Association High School National Academic Squad. Honorees must have an unweighted GPA of at least 3.5 out of 4.0.
"I was really happy," Reisig said. "They're all four good students. It was no surprise at all. I just think it was really great because it's 100 percent of my seniors. It's really nice."
Reisig said discipline on and off the field has become characteristic of her field hockey team over the years.
"I feel like there is always very good students," she said. "Almost everybody on the team is in that National Honor Society. I think that it's just typical. That's one thing I like about this group of girls."
Shakir said she and other teammates are known to bring flash cards and other study materials to team events like pasta parties. They bring homework and books to away games and Reisig never lets practices run too late.
"We try to cut things off so that we're not going really, really long hours," Reisig said. "If there's a pasta party, we know it's only going to be an hour and then they go. I know that a lot of them have AP classes or honors classes. It's cool to be smart on our team. It's not like a nerdy thing."
Carey said it's not even just about academics and field hockey for her and her teammates.
"I think it's just a good group of girls that we have," she said. "We're all well-rounded and really involved with the school, not just academically, in other clubs, too. There's so much to do at this school and each one of us is involved with something other than field hockey."
All of that involvement paid off. All four girls made their college decisions already, and Carey, Mansour and Shakir all committed to play field hockey at their respective schools.
Brodowski is set to attend Penn State, her top choice, where she will study biology. She knew going into the application process that she wanted to attend a bigger Division I school, but field hockey at that level was not appealing to her. She said she plans on going out for a club or intramural team.
"I wanted to try something new," she said. "Penn State is like 50,000 kids and I grew up with a class of not even 200 kids. I wanted to get out there and see what else there was."
The other three are staying in New Jersey. Carey will study nutrition at Rutgers. She was also recruited by Hofstra, Monmouth and Villanova, but ultimately chose the New Brunswick school because of its Big Ten alignment, which she hopes will help her cuture coaching career.
Mansour thought about Utica but eventually decided on Rowan, where she will study accounting, while Shakir will settled on Montclair and pursue elementary and special education. She chose the school over Rider and East Stroudsburg because it "fit best education-wise."
"I'm so proud of them," Reisig said. "I'm really excited and I'm happy that they all found something they're happy with academically. Sometimes the girls just want to think about field hockey, and I've had that happen and then they end up quitting. If they're not at a college where they really like the majors, that's important."
Reisig said she'll miss the girls on the field as well, though they have each been working towards passing their skills and knowledge along to underclassmen and even elementary and middle school level players as instructors at the Community District Alliance's field hockey camp.
Mansour had no choice but to pass on what she learned—before Jess Gray decided to learn the basics of goaltending, there was nobody else in line to inherit the position.
"She was petrified in the beginning, the normal everyday thing," Mansour said. "Nobody wants the ball flying at them. I had to teach her everything that I know. She's so good now."
The coach also has each senior girl take on a group of underclassmen and act like their "mom" for the season. It's something Brodowski looked forward to from the start of her career.
"That's what I looked forward to—spending time with the seniors and learning what they knew throughout their four years," she said. "When I got there this year, I got to teach my little 'daughters' everything that I learned in my four years here, and it felt weird to switch places, but we were all so close. It was easy to do."
Reisig said the girls were enthusiastic about helping because they never developed a "senior ego."
"I really appreciate that because they didn't separate themselves and act like 'We're the seniors, we're better than you,'" she said. "They actually turned it around and took care of them. They always took somebody under their wings. That doesn't always happen, but these guys especially were really good with that."
The girls, though, said everything—their attitudes, success on the field and academic honors—was all a result of Reisig's coaching.
"The push from coach helped a lot," Shakir said. "She's helpful not only with field hockey, but with other things. She actually wrote me a letter of recommendation for a class before. She lives in the community, she's really close to a lot of the students. She understands what's going on in the school."
Sports
,
Schools
brhs