BCC students collect supplies for Burlington County Animal Shelter

Apr 14, 2014 08:19AM ● Published by Community News Service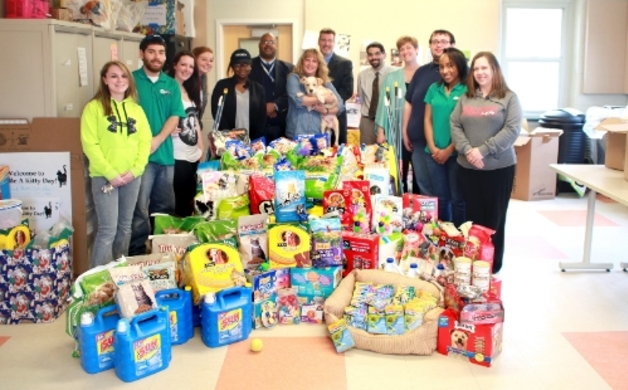 Burlington County Animal Shelter manager Jackie Dennis (center) accepts BCC Student Government Association's donation with a puppy named Guppy. Pictured are SGA members Nichole Barry, Arturo Arriagada, Fay Schwartz, student activities specialist Adrianne Dahms, SGA member Alice Nana, vice president of student success Terrence Hardee, interim president David Spang, executive assistant to the president and director of communications Greg Volpe, associate dean of student Activities Cathy Briggs, SGA members Joseph Hyland, Deniqua Owens and Anne Walker. (Photo by Traci Soto).
Several members of Burlington County College's Student Government Association and college administrators dropped off supplies at the Burlington County Animal Shelter.
BCC's Office of Student Activities collected more than $1,200 worth of donations during the month-long ninth annual Animal Shelter Drive.
They collected food, blankets, kitty litter, and flea and tick medications, among other items on the Burlington County Animal Shelter's wish list.
News
,
Schools
bcc
pets