Standing up for his health

Apr 17, 2014 06:07AM ● Published by Community News Service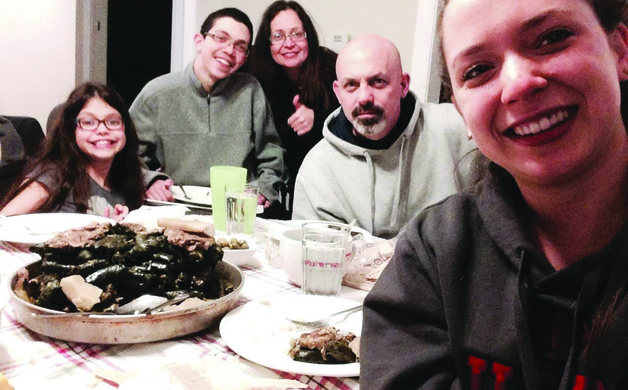 The Hamdan family—Rayna, Dawud, Lizette, Gus and Zaina—have kept a positive attitude since Dawud was diagnosed with transverse myelitis in 2010.
By Lexie Yearly
No question is too personal for Dawud Hamdan. At least, not anymore.
"If you have a question, just ask me," the Bordentown Regional High School senior said earnestly, recalling a time earlier in the school year when a classmate had tentatively brought up the subject of whether Dawud would ever be able to walk again.
At 17, Dawud has spent nearly all of his teenage years in a wheelchair after being diagnosed in 8th grade with transverse myelitis, a disease that affects the spinal cord and left Dawud with limited movement and ability to care for himself. He has minimal control over the movement in his legs and is confined to a wheelchair; at school, an aide assists Dawud with carrying textbooks, getting lunch and managing other activities throughout the day.
The physical limits force Dawud to rely on the help of his family and aides, no matter how personal or private his needs are.
But despite his hardships, Dawud radiates positivity, cracking jokes about his friends' complaints of walking too much and showing off the scars on his arms from two of his several surgeries.
"People will be like, 'I hate walking, man,' and I'm like, 'OK, if you want to switch we could do that,'" Dawud said.
But one of the more difficult issues he faces is spasms in his legs, tightening the muscles so much it takes two people to yank his leg into a straightened position. On the maximum dose of medication, Dawud doesn't have many other options to relieve the pain it causes. But through his physical therapy sessions, it's become increasingly evident that the more time he spends standing—though it requires support—the more Dawud's spasms have lessened.
And with that, the family began the quest for "Dawud's Wheels," a solution they expect will assist Dawud with many of his daily activities and relieve some of his discomfort—and perhaps give him some independence, too.
For the past several months, Dawud and his parents, Gus and Lizette, have been navigating the process of buying a power wheelchair with a power standing function. Dawud, his body fully strapped in and secured, could program the chair to move him into a standing position at any time during the day.
It would help alleviate some of his spasms, which are often unpredictable and painful, and he could do his physical therapy exercises on his own. (Now, he has a device that keeps him in a standing position at his home, but it is large and requires two people to lift Dawud into it.) He could even "walk" the halls at eye level with his peers and have access to things any standing person would.
The problem is that the chair is expensive—some models cost upwards of $50,000—and the Hamdans' insurance has thus far refused to cover the purchase, citing it as an experimental machine.
So as Gus perused the Internet one afternoon, he recalled a friend's suggestion to ask the community for help, and decided to go ahead and set up a fundraising page on giveforward.com. The family had guessed they'd wind up with a couple thousand dollars, enough to boost their initial efforts to buy a chair and explore other financial options.
But only a week after Gus posted Dawud's story online, donations began pouring in, totaling over $8,000; after three weeks, that number climbed to nearly $25,000, and as of press time was just short of $27,000.
"It proves that we are in a great community, for sure," Lizette said, beaming as they recounted the huge response to the page.
Gus began receiving calls from local business owners, school administrators, friends, family and even people the family barely knew, telling the Hamdans how they planned to contribute and asking permission to set up fundraising collections and events.
The Hamdans were speechless, and incredibly grateful.
"It is just amazing," Gus said, noting that the outreach in just the first few days was overwhelming. "It's amazing the support we are getting."
***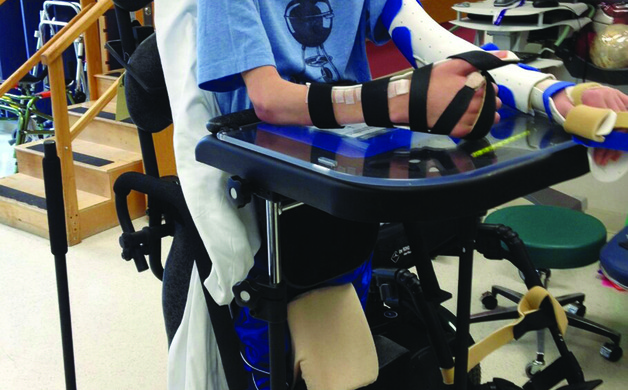 Everything started June 4, 2010, as Dawud waited in class for another 8th grade school day at Bordentown Regional Middle School to come to an end. But he was suddenly overcome with a flash of pain in his upper extremities. As he walked to the nurse, he lost control of his arms and began crying from the worst pain he'd ever felt. When he finally sat down in the nurse's office, Dawud didn't realize he wouldn't be able to stand back up.
Transverse myelitis is a neurological disorder caused by inflammation across a segment of the spinal cord. The damage from inflammation causes nervous system scars that interrupt communications between the nerves in the spinal cord and the rest of the body. The location of the inflammation determines how much of the body is affected; in Dawud's case, the inflammation was near his neck, affecting everything below that point.
Dawud was taken to the ICU, where he remained for nearly two months. He was then moved to the Children's Hospital of Philadelphia; about 10 days after he arrived, Dawud slightly moved one of his legs—a huge sign of hope, as doctors initially thought he might not make any progress.
Slowly, he began regaining the ability to move his arms, but Dawud had lost so much muscle that he eventually developed severe scoliosis. In March 2013, Dawud underwent surgery to correct the curve. But that was just the beginning. Doctors recommended and performed several more surgeries to reattach the tendons in his arms and thumbs, so Dawud would be able to move them freely and regain a grip; now, he can even hold a pencil.
Doctors have not yet determined exactly what causes transverse myelitis. It often develops after a viral infection, and can also be classified as an autoimmune disease.
"This kid never had a headache. He used to play three sports," Gus said. "He never complained about anything. The only thing he would complain about was if he's hungry, or if he smacked his bike somewhere and fell off it."
Now, Dawud has physical therapy two nights a week and twice a week at school. But the situation is not something Dawud dwells on; instead, he keeps looking for ways to improve.
"I never really thought too much into anything even before this happened," Dawud said. "I never really thought too deep about why, or feel too sorry for myself or anything. Because if you just sit there and feel sorry for yourself, nothing's really going to happen. You're just going to dig yourself a hole.
"It really changed the way I do look on life and just how easily people can take things for granted. How these little things you might complain about, like say your car breaks down on the road…it always could be worse. That's pretty much what I go by."
Even simple daily tasks like putting on socks and shoes are cumbersome for Dawud; he has grabbing and reaching tools to help him, but despite his practice, it can still take more than an hour for him to try and dress himself.
But Dawud is still just like any other high school senior.
The sports enthusiast now gets his fix playing video games, and is looking forward to the 2014 World Cup soccer games this summer; when it was on four years ago, Dawud had been watching from his hospital bed.
Now, he's in the process of college applications. He hopes to go away to school to study neurology and eventually contribute in some way to research about his own condition.
"I heard from a few doctors that patients make the best doctors. Really, they'll probably even know more than the doctors sometimes because they've had the experience, plus on top of that they're learning about that stuff. It just blends well together," Dawud said.
It's unclear whether Dawud will ever be able to walk again. Doctors have not ruled out the possibility, but they also cannot say with any certainty whether his condition will improve.
"You've got to hope," Lizette said.
This year, Dawud has begun to speak up more about his condition; the story on his fundraising page is actually from a presentation he completed for school. And since word got out about his fundraising efforts, he's received support from classmates, with encouragements of "I hope you get your chair!" as he wheels through the hallways.
But most of all, he encourages people to talk to him about his condition, not shy away from him.
"I just want people to know that they can talk to me and not hurt my feelings…I want people to know that my mind is still right and I'm still the same person on the inside, just not really on the outside," Dawud said. "I'm physically handicapped, not mentally handicapped. I'm the same person I was four years ago."
For more information about Dawud's quest for a power wheelchair with a power standing function, go online to giveforward.com/fundraiser/4nz3/dawudswheels.
Community
dawud hamdan