Former Bordentown softball star returns to her roots

Apr 21, 2014 05:36AM ● Published by Community News Service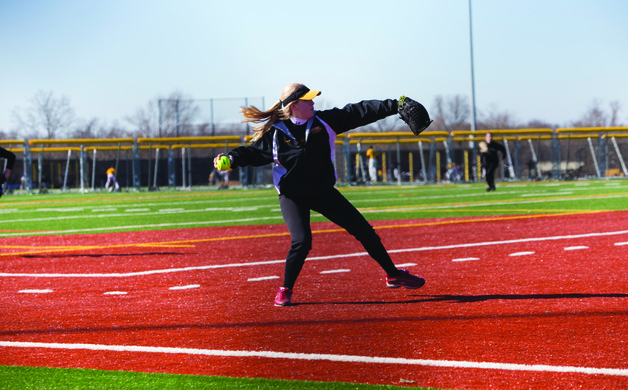 Anna Price eyes a throw during a scrimmage against Notre Dame on March 18, 2014. (Photo by Albert Rende.)
By Ken Weingartner
Hillary Allen enjoyed plenty of success as a softball player, both at Bordentown High School and Drexel University.
Now she wants to help other players fulfill their own potential. And she is back where it all began.
When the Scotties took the field in March to get ready for this season, Allen was with them, ready to begin her first year as head coach of Bordentown's softball team.
"It's incredible to be back," said Allen, who in January was named to replace Melissa Hodge at the helm of the program. "I love coaching; it's a way to stay in the game without playing. I've always thought about it, but it's a dream come true to be back in Bordentown. I'm really excited to be here."
Allen was a standout pitcher for the Scotties during her playing days. As a senior, she was 20-2 with a microscopic 0.22 earned-run average and nine no-hitters. More importantly to Allen, Bordentown went 24-3 and reached the Central Jersey Group II championship game.
After finishing her scholastic career with 57 wins and 36 shutouts, Allen headed to Drexel, where she made an impact immediately. She was named to the Colonial Athletic Association's All-Rookie Team in 2009 and two years later was first-team All-CAA as a pitcher/designated player.
Allen ended her collegiate career with 43 wins, good for fifth place on Drexel's all-time list, and 332 strikeouts, which rank No. 4 for the Dragons.
"All my successes are from the coaches I've had, and the players that played around me," Allen said. "They've helped make me the person that I am today. I loved the teamwork part of it, I loved working with the other players; it's something that's always been a part of me. Hopefully I can help take [these players] to the next level."
Her philosophy is simple.
"I think if you put hard work into everything, if you're determined and put your heart into it, then you can be successful both on and off the field," Allen said. "That's kind of the philosophy I live by. It's also the philosophy we have here, both on and off the field.
"These girls have a positive attitude, they hustle, and they have a love for the game. They absolutely love the game and they want to be here. They're all really great friends, which is a big part of playing softball. It's such a team sport and it makes it so nice when the girls like to play with each other. You can tell they really enjoy coming out here each day to be with each other."
Bordentown finished last season with a 14-7 record, shared the Burlington County Scholastic League Patriot Division title, advanced to the semifinals of the BCSL tournament and the quarterfinals of the Central Jersey Group II tourney.
"This is my first year, so I want us to do better than we did last year and keep improving for years to come," Allen said. "I want us to win the division again and then win more games than last year. I want to keep on improving and make the program better. I want the girls to get better and better every day."
Among the players returning from last season is Katie Schroeder, who was a Patriot Division all-star at first base last year. The remainder of the roster includes Anastasia Salera, Christiana Dalton, Anna Price, Debra Jones, Amelia Ditolvo, Hannah Gavin, Jamye Kagel, Kaitlin Lupinacci, Carli Shaw, Julia Nelson, Samantha Ryan and Justinna Hacker.
"We're all really excited," Dalton said. "I think we're going to make it really far this year. We have a really good team and a really great coaching staff and a lot of talent. We won our division last year, so we definitely want to win it again, and to make it as far as we can in states.
"I think we have a lot of talent. We're all working hard together and doing really well. I just want us to continue to stay positive and come to every game wanting to give a hundred percent."
Bordentown's roster is unusual in that it is without a single senior. Dalton, Gavin, Kagel, Lupinacci, Shaw and Ryan are juniors while Price, Schroeder, Nelson and Hacker are sophomores. Salera, Jones and Ditolvo are freshmen.
"We're all really close and we're a young team," Kagel said. "I think we're going to grow together and we'll be really good. We've played together before and we've all hung out together. I think we're all very positive and everyone picks each other up when we're down. We never give up."
Kagel thinks the squad's attitude will help bring success.
"I want to win. Like, every game," Kagel said. "That's the focus, get to states and win. Our goal is to win the division again; we want to keep it going."
Kagel added that the team is making a smooth transition under its new coach. "She's very good," Kagel said. "She knows a lot. We love her."
And there is no doubt Allen is excited to be back on the field again at Bordentown, even if this time it is as a coach rather than player.
"It's a great group of girls and they're all on board with what we're trying to do," Allen said. "I'm excited to be back on this side of it and help those girls get to their next step in their lives as well."
Sports
,
Schools
brhs
softball