Former Bordentown resident helping furry friends

Apr 28, 2014 05:34AM ● Published by Community News Service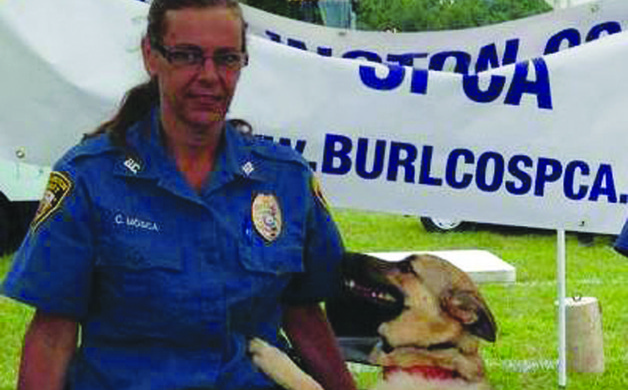 Bordentown native Cheri Mosca is a deputy chief for the Burlington County SPCA.
By Lisa Zola-DeLibero
Second acts in life are a time for people to do something that they may have only dreamed about doing when they were younger. For Cheri Mosca, deputy chief of the Burlington County SPCA, her love for pets and her passion to protect them has guided her to a second act that is making a big difference in her life and in the lives of animals.
In August 2013, after two rigorous phases of training, the Bordentown native completed all of the necessary requirements to become a humane law enforcement officer for the SPCA.
Mosca, now a Columbus resident, grew up in Bordentown and eventually settled there with her husband Tom and their two children, Victoria and TJ, until they moved about 10 years ago.
"There is one thing that everyone who lived in Bordentown will tell you if they move," Mosca said. "Once you live in Bordentown, your heart will always be there."
As for now, Mosca is very busy with a job that she put her entire heart into. The volunteer position is not for pay and is done for the sole purpose of helping animals.
Phase one of the program, which is the humane law enforcement officer training, consisted of nine weeks of classroom education pertaining to the criminal justice system. Phase two, a two-week session, focused on the physical part of the job, including gun safety.
"When I qualified at the end of the program, I felt that it was my biggest accomplishment in my life, other than having my kids," Mosca said.
Mosca, the daughter of Mel Detoro and the late Mary Detoro, was one of only three women in the group of 30 students in training. She felt that the second phase of the training was extremely rigorous.
"I went through the training when I was 47-years old," Mosca said. "It is the same training that potential state troopers go through. They do it at a much younger age."
The physical training, which consisted of target practice using a 9 mm Glock, prepared Mosca for the protection of animals.
"The range that we trained at taught us skills to shoot from behind cars or behind cover," Mosca said. "We had to shoot left handed, right handed, standing, from the ground, and in a number of other situations. All of this is because we never know what we are going into when we get a call."
The call that Mosca is referring to is a complaint received by the dispatchers on the Animal Abuse Hotline about possible animal abuse to dogs, cats, cows, horses or any animal where there is a suspicion of abuse.
"One of the first things that we do after we receive a call is search the computer to see if the there are any previous calls or complaints about the individual and the animal," Mosca said. "Then we speak to the caller to get additional information."
Often partnering with her boss, Chief Richard Forberg, Mosca responds to the situation using the appropriate steps necessary.
"When we go to the property, we never know what we are going to find," Mosca said. "Often times, there are sick or emaciated animals that we have been fortunate to save. There have been calls about suspicions of dog fighting, dogs left in the snow or in the heat, animal beatings and so many other situations of animal cruelty that are very sad."
The SPCA hopes Moose's Law, currently pending legislation, would pass; the law is named after a chocolate lab, Moose, who was stolen from from his family by his trainer and left in a hot car to die.
In the most dire situations, Mosca will write up charges, and the owner is taken to municipal court, where they are often fined $500 to $2,000 for cruelty to animals. The guilty individuals may also banned for life from ever owning an animal. Fortunately, those situations are not very common.
"Most cases that we deal with are situations due to a lack of education about owning a pet, " Mosca said. "Eighty percent of our job is educating people about proper animal care. We let people know that, for example, dogs can't stay in a large shed outside in the winter. They need to be in an insulated dog house, with blankets to keep them warm. We always follow up with people after educating them to make sure that they are doing what they should be doing for their pets."
As a board member and treasurer for the SPCA, Mosca is also involved with a number of fundraisers for the nonprofit group. Anyone who is interested in finding out more information regarding fundraising events should go online to burlcospca.org. Since the position is a non-paying position, Mosca and all of the members of the SPCA pay for their own uniforms, ammo, weapons, gas, cell phones, ink for printers, paper, and anything else that is needed to run the program. But for these volunteers, it is all worth it.
"I love what I do," Mosca said. "I just wish there was no need for it."
Community
pets