Bonaparte Antiques presenting new take on old favorites

May 05, 2014 05:56AM ● Published by Community News Service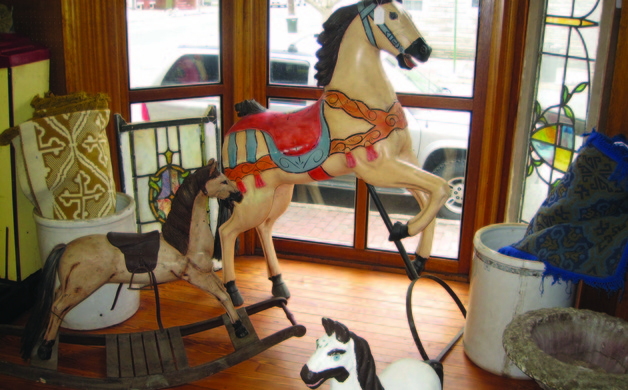 A carousel horse is a featured item at Bonaparte Antiques.
By Lisa Zola-Delibero
When Julia Ciarrocca and her husband Paul saw the building that was for sale at 375 Farnsworth Ave., the couple decided to buy it and renovate it. In January, they opened an antique shop in it.
"We both love antiques," Julia Ciarrocca said. "Paul and I would always go antiquing in New Hope, so we toyed with the idea of having a shop here in Bordentown."
A graduate of Georgian Court college with a master's degree in school psychology, Ciarrocca decided that she wanted to do something that would allow her to be home with her daughters Luna, 5, and Soleil, 3.
Ciarrocca said her husband Paul, a Bordentown native, has been a huge part of the opening of the shop.

Bonaparte Antiques is a family-owned antique shop located in downtown historic Bordentown, NJ. As lovers of antiques and antique-hunters ourselves, we hope to provide visitors... Read More
"He is the buyer of the antiques, and he is also heavily involved in the store," she said. "He is full of good ideas and has a savvy business sense."
Paul Ciarrocca has already done plenty of work around Bordentown City fixing up houses and buildings as part of his fire restoration business. Through the business,  he gets many architectural articles that he has salvaged, restores and will eventually sell at the shop.
Bonaparte Antiques was named after the insurance agency owned by Paul's father, Gene, to pay homage to him due to his passing a little over a year before the store's opening.
The shop features a number of eclectic items, like the two paper mache trapeze artists from the Atlantic City Steel Pier that are in "beautiful" condition, Delft and Wedgwood China, duck decoys, cigar presses, Lenox, old-fashioned toys, wall hanging instruments, dolls, hat forms for making hats, and even a carousel horse from an estate in Princeton.
Adding to the ambiance of art and culture in the cozy storefront, Martha Press, who previously operated Farnsworth Gallery, uses a section of the store to display and sell pieces of artwork and jewelry.
"I have been a gallery owner for 15 years," Press said. "Paul and Julia created this opportunity for me here at the store, and it has been a perfect match for all of us. We have a wonderful clientele, and many have become our friends."
Ciarrocca and Press get a lot of regulars who come into the store, and always find something to buy, take home, and add to their collections. One of the services that will be added at the location is a Visitors Center.
"When people get off the highway, and they come this way, we are the first place that they see," Press said. "People will stop in and ask for directions, and just want information about the town, and locations of certain businesses. So we are going to make this an official visitors spot."
In addition to the antiques and art gallery, there is a section of the store that sells pieces by Don Stein, who is known to many as the "Minister of the Woods." Repurposing, reclaiming, and renewing old or raw wood, and artfully turning it into something make Stein's pieces sustainable for folks to use and enjoy.
Ciarrocca hopes the store is something that she and her husband can build on.
"I absolutely love what I do," Ciarrocca said. "I want to keep it fun, relaxing and enjoyable. We always want to have something here for everyone. We also want antique and art lovers to know that everything that is sold here is very reasonably priced."
She noted several plans in the works for the shop, too.
"We are also spending lots of time thinking of new and exciting things for our customers," she said.
Among those potential plans are a flea market one Saturday each month behind the building and small group clubs for people to meet. Ciarrocca hopes to help everyone get ready for springtime, with flowers for sale in front of the store and taking part in the Iris Festival on May 10. And for customers who love their vegetables, Ciarrocca also hoped to have Jersey tomatoes for sale.
Press believes that Julia and Paul "make a great team," and that this is just the beginning of a wonderful experience for everyone involved. Bonaparte may be just a few months young, but its owners hope the shop will be around a long, long time—just like the antiques inside.
Bonaparte Antiques is open Tuesday through Saturday, 11 a.m. to 6 p.m. For more information, go online to bonaparteantiques.com.
Business
,
Community
downtown
antiques