Bordentown antiques, consignment store offers quality odd-ball items

May 05, 2014 06:01AM, Published by Community News Service, Categories: Business, Community
---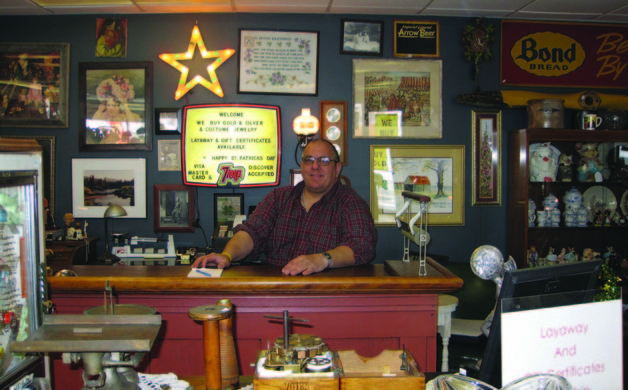 Owner Jim Walsh stands in his store, New Jersey Antiques and Consignment.
---
---
By Lisa Zola-Delibero
For those who love antiquing, it's tough to find an unused EKG machine from the 1940s and a Soapbox Derby car in pristine condition from the 1950s.
But for customers who walk through the doors of New Jersey Antiques and Consignments, an entire world of antiques awaits, ranging from bizarre to beautiful.
"My wife Arlene and I have always liked antiques," said store owner and Ewing native Jim Walsh. "I grew up antiquing with my parents, Nicholas and Mary. I saw that there was nothing in the area except for thrift shops and consignment stores. So we decided to open the store to sell items that people may have never seen before, and that are in clean, not chipped or broken, and meticulous shape."
Walsh was a mechanic for 25 years and a graduate of Notre Dame High School, where his two children, Jessica and Nicholas, currently attend school. The decision to open the store last Aug. 1, he said, was one he made based on his love of old things that can't be found in many antique shops.
"One of the items that we sell in the store is a photo from the 1800s of a child in a coffin," Walsh said. "Back then there were very few photos taken of children, if any, because it was so expensive. So it was a luxury to be able to have photos taken of your kids. The photo that we have here of this child in a coffin is taken at the funeral. The shoes that she is wearing are her father's because like photos, shoes and clothing were very expensive, too."
Walsh, who also owns a commercial cleaning company, has a number of clothing items, like minks, and fox furs that date back to the 1920s.
"We have articles of women's vintage clothing that were custom made many years ago that we sell and actually rent out to photographers," Walsh said. "We even have items like an unused lizard-skin purse in the original box, and a large display of 10, 14, and 18 carat gold antique jewelry."
The store, located at 662 Route 206 S. in Bordentown, has an incredible collection of vintage Christmas items and huge posters, like the Ringling Brothers and Barnum Bailey Circus advertisement with the original box lined in stars which surround the information about performers for a particular show.
Walsh also has pieces that can be used to decorate the front of a home and rents out display cases and booths to people who want to display items in his store. In the window of the storefront, Walsh displays a for-sale item that is dear to his heart.
"This '67 Honda Dream motorcycle is a tribute to my grandfather, Jim, who I was named after," Walsh said. "You don't see this type of stuff in most antique stores. Right next to this, is a Hover Craft lawnmower from 1979 that was used only once, and still works. For the right customer, this is an amazing find." Walsh emphasizes the fact that everything in his store has no dust, no dirt, and works.
"We don't sell anything that doesn't work," he said. "If there is something that you are looking for, and we don't have it, customers can write their names, contact info, and what they are looking for in a notebook on a podium in the front of the store."
Then, Walsh will let customers know when he finds what they are looking for.
"We like to keep all of our items displayed in a way that they can really look at all of the detail in each item," Walsh said. "We don't want displays to look cluttered. Customers can actually make a day of coming to the store and browsing."
The shop is open daily, and Walsh said that the busiest days are Saturdays and Sundays.
In addition to selling antiques, Walsh's store also buys antiques and precious metals, such as gold and silver.
"If someone has something unique to sell, we buy it," he said. "I bought this 1940s Royal Crown slot machine by answering an ad that I saw. The machine takes dimes, and is original and unfinished. And it still works."
For more information, contact Jim and Arlene Walsh at (609) 379-6246, or email newjerseyantiques@yahoo.com.
---
---
---