Bordentown Braces helping to show patients' confident smiles

May 05, 2014 06:09AM, Published by Community News Service, Categories: Community
---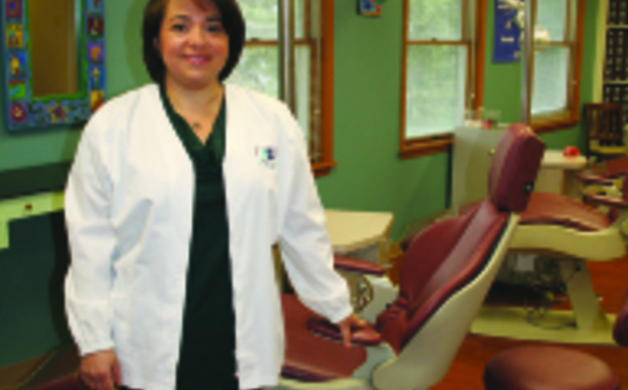 Dr. Yana Newman stands in the exam area of Bordentown Braces. (Staff photo by Lexie Yearly.)
---
---
By Scott Morgan
If you've always been happy with your smile, count yourself lucky. Not everybody gets to have that. And when you're a kid and already feeling self-conscious and shy, it's a lot worse when you don't like what you see when you smile.
This is what compels Yana Newman to do what she does. As a board-certified orthodontist and owner of Bordentown Braces, Newman knows the power of a confident smile.
Newman often starts seeing kids when they are between the ages of 8–12. "They feel awkward, they don't smile," she said. "But when we take their braces off, they're just beaming."
Newman started as an orthodontist in 2001, working with Nancy McNamara for about a year until McNamara retired. Newman bought the business because "I wanted a small practice and I wanted to know my patients," she said.
Over the past decade, Newman has built a practice that concentrates on making patients feel less like a number.
"You get to know the families and the patients," she said. "We're small enough that I can call the parents back."
Another point of pride for the six-person office (one orthodontist, two at the front desk, and three assistants), is that Newman insists on keeping appointments. She doesn't follow the time-honored doctor tradition of setting an appointment for noon and strolling in at 12:30-ish.
"If our patients are waiting 10 minutes, we're having a bad day," she said. "We're very prompt, we like to respect everybody's time."
In addition to its office on Crosswicks Road, Bordentown Braces recently opened a second office in Cream Ridge. Both offices feature free consultations, estimates and time frames for treatment.
By the way, Newman doesn't just see kids. Plenty of adults come to her with a need to straighten out their smiles. It's the adults, in fact, who most appreciate the advances in orthodontics, which set a smile straight a lot faster (and a lot more discretely) than in the old days when metal and wires were the norm.
Invisalign and Invisalign Teen, systems that keep braces discretely hidden, have been favorites for years, but Newman said she is also incorporating the Propel Orthodontic system. Propel, she said, can set teeth a lot faster—about 50 percent faster—than standard braces.
It's not all about the smiles either, Newman said. Straighter teeth are stronger, easier to clean, and chew food better.
"Straighter teeth are better for your health," she said.
But the smiles help.
"We have a lot of fun," Newman said of the practice. "And I love it. When someone is proud of their smile it makes such a difference in how they feel about themselves. This is a happy place."
Bordentown Braces is located at 231 Crosswicks Road, Suite 9, in Bordentown. Office hours are Tuesdays from 8:30 a.m.–5 p.m.; Wednesdays from 11 a.m.–6 p.m.; Thursdays from 2 p.m.–7 p.m.; and Fridays from 9 a.m.–5 p.m. Summer hours, which begin in mid-June, are Tuesdays from 8:30 a.m.–5 p.m.; Wednesdays from 10 a.m.–5 p.m.; Thursdays from 11 a.m.–6 p.m. and Fridays from 9 a.m.–1:30 p.m.
Phone: (609) 291-8555. On the Web: bordentownbraces.com.
---
---
---