Villa Victoria students build flying cars

May 05, 2014 07:11AM ● Published by Community News Service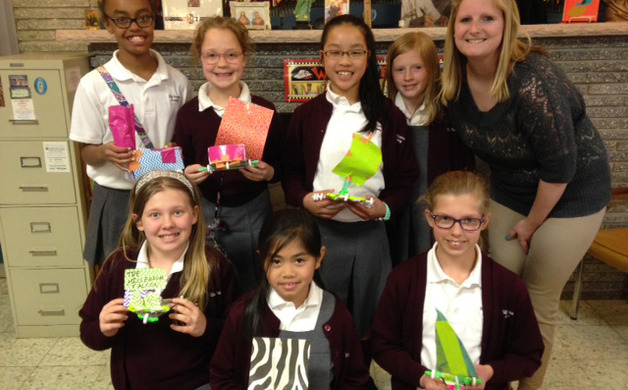 Young Engineers club members Kaila Lacy (Lawrenceville), Eleanor Enright (Yardley, Pa.) Charlotte Durst (Ewing), Gia Villegas (Bordentown), Bryanna Ly (Bordentown), Olivia Heidgen (Morrisville, Pa.), Dana Theroux (Princeton) and club leader Colleen Lynady display their flying cars.
Students in Villa Victoria Academy's Young Engineers club were challenged to make flying cars.
Students were limited to using lifesavers, tape, straws and paper to build a car that could move two meters with just the use of air.
Before building, students explored the process that engineers use, and thought about different ways things can move. They were shown model cars and pictures of objects that use a sail to move.
Through a lot of creativity, hard work, and many failed attempts, the students figured out the car shapes that move best through the air, and which type of sails can best catch the air and push an object forward.
The Young Engineers club was created to bring together third through fifth graders and open their minds to an engineering project.
Villa Victoria Academy is the oldest private Catholic school for girls in grades Pre-K-12 in New Jersey. Founded in 1933 by the Sisters of the Religious Teachers Filippini, VVA celebrated its 80th anniversary this year.
More information is online at villavictoria.org.
News
,
Schools
villa victoria