Bordentown actors to present 'Shrek the Musical'

May 06, 2014 07:07AM ● Published by Community News Service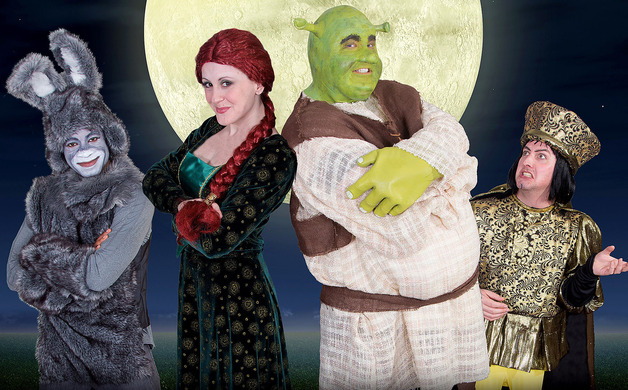 "Shrek the Musical" stars Kyrus Keenan Westcott (Hamilton) as Donkey, Kim Cupo (Fairless Hills, Pa.) as Princess Fiona, Jarad Benn (West Chester, Pa.) as Shrek, and Nicholas Pecht (Hamilton) as Lord Farquaad.
Maurer Productions OnStage is set to present Shrek the Musical at Kelsey Theatre.
Shrek the Musical is a song-and-dance-filled adaptation of the Oscar-winning DreamWorks animated film.
In the Kingdom of Duloc, the classic princely rescue of the damsel in distress is not proceeding according to protocol. Instead, an unseemly ogre has shown up to rescue a feisty princess. Add to the mix a donkey that won't shut up, a bad guy with a short temper, a cookie with an attitude, and over a dozen other fairytale misfits, and you've got the kind of mess that calls for a real hero. Luckily, there's one on hand – and his name is Shrek.
This stage version of Shrek was nominated for eight Tony Awards, including best score and best book for a musical, when it opened on Broadway in 2008. It ran for over 12 months and since then has toured nationally and internationally.
MPO, led by artistic director John Maurer, earned rave reviews for its production of Monty Python's Spamalot in the fall and Avenue Q last season. Maurer considers Shrek the Musical to be the largest and most complex production in the company's nine-year history. The show features 35 actors, more than 60 fairytale costumes, scores of props, and 16 hand-crafted puppets, including a 24-foot dragon.
The lead characters include Jarad Benn of West Chester, Pa. as Shrek, Kim Cupo of Fairless Hills, Pa., as Princess Fiona, Kyrus Keenan Westcott of Hamilton as Donkey, and Nicholas Pecht of Hamilton as Lord Farquaad.
Featured as citizens of the Kingdom are Amanda Mancino, Jaimie McMillin, Donna Reed (Bordentown); Caroline Purdy (Cranbury); Julianna Zannikos (Doylestown, Pa.); Evan Bilinski (Franklin Park); Margot Bergeron, Wesley Cappiello, Anna Kralik, Abby Oliver, Dominique Shaw (Hamilton); Lexi Schlaifer (Hightstown); Bridget Hughes (Jackson); Jon Knapp (Jamison, Pa.); Justin Derry, Nicky Torchia (Langhorne, Pa.); Aimee Robidoux, Matt South (Levittown, Pa.); Danielle Paglino (Marlboro); Susan Fowler (New Hope, Pa.); Charlotte Gougher, Rob Gougher (Newtown, Pa.); Kristen Kane, Rosie Karlin, Scott Karlin (Plainsboro); Simon Hamilton, Sally Page (Princeton); Jonathan Logan, Michael Mitgang (West Windsor); Addison Blumberg, Liam Smith (Yardley, Pa.).
Performances are scheduled for May 30, 31, June 6 and 7 at 8 p.m.; June 1 and 8 at 2 p.m. A reception with the cast and crew is set to follow the opening night performance on May 30. Kelsey Theatre is located on Mercer County Community College's West Windsor campus, 1200 Old Trenton Road.
Tickets are $20.
More information is online at kelseytheatre.net.
Arts+Entertainment
theater
acting
shrek the musical