Bordentown senior bests school baseball record of 100 hits

May 15, 2014 05:51AM ● Published by Community News Service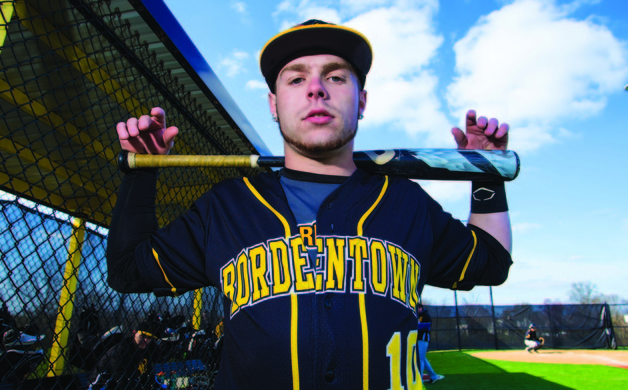 Tommy Walters broke the school record for career hits with his 101st hit on April 14, 2014. (Photo by Albert Rende.)
By Ken Weingartner
If there was one thing that interested Tommy Walters when he joined Bordentown High's baseball team four years ago as a freshman, it was hitting 101.
That's not a course, as in Hitting 101, but the minimum number of hits Walters hoped to accumulate during his career with the Scotties. And when the senior collected No. 101 with a 3-for-4 performance on April 14, he moved into a class by himself as Bordentown's all-time leader in the category.
"It means a lot," said Walters, who entered this season with 95 hits and a career .413 batting average. "It's something I've been chasing after since my freshman year. I came in knowing the record was 100, so it was the goal I set my freshman year."
Walters started playing baseball when he was about 6 years old, although for a while it wasn't his favorite sport. He also plays football, but with a listed height of 5-foot-6 and weight of 150 pounds, he eventually began to concentrate on life on the diamond.
"I used to like football a lot better, but I never grew really," Walters said, laughing. "So I started focusing on baseball more. I just like being out here and having fun. I like the weather a lot, too."
Walters batted .500 in 25 at-bats as a freshman, .416 as a sophomore and .363 as a junior. He entered this year with 68 runs scored, 47 stolen bases and 38 RBI.
His speed is helpful at the plate and on the base paths, as well as defensively in centerfield.
"I'm real quick and I always run the ball out," Walters said. "Whenever I hit a ball on the ground I know I've got a shot at beating it out. In the outfield, I'm just good at tracking the ball down. I see the ball real well."
Walters' intensity and enthusiasm also are among his top qualities.
"His mentality, if he's going to play, he's going to go all out whether it's in practice or a game," Bordentown head coach Chris Glenn said. "It's just the way he goes at it. His speed helps him a lot. He's deceptive. He'll put that ball on the ground and he'll run out a lot of infield hits. Guys will take their time trying to throw across the diamond and he's already passed first base.
"When you talk about a program player and a role model for how you want guys to come out, that's the guy I want the kids looking at every day. He's a hard worker. He's just a tremendous athlete, a tremendous kid. He's good everywhere. I could pretty much put him at any of the nine positions and know he'll step in and do a good job."
Bordentown, which graduated its top two pitchers from last year's 13-11 squad, opened this season by splitting its first six games. Glenn was hopeful the team could improve throughout the campaign, particularly as the pitching rounded into form.
"Walks have hurt us a little bit, but I kind of expected that without having a whole lot of varsity experience on the mound going in," Glenn said. "We're kind of finding our way right now. But I think we're in a good spot where we're at. I do have faith in the pitching; I think it's just a matter of getting them confident." Offensively, Walters wasn't alone in getting things going for the Scotties during the early part of the season.
Austin Chaszar, a senior, hit a walk-off two-run homer in a 7-6 victory over Robbinsville and also homered and drove in two runs in a 5-0 win over Cinnaminson. Marc Gronostajski, a junior, hit a grand slam in the Robbinsville game and was joined by seniors Kyle Kafer and Nick Callahan in swinging hot sticks.
Kafer also fared well on the mound, tossing a complete game in shutting out Cinnaminson. He also blanked Delran, 4-0, on three hits while striking out seven.
With the program's hit record in the books, Walters had only one other goal for the remainder of this season.
"To win out," he said. "I don't want to lose again."
As for the future, Walters is considering attending Keystone College in northeastern Pennsylvania and continuing his baseball career next season.
"Me and a couple guys from here took a visit up there and they're a pretty good program," Walters said. "I think I'm going to go there. I want to keep playing. "I'm not going to hang up the cleats just yet."
Sports
,
Schools
brhs
baseball