One year later, cancer-free Ward reflects on positive changes

May 19, 2014 05:52AM ● Published by Community News Service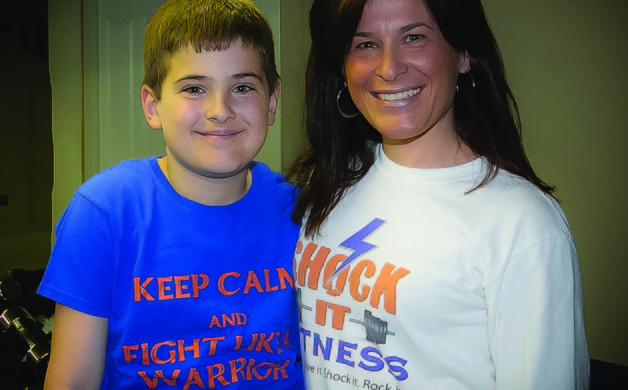 Carrie Ward (right) and her son Zach stand in Ward's new space for her business, Shock It Fitness. Ward was diagnosed with cancer last year.
By Carrie Ward and Sarah McEwan
In February 2013, Bordentown resident Carrie Ward competed in the World National Powerlifting Federation Lifetime All Raw National Tournament of Champions and earned second place just one day after finding out she might have cancer. When Ward's diagnosis was confirmed, she entered a six-week aggressive treatment plan with daily doses of chemotherapy and radiation to treat Stage 3B colorectal cancer.
In May 2013, the Bordentown Current featured a story about Ward, owner of Shock It Fitness in Bordentown, and her journey of navigating her diagnosis and continuing her training. The following is a submission from Ward detailing her progress over the last year.
Even if I had all the money in the world, I would still jump out of bed every Monday morning when the alarm goes off at 3:45 a.m. to train my Fit Crew (what Shock It Fitness calls its members). I am the happiest when I see each and every one of them succeed, become more positive, and in turn, stronger—not only physically, but more important, mentally.
I believe that if we had more people feeling this way about themselves, not only could we wipe out obesity and disease, but people would be less stressed and more productive. The world would be a better place.
When your job is where you aspire to be your best, and that job is also your passion and purpose, you will find endless energy and true happiness. I truly love what I do and the people I work with.
I told my son a year ago that I had a new competition that I was training for—the cancer—and that I was going to win. I kept that promise. Training physically helped me win the toughest battle of my life. Not once did I ever let my guard down, feel sorry for myself or let any negative talk enter my head. I faced my fears; I was in it to win it.
I used the physical strength and mental fortitude I developed in training to attack this disease and treatment. In September 2013, I was declared cancer-free.
My next challenge was to expand my mission to challenge individuals on all levels to reach their fitness potential. My path is clear, I want to help people, I want to inspire people to find their greatness, I want to make an impact.
For the past two years, Shock It Fitness had been offering personal group training to clients out of the Carslake Community Center in Bordentown. I felt challenged by the restrictions of the space and wanted to be able to have a place to offer her clients access to weights, more equipment as well as expanded classes like Freestyle Yoga and Fusion Pilates.
I learned that everything happens for a reason when I met Stephanie Bellanova, co-owner of ERA Central Realty Group, in 2013. Stephanie was training for the Tough Mudder, and I began training her a week before I began aggressive daily radiation and chemotherapy treatments.
After Stephanie achieved her goal, she wanted to share Shock It Fitness with her company. The fact that ERA happened to have the available space, and Shock It Fitness needed a new home, made it a perfect match.
Now, Shock It Fitness is located in the ERA Central Realty Group building at 3379 Route 206 South in Bordentown. The new space includes a small group fitness room and a gym for one-on-one and small group personal training. Shock It Fitness is known for offering its Fit Crew training that is more personal than can be found in traditional fitness centers. In line with this, class size is limited so they can ensure individual attention for maximum results and injury prevention.
The new location also features an expanded schedule and wider variety of classes, from Strength & Metabolic Conditioning to Kickboxing, Yoga and Pilates. A free class is offered to any first-timers who want to experience the difference small group personal training can make as well as a free 30-minute Personal Training consultation.
What I offer here is the anti-gym. You will come in here and get it done in a 45 minutes rather than waste time and money on a gym membership that isn't effective. You walk in here and you get results and will reach your goals physically and personally.
While I've had roadblocks to continue in my own powerlifting training, I'm currently focused on training women who are interested in competing and passing on my knowledge to them. I'm currently not training for a competition, but am training others and growing my business. I'll be competing in the World's before I decide to hang up my weight belt.
I made a promise to my son that I would win this fight. My son, my family, my Fit Crew and my clients kept me going through the cancer diagnosis, treatment and recovery. I had an army of people who got me through the hardest time in my life and now it's time to pay it forward.
On the Web: shockitfitness.com or search Shock It Fitness on Facebook.
The Bordentown Current eUpdate
Community
wellness
health
cancer