New Jersey Renaissance Faire opens portal to the past

May 22, 2014 07:54AM ● Published by Community News Service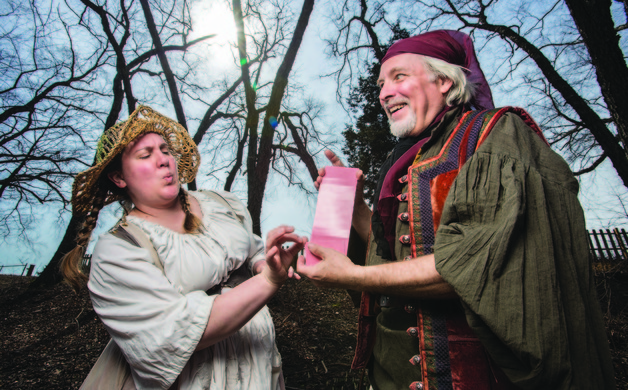 New Jersey Renaissance Faire actors Diana Brown and Chris Miller get into character at Liberty Lake in Bordentown, where the event will begin May 31.
By Aliza Alperin-Sheriff
Around the solstices and equinoxes, the fairies in the woods of Burlington County open magic portals that allow time travel. Should you stumble upon one of these portals, you will be transported to Crossford, an Elizabethan English village complete with a duke and duchess, peasants and criminals.
At least that's how the founders of the New Jersey Renaissance Faire want you to feel at their event, which will be held May 31, June 1, June 7 and June 8 at Liberty Lake Day Camp in Bordentown.
The fair's main focus is interactive theater, which means that the cast's primary role is interacting with the patrons, giving them a feel for the time period and bringing them into the fantasy that they have gone back in time.
"People are starving for that non-electronic interaction with people," said T.J. Miller, one of the fair's founders. "We're not a video game, we're not TV. The people they see performing come up and talk to them."
The New Jersey Renaissance Faire was conceived by Miller, John Williams and Phil Leipf in 2009. All three had worked at other renaissance fairs for years before deciding to start their own.
The fair has entertainers who sing, dance, tell stories, juggle, joust and shoot crossbows; six stages where cast members perform shows throughout the day; vendors selling handicrafts; food and a wine garden.
"It's like summer camp for adults," Miller said.
However, the fair is not exclusively for adults. The atmosphere is family-friendly and the directors run a substantial educational outreach program. They will even host three school days where the fair is open exclusively to children.
One feature of the New Jersey Renaissance Faire is that each year it has a different plot that manifests itself in different shows throughout the day, including the opening court, the human chess match, the final joust and the day's end show. The plot always revolves around someone who has a dilemma that they have come to Crossford to solve.
In this year's plot, Shakespeare has writer's block and his characters have escaped his brain and come to life. Therefore, patrons will be able to meet Macbeth and Lady Macbeth, Romeo and Juliet, Othello and Iago, Hamlet, Oberon, Titania and Puck in addition to the usual historical figures and fictional villagers wandering around the fair.
The New Jersey Renaissance Faire has always has two casts: a principal cast of 20 professional actors and a volunteer supporting cast of 50. Although principal cast members have more scripted lines and appear in more staged shows than members of the supporting cast, they participate in interactive theatre with patrons as well.
One of this year's principal cast members is Ariel de Ment, who will be playing Lady Macbeth. De Ment lives in New York City where she specializes in stage fighting and stunt work.
DeMent said that because of the contact with patrons, creating a character for a renaissance fair is a different process than creating a character for stage.
"Even when the fair starts," she said, "You really can't make a character concrete because it's so interactive—you never know what's going to happen." In contrast to de Ment's professional credentials, Dawn Brook revealed that she hasn't acted since her kindergarten performance of the Wizard of Oz.
Brook, a new member of this year's supporting cast, is a 36-year-old stay-at-home mom from Ewing. She has three sons, the oldest of whom is on the autism spectrum.
"I think I was just born in the wrong century," said Brook on her decision to audition for the fair.
Her interest in the Renaissance began when she was in sixth grade and a group came to her school portraying alchemists, jesters and princesses. She loved it and decided she wanted to become involved in something similar.
"I've been looking for a group to join for about 10 years," she said.
Before joining the cast of the New Jersey Renaissance Faire, Brook participated in the Society for Creative Anachronism, a group that attempts to recreate medieval Europe. However, she was unsatisfied because she found that the group was more about demonstration than participation.
"They just wanted to put on a show and leave," she said.
However, with the New Jersey Renaissance Faire, she has finally found a group that is a comfortable fit.
At the fair, Brook will be playing Julianna Flax, a troublemaking flax spinner who lives on a farm with a brother and two sisters.
According to Brook, the directors only tell cast members the name of the character they will be playing and give them a list of 100 questions to answer. Using the questions as a guide, the cast members flesh out their characters throughout the 10-week rehearsal period.
So far, Brook has been enjoying her experience with the fair.
"The rehearsals are really fun and upbeat," she said. "Everybody gets along great."
Another member of the supporting cast is Hamilton's Chris Miller, who is returning to the fair for his second year. Miller, a 58-year-old software engineer at Lockheed Martin, is married with three children ranging from 16 to 24.
Miller started taking his daughters to renaissance fairs when they were young. He has always enjoyed acting and did community theatre when he was young. He loved that renaissance fairs gave him the opportunity to dress up in costumes and participate in improvisational scenes with the characters. He was so enthusiastic that he was even mistaken for a cast member on a few occasions.
"I'm just that sort of character," he said.
A few years ago, Miller got into a conversation with a character at the New Jersey Renaissance Faire. It turned out to be one of the fair's directors who asked him, "Why don't you come and actually join the family?" The next January, Miller auditioned for the fair and was offered a position in the supporting cast.
This year, he will be playing Dr. Tobias Connington, who he described as "an unrepentant con man." He is also a member of a men's singing group called the Knaves.
Last year, Miller played Dr. John Dee, a real person who lived during the Renaissance period and created one of the first libraries in Europe. "I had to do heavy research on him because people who go to renaissance fairs expect to meet him," he said.
This year's character allows Miller more creativity, but he'll still be reading up on cons and crime and punishment during the Renaissance in order to craft his character.
"If you see Dr. Tobias Connington, put a hand on your purse. That way he knows where it is," joked Miller.
Diana Brown of Hamilton is also a member of the supporting cast. She works at Whole Foods and, along with her husband, runs a cat shelter out of her house.
Although Brown is new to the New Jersey Renaissance Faire, she has been cast in various fairs since 1999, including the Pennsylvania Renaissance Faire and the now-defunct New Jersey Renaissance Festival and Kingdom.
Brown, 42, has been interested in renaissance fairs since she saw television commercials for one as a child, but her mother never wanted to take her.
She finally began attending fairs in 1989 when she was in college, and she instantly felt at home. She even met her husband at a renaissance fair.
"He was playing a king and I was playing a peasant," Brown recalled. "He thought it was hilarious how I would roll on the ground groveling before royalty."
At this fair, Brown will be playing Sylvia Seedmore, a local vegetable farmer.
She said that she likes to "become obsessed with whatever job my character has," which this year means becoming obsessed with vegetables. For example, she plans on looking of the rules for the lawn bowling game bocce, setting it up at the fair for people to play and calling it "cabbocce."
Brown thinks that one of the best parts of the fair is interacting with the patrons. "Kids get excited to talk to a lady in a really pretty dress or a knight," she said. Brook, Miller and Brown all emphasized that the atmosphere of the fair is friendly and welcoming.
"When I went to other fairs, people didn't come up and say, 'Hey did you want to see the Shakespeare show?' At the New Jersey Renaissance Faire, you get greeted at the gate and there is nonstop energy from there," Brook said.
They also all related that the cast members tend to get very close.
"The cast really does become a big extended family," said Brown.
Miller observed that before joining the fair's cast, he had never had so many friends who would come over and help him out at the drop of a hat.
He said of the cast, "We have a capacity not just for fun, but for joy, and we want to share that."
The New Jersey Renaissance Faire will take place from 10 a.m. to 6 p.m., rain or shine, on May 31, June 1, June 7 and June 8 at Liberty Lake Day Camp located at 1195 Florence Columbus Road, Bordentown.
Community
renaissance faire