A 'ruff' count

May 27, 2014 05:37AM ● Published by Community News Service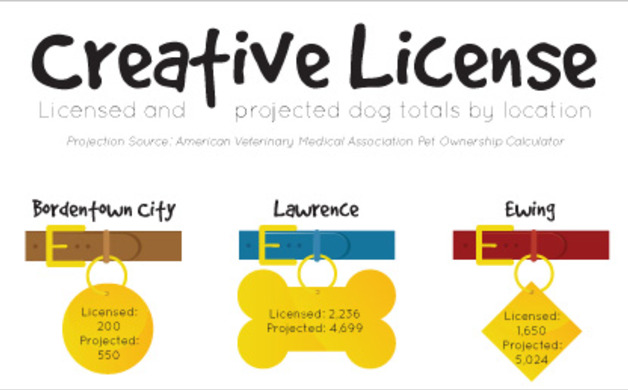 By Rob Anthes
A 70-year-old state law has some municipal officials in New Jersey feeling like they are chasing their tails. As it turns out, they may be.
In 1941, in an attempt to stem the momentum of a growing rabies epidemic, the New Jersey Legislature decreed that municipalities had to tally every dog within their borders. Of special interest was an annual count of unlicensed animals—a dog census. As far as anyone knows, New Jersey is the only state to mandate such a census.
Target the animals without licenses, and find the ones most susceptible to rabies, the thinking went. Dogs must be licensed in New Jersey, and, in order to be licensed, they must be immunized against rabies.
So, around the state, animal control officers or hired workers would knock on doors trying to find dogs without licenses. They'd find them, for sure, but some municipalities found the census cost more in wages than it earned in dog license fees. It demanded time and money some officials felt could be better used elsewhere, and presented administrations with plenty of questions. Mostly, the frustration boiled down to just one big question: Is a wild dog chase really worth it?
It depends on who you ask.
Robbinsville mayor Dave Fried hasn't shied away from sharing his thoughts on the matter. Fried has been among the toughest critics of the dog census, calling the law "small ball" and "ridiculous." Fried has argued the legislature should take on matters, like affordable housing and school funding reform, that affect his residents. The number of dogs in a town isn't one of those matters, he said.
"Really, should I care how many dogs you have?" Fried said. "As long as you aren't bothering your neighbors, why does it matter if you have one dog or two? But I still have to tell the state we have 1,000 dogs in the town. Next will be cats. And maybe we'll do birds."
While Fried has directed his frustration at the whole practice of counting dogs, officials in other towns have taken issue with aspects of the dog census. The municipal government in Hamilton used to hire special animal control officers to canvass the township's 40 square-miles. But township officials found they couldn't complete a full census by September, when the state requires counts to be submitted. It became an exercise in frustration.
So, Hamilton did away with the dog census. The township hasn't completed one in about 15 years, township health director Jeff Plunkett said.
"It's really ineffective," Plunkett said. "We would get through a whole year and still not have the whole town covered. Then, we'd have to start over."
Hamilton meets the law's requirements in other ways. The township animal control officer investigates every dog bite reported, as well as any tips he receives about potentially unlicensed dogs. The township reminds residents to renew their dogs' licenses every year. And animal control officers always keep an eye out for dogs without licenses.
Nearly every other town in the area follows similar protocol.
Bordentown City also encourages its residents to use the free rabies clinic, and to license their dogs early. Enforcement falls to the city's animal control officer, Peter Sedor.
Bordentown is smaller and more densely populated than most municipalities in New Jersey, which means Sedor can easily walk the city and enforce dog licensing laws. He doesn't conduct a formal census, but Sedor said he'll check any dog he passes to ensure it has a license. Bordentown City has 200 dogs registered.
"And that's not all of them," Sedor said.
The knowledge there are unlicensed dogs lurking has kept municipalities like Hopewell Township committed to canvassing. In many ways, Hopewell is a reformed version of some of its neighboring towns—officials used to hire college students to go door-to-door but found canvassing burdensome, and eliminated it in the 1980s. But then, the number of licensed dogs plummeted from 2,000 to less than 1,400. The municipal health office reinstated the canvass, and the license numbers returned to their former levels.
Hopewell health official Gary Guarino said canvassing occurs in the summer, in the more densely populated areas of the township. Officials will knock on the front door, and if no one's home, put a hanging tag on the door knob to notify people the township had been there.
Animal control officers and neighbor reports also contribute to Hopewell Township's dog licensing efforts.
Hopewell Township also requires residents to license their cats. There are 700 cats licensed in the township, but Guarino said national statistics show that towns usually have more cats than dogs. Because Hopewell's numbers don't reflect this, Guarino has considered counting cats, too. But it is difficult to enforce cat licensing because it is "harder to knock on a door and hear a cat bark."
In Princeton, animal control officer Mark Johnson goes door-to-door during the day or on weekends. He said he usually catches 500-600 unlicensed dogs by canvassing, and even more people register their pets voluntarily once word gets out Johnson has started his annual check.
Still, Johnson acknowledged there's a debate surrounding the dog census' usefulness. He guessed "99.9 percent" of all dogs he crosses have been immunized. And the Centers for Disease Control hasn't seen a instance of the canine strain of rabies in a decade; it's now transmitted to dogs and people mainly by raccoons and other wildlife. So, if canine rabies has vanished and nearly all dogs are vaccinated, why continue the census?
One longtime Mercer County health official, who requested anonymity, said the primary reason for the census is to generate revenues from licensing fees. Sure enough, the state makes no secret of this, attempting to sway opponents by promoting the dog census as an easy way for towns to make money.
"Effective enforcement of the state dog licensing laws results in additional income into municipalities to be used for animal control and rabies control activities," reads the state government's dog census instruction form. "Conducting a canvass to identify unlicensed dogs is considered to be a cost-effective activity by municipal governments."
All this is despite the fact many towns have turned against the census because officials have found it to not be cost effective.
So, the day may come where some municipal officials decide the cost of counting dogs outweighs all the benefits. Surely, the penalty for violating the state dog census law will sway them back into compliance, right? Well, no.
State law compels municipalities to conduct the dog census, as well as to send monthly dog license reports to the state Department of Health. But the state does little with the data, said Daniel Emmer, communications manager for the Department of Health. The information is used mostly by the municipalities, and all actions related to dog canvassing occur at the local level.
Furthermore, the state can do nothing should a municipality decide not to obey the law. There is no penalty provision written into the statute. In other words, the entity that passed the dog census law has no way to enforce it.
So it seems municipalities are left to their own judgment. The dog census law has no bite.
Community
,
News
pets
government