Community members welcome at Old York Country Club

Jun 05, 2014 05:41AM ● Published by Community News Service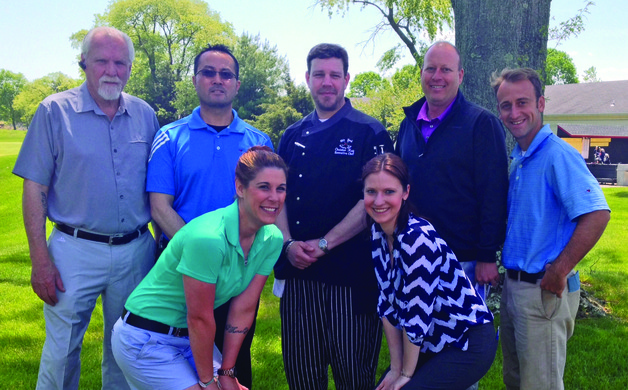 Old York Country Club staff members include (front) Alicia Harkins, Melanie Szakielo, (back) Bill Miscoski, Hank Seng, Christian Haig, Jim Vernon and Michael Deal.
By Ryan S. Murphy
For many people, the term "country club" conjures up images of the elite rich playing a game of golf amongst themselves, socially cut off from the rest of the community. But David Wheeler, the general manager of Old York Country Club in Chesterfield, is trying to change that perception.
"It's not Caddyshack, and it's not what you think. We have different levels for everyone," Wheeler said. "It's just normal people having a good time. The social events are fun. It's a great getaway and a family-oriented place that's good for kids."
The club, located on Old York Road, was founded in 1996 and purchased by its current owners in January 2013. Wheeler stressed that since he started running the business, he and the owners have been working to include as much of the community into the club as possible.
"Whether it's a part-time casual golfer or a hardcore golfer who goes out there five days a week, we have something for everyone," he said. "We even have swimming pool-only memberships. There's always a social event going on, all of which are open to our social pool members. We had our Easter Brunch, which was actually open to the public, as well as a Mother's Day Brunch. We have a lot of social events throughout the year. We'll have a Memorial Day picnic, a Labor Day pig roast, murder mystery dinners, and movie nights for kids."
The restaurant at the Old York Country Club is also open to the public, and reservations can be made from Thursday through Sunday every week.
One of the Old York Country Club's many assets is its unique Gary Player golf course. Gary Player courses are world-renowned for their expert incorporation of the natural landscape and attention to detail. They even include input from the legendary golfer himself. Of course, the quiet location of the golf course is also a plus.
"Our golf course is unique in that you can't tell you're in New Jersey. You can't see houses or roads. It's a beautiful property," Wheeler said. "Our golf course is tremendous, but the scenery and the banquet hall all make for a beautiful property. For weddings in particular, the scenery is very picturesque."
But the banquet hall doesn't only cater to weddings. Banquet director Melanie Szakielo, who primarily worked in northern New Jersey before becoming enamored with the Old York Country Club, explained the variety of events that are held there.
"We do all sorts of events, including weddings, sweet sixteens, bridal showers, baby showers, and first communion parties. We're very accommodating to every type of event," Szakielo said. "As far as the food, the chefs are really open to customizing, depending on the vision of the client. And everything can move with us except for the dance floor. We create a package, so if you want it to be a Hollywood night or something more romantic, we can make it whatever you'd like. We're willing to be flexible."
Even though the menus primarily feature Italian and American cuisine, there is still a wide variety.
"We have eight different standard menus, three that we work off of for weddings," Szakielo said. "We have different sit-downs, and we also can go fun with barbecue style or hotdog stands if you want for a sweet sixteen."
She also emphasized the importance put on exclusivity for weddings.
"It is obviously very important for a lot of couples that when they come on the property for the day, there's no chance of seeing another bride," she said. "We customize the day all to them and pamper them from start to finish with a private bridal attendant to make sure they're taken care of."
Despite the challenges that come with essentially running multiple businesses on one property, Wheeler said that seeing new faces at the club is always a reward. "The amount of new members that have joined since we've been here has been great," he said. "There's a lot of positive buzz in the area."
Both Wheeler and Szakielo said they hope that positive word-of-mouth will continue so that more people can find out about the Old York Country Club.
"Come enjoy our hidden gem as much as we do," Szakielo said.
Old York Country Club is located at 228 Old York Road in Chesterfield. Phone: (609) 298-3322. On the Web: oldyorkcc.com.
Sports
golf