Holocaust survivor speaks at Bordentown Regional Middle School

Jun 18, 2014 07:04AM ● Published by Community News Service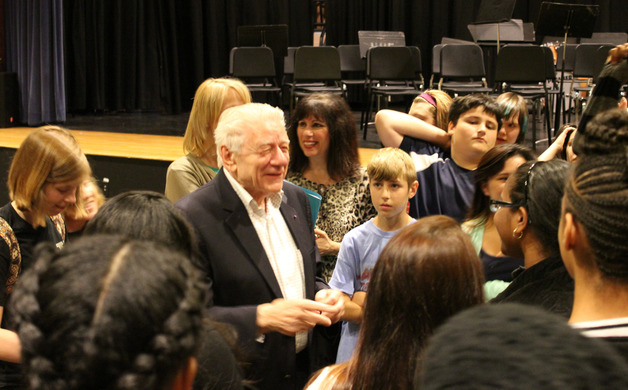 Holocaust survivor Dr. Norbert Bikales greets Bordentown Regional Middle School students May 30, 2014.
Holocaust survivor Dr. Norbert Bikales visited Bordentown Regional Middle School May 30.
Bikales told his audience of 180 eighth graders, teaching staff, and administrators about his experiences as a child growing up in Berlin during the Holocaust.
At nine years old, Bikales learned that his father and 17-year-old brother had been arrested. Later his parents, grandparents, and much of his extended family were murdered "for the crime of being Jewish."
Bikales survived the war his mother's courage to send him away with a rescue mission called the Kindertransport. He was taken out of Berlin in 1939 by a Jewish organization, the Oeuvre de Secours aux Enfants, and traveled to a safe haven in France to a school in Chabannes run by Freemason Felix Chevrier.
Until the Nazis forbade it, he attended classes taught by two dedicated French sisters, Irene and Renee Paillassou, who risked their own lives to shield the Jewish children in their care. Only four of the 400 children with him were eventually caught by the Nazis. The story is told in the documentary The Children of Chabannes, which features Bikales.
In 1943, Bikales traveled over the Swiss Alps into Switzerland. He was arrested, had been placed in different homes including a monastery and finally in 1946 he received a letter from his older brother in Austria. His brother, Richard had been in a ghetto and had escaped a concentration camp in Poland.
The brothers corresponded for a few months until Bikales' 17th birthday where they arranged a meeting on the Austrian-Swiss border. Both agreed to go to America to live with an uncle. In July 1946, Bikales flew to New York, where he was met by his uncle.
After immigrating to America, Bikales earned a Ph.D. in chemistry and became a professor at Rutgers University. Now retired, Bikales has been active in Holocaust remembrance, especially as a speaker in schools, sharing his story.
During the presentation, students asked questions like, "what was the hardest part of your experience during the Kindertransport?" and "how do you feel about Germany today?"
When asked "is there anything going on in the world today that looks like a Holocaust could happen again?," Bikales responded, "we need to take a serious look at the nuclear power that Iran may have. The world powers need to stop Iran from gaining nuclear power and using it."
Bikales and his wife Gerda, also a Holocaust survivor, have been married for 63 years. They have two children and five grandchildren.
News
,
Schools
history
brms