Rutgers Camden pitcher finishes strong season on the mound

Jun 23, 2014 05:41AM ● Published by Community News Service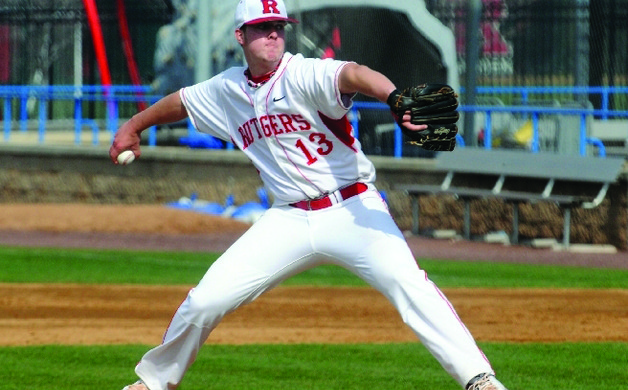 Bordentown native Tommy Potts had a successful season as pitcher for the Rutgers Camden Raptors in spring 2014.
By Lisa Zola-DeLibero
Before Raptors' baseball player Tommy Potts gets on the bus with his college baseball team to head to New York for the NCAA D3 Regionals, he just has to finish one last paper, an analysis on marginal regression in economics.
An economics major at Rutgers-Camden, Potts will be graduating this December, and is hoping to take his baseball talents to the next level.
"Playing college baseball has been a blast," Potts said. "Our team has improved so much over the past two years with coach Dennis Barth as the head coach, and a great group of assistant coaches For the first time in the program's regular season history, we won the New Jersey Athletic College Title."
And Potts found plenty of success himself, too. For several weeks his senior college season, the team captain had an ERA, .64, the lowest in the country. He is 7-1 in the regular season, with a 1.66 ERA overall, helping his team with a season ending 30-12-1 final regular season record.
Potts was also selected for the American Baseball Coaches Association Mid-Atlantic All Region Second Team.
Rutgers head coach Barth feels that Potts is an "excellent leader" and therefore has made him team captain for the past two seasons.
"Potts is a great captain, and commands respect in the dugout," he said. "He is always ready to pitch when we needed him in whatever role we needed him to be in. I think he should have been chosen for the all-conference team because he has one of the lowest ERA's in the country. As far as his pitching talent is concerned, Potts can throw a strike with a fastball or breaking pitch anytime in the count. Very few pitchers can do this. He has incredible ball control."
The decision to attend Rutgers Camden was one that Potts now reflects on as an excellent choice.
"I am really glad that I decided to play here at Rutgers Camden," said the NJCBA Division 2 and Divison 3 all rookie player of the year, and the second team all NJ Athletic Conference Player. "My pitching coach, Josh Coposky, who used to coach at Rider University, has taught me tons. He has taught me how to take care of my body, keep my arm strong, and keep a clear mind. It's really important to work hard, and to also go out there and have fun."
It was with the support of his dad and mom, Antionetta, and sister Allyson, who plays softball at Rutgers, that Potts made that decision.
But it was a lengthy process of finding out his true strengths in baseball before he finally stepped onto the Camden campus in the fall of 2010.
Potts, who started out playing t-ball as a youngster, actually started out as a shortstop. He was coached by his dad Tom, who along with Potts' grandfather helped him to learn more about the game of baseball. Potts also credits his American Legion Coach Tom Dolan and his ACBL Pro-Scout Baseball League coach Jim Maher with shaping him as an athlete.
"I had some really great coaches, including my dad who played the game for years at Babe Ruth," Potts said. "Until I was 12 years old, my dad was my coach. I played with the Bordentown Little League, the Northern Burlington Babe Ruth, Delaware Valley Ball, junior and senior Legion Ball, and Bordentown High School. I was always a shortstop, until the day my high school coach asked me if I could pitch."
So after playing shortstop for years, Potts began to fiddle around with pitching here and there in some of his club games.
One day, when his high school team was in need of a pitcher, head varsity coach Joe Sprague said to Potts, "You know, Potts, you pitch for Babe Ruth right? Well, you're never going to pitch for them again because you are going to pitch for us." Potts still laughs when he thinks about that day, knowing that Sprague was being funny, but serious.
The move to pitcher, it turned out, was a brilliant move for Potts.
As a senior, Potts played in the Carpenter Cup Classic, which is a team made up of the top 4 players from each conference. He played for the Burlington County team, and was able to pitch on the mound at Citizens Bank Field.
A huge Phillies Cliff Lee and Roy Halladay fan, Potts feels that having great role models like Halladay have helped him to play the game even better.
"Halladay is a righty, and I'm a righty," Potts said. "He's a class act, and someone who I admire. I still have his Cy Young award newspaper articles on my wall."
Potts' coaches feel that he is deserving of every good thing that comes his way in life and in baseball. In fact, Sprague believes that Potts could be successful at the next level because of his dedication and work ethic.
"In all my years of coaching high school sports, there are very few kids that could match the work ethic that Tommy possessed," Sprague said. "We always tell our kids that if you work hard, it will pay off, and I could not be more proud than to see this come to fruition for Tommy. He is a super kid and we are so happy for him."
Although Potts excels in baseball, he also played soccer this past fall for the team as a goalie. As far as his future is concerned, Potts just started the ball rolling with entering the police academy. Although, it's still baseball that he really has his eye on in his future.
"I really aspire to play baseball at the highest level possible," he said. "I will give any coach who gives me a chance to play after college everything that I've got. I really believe that if you have the talent, scouts and coaches will find you."
Sports
,
Schools
baseball
rutgers