Boy Scout troop thanks retiring pastor

Jun 25, 2014 06:21AM ● Published by Community News Service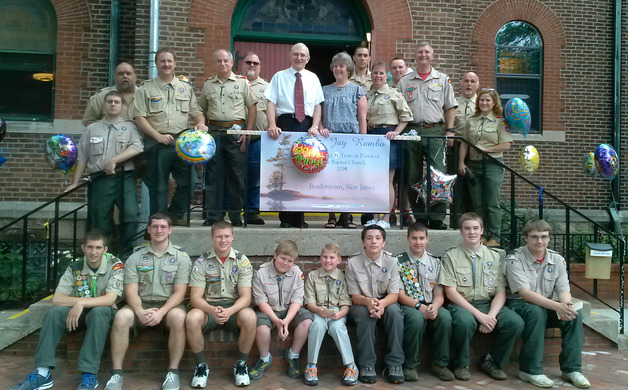 Boy Scout Troop 13 poses with Pastor Jay Rambo and his wife Ginni outside First Baptist Church June 22, 2014. Back: Ian B., Jim L., John L., Ron B., Fitz D., Pastor Rambo, Ginni Rambo, Josh L., Tina L., Nick B., Robert W., Andy G. and Connie D. Front: Zack W., James D., Robert D., Christian M., Henry H., Jordan F., Daniel C., John L. and Charles C.
Bordentown Boy Scout Troop 13 attended First Baptist Church's Sunday service honoring Pastor Jay Rambo, who is set to retire, June 22.
Pastor Rambo is retiring after 33 years of service at First Baptist Church; his last service is scheduled for June 29.
First Baptist has been the charter representative for Troop 13 for 89 years and the scouts thank Pastor Rambo for his dedication and support during his time at the church.
News
boy scouts