Cause motivates Mrs. New Jersey United States first runner-up

Jul 17, 2014 06:03AM ● Published by Community News Service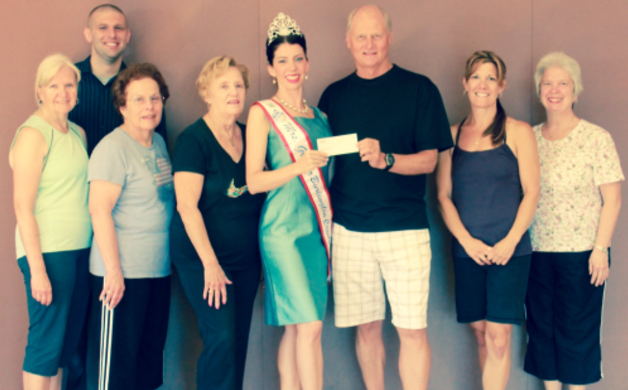 Mrs. New Jersey first runner up Amber Mack (center) presented Hamilton Area YMCA with a check for $3,000. Pictured are Mary Ann Rostel, Joe Fuhrman, Ruth Ann Degler, Pat Faber, Amber Mack, CEO Jim Fell, Stacy Goss and Rita Gudebski. (Photo courtesy of Richard Krauss Photography.)
By Alexandra J. Seymour

Amber Mack represented Bordentown as Mrs. Greater Burlington County in the 2014 Mrs. New Jersey United States pageant held on May 17, winning first runner-up and raising $3,000 for her charity, the Hamilton Area YMCA.
Mack, 31, entered the pageant because it was her childhood dream, she said, and because she believed it would be an effective way to raise money. In addition to working out at the YMCA six days a week, she sits on the organization's Spirit Committee, which organizes events to raise awareness and funds for the annual campaign.
"I could have picked a national level charity, and then just sent the check off, but I'd never see the difference," Mack said. "Picking a local charity is different because you get to see what they're going to do with it… I can physically touch and see exactly what I'm going to affect, which makes me have a stronger drive to get more and raise more thoughts."
Mack's love for children, volunteering and fitness also influenced her charity choice. She is a mother as well as Assistant Director and Costume Mistress for the Central New Jersey Ballet Theatre, which impacted her choice to allocate her campaign proceeds specifically to the YMCA's Special Kids Organized Recreation (SKOR) and Active Older Adult (AOA) programs.
"To me, she's not only beautiful on the outside, she's beautiful on the inside," said Alisha Cardenas, owner of Central New Jersey Ballet Theatre and close friend of Mack. "Everything Amber does—I'm not kidding—she puts forth 110 percent. I know some people say that, but Amber really does it."
Mack was disappointed she was not crowned because she had a vision of spreading her cause to all the New Jersey YMCAs and, ultimately, across the nation. However, she recognized that the competition was stiff and that this was only her first pageant.
"I think [this loss] contributed to pushing me further and giving me more of a drive to do it again, work harder, and change things I need to change," she said. "The judges told me…to believe more that I could do it and then it'll happen. They said there's a time for everyone and…that next year is going to be my year."
Cardenas has full confidence in Mack for the future and praised her efforts and initiative this year.
"I never thought that I would be supporting [a beauty pageant], but it's really funny: she changed my mind," Cardenas said. "I was so proud of her when she went up there and when she told me the next day that she got first runner up. I really hope that she continues, and I hope one day she gets first place."
Mack altered others' perspectives by sharing her story and purpose, too. Despite only living in New Jersey since January 2013, when she moved to Bordentown from Indiana, she rounded up 50 sponsors from six different states.
"I want to put to rest the claim that pageants are all about being beautiful and winning money," Mack said. "It's not about that. It's about volunteering, making a difference in your community, and at the end of the day, learning more about yourself and making yourself a better person."
Mack also found that her longtime passion for dance was a helpful asset during the competition. Mack started ballet at 14 years old and quickly developed a passion for it. She attended Northern Illinois University for dance and later Ivy Tech Community College in Valparaiso, Indiana where she became a registered nurse. She points out that this path completely differs from her twin, who is a sociology professor at Northern Illinois University. Mack also joined the Indiana Ballet Theatre and remains part of the company, often making the commute back for performances and practices.
Although her experience as a dancer allowed her to feel at ease on stage, one challenge Mack encountered was the five-minute personal interview.
"I'm used to being onstage and never saying a word because it's like breaking the wall—you never do it," Mack said. "You have absolutely no idea what they're going to ask and they can ask anything under the sun, especially off the biography sheet that you give them. You just have to act like you're relaxed and you can answer everything perfectly off the top of your head."
However, the environment fostered a sense of camaraderie and friendship, which contributed to Mack's growth in confidence in herself.
"At the end, it was all hugs for everyone, and we've already all planned to get together again over the summer down at the shore," she said.
Mack currently lives with her husband, Codey, and two children Jackson, 3, and Kinley, 1, all of whom supported her throughout her journey. The family moved to New Jersey due to Codey's work in Princeton as an actuarial analyst. The couple specifically chose Bordentown because Mack started working and dancing at Central New Jersey Ballet Theatre, and she wanted to live as close to the studio as possible.
Mack will still be making appearances as Mrs. Greater Burlington County until her title runs out in July, and her most recent focus is volunteering at the Special Olympics for the New Jersey 2014 summer games.
Community
,
News
hamilton area
ymca
amber mack
mrs nj