Libraries aim to stay relevant in changing times

Jul 17, 2014 06:13AM ● Published by Aliza Alperin Sheriff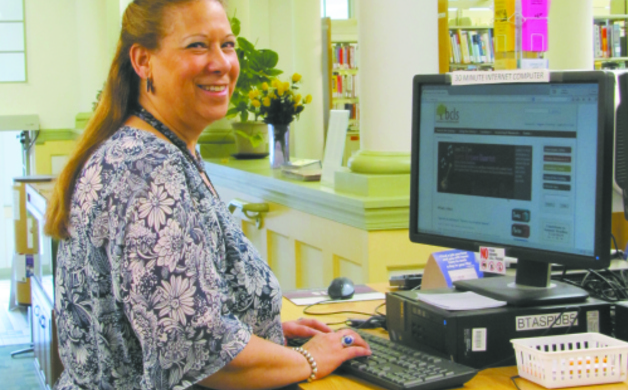 Bordentown Library branch manager Suzi Freedman works at one of the library's computers. (Staff photo by Bill Sanservino.)
By Aliza Alperin-Sheriff
When branch manager Suzi Freedman arrived at Bordentown Library five and a half years ago, the only program for adults was a monthly book discussion.
Now the library, part of the Burlington County Library System, is bursting with programs  and events for every age and interest.
The growth of library programs, events and technology use is a trend that spreads far outside of Bordentown, too.
In May, both Mercer County Library System and Princeton Public Library introduced Hoopla, a service that allows their patrons to stream movies, television shows, music and audiobooks directly to their computers or mobile devices.
Thanks to Hoopla and similar services, such as eLibraryNJ, which can be used to digitally check out e-books and audiobooks, and Zinio, which can be used to digitally check out magazines, library cardholders can access all types of material from anywhere in the world, as long as they have an Internet connection.
In the month following Hoopla's debut, Princeton had 830 patrons check out 1,700 items using the service and Mercer County had almost 2,500 checkouts.
Ellen Brown, the director of Mercer County Library, believes that there are several reasons that library services like Hoopla are popular despite competition from commercial services like Netflix or Hulu.
"I think people like choices," she said. "I think they like free. I think there's a certain comfort zone or safety in downloading or streaming from a library."
Larry McNamara, the supervising librarian of acquisitions and technology at Mercer County Library, added that commercial services focus on providing the most popular items, but libraries focus on having comprehensive collections, which allows for more diverse content.
Embracing services like Hoopla is one adaptation that libraries have made to stay relevant in an increasingly digital world. As libraries have less of a need to use their physical spaces to house their collections, they have remade themselves into full-fledged community centers that offer everything from notary services to computer classes to drum circles.
"It's not books on a shelf and librarians going 'shh' all the time," said Freedman.
Similarly, Brown recounted recently having seen a mother shush her young child after emerging from story time.
"It was funny because that's really not how it is anymore," said Brown. "Our role has definitely changed to be all encompassing."
Leslie Burger, the executive director of Princeton Public Library, explained that the transition of public libraries into community centers is a natural progression.
"In the early 1900s, when public libraries became much more ubiquitous in the United States, they were built to to do the same thing. They were referred to as the people's university and provided an opportunity for people, who might not have had the same advantages as others, to self-educate," she said.
Freedman said one of the most important aspects of libraries is their accessible nature.
"We're the only place open until 8:30 at night in all of Bordentown," she said. "Schools close. Where else do kids have to go? If they're old enough to be here alone, it's a safe place to come. It's a nurturing environment."
As libraries have transformed into community centers, they have begun to expand their programming options including offering more programs geared toward adults.
Around 2000, Princeton Public Library made a deliberate decision to expand their adult programming.
Since then, adult programming has grown exponentially. Last year 70,000 people attended more than 2,400 programs at the library.
Mercer County Library has also seen an expansion in adult programming in recent years. Ann Kerr, who works in the reference department at the Lawrence Branch of Mercer County library, recalled that there was a push in the 1970s to create more programs, but the library had trouble actually getting patrons to show up at first. However, over the years attendance has increased and in 2013 19,135 people attended the 1,599 adult programs offered throughout the Mercer County Library system.
Brown pointed out that many of the programs are "things I would never associate with the library."
Among the programs offered across the branches this June were yoga classes, crochet and knitting circles, movie screenings, talks about cooking and health, ESL conversation groups and coupon swaps.
Bordentown has been slower than either Princeton or Mercer County to increase adult programming, but that is slowly and surely changing. Once she started working at the Bordentown Library, Freedman had worked with Andy Woodworth, a librarian who recently left Bordentown to become the head of adult services at the Cherry Hill branch of Burlington County Library, and together they brought many programs into the library including American Sign Language classes, a home buying workshop and rubber stamping classes.
"Andy had a good touch about what's a good program, what's not, what will fly here," said Freedman.
In addition to reinventing themselves, as technology changes, libraries also need to be able to provide their patrons with access to that technology and educate them about it.
Brown noted that when Mercer County Library first connected to the Internet, there was a rolodex at the reference desk with a list of good sites.
"That wouldn't work too well, now," she said.
Today, being able to use a computer and navigate the Internet is absolutely essential to many endeavors including job searches. After the economic downslide in 2008, people who had been in the workforce for 20 years suddenly found themselves out of work and turned to their libraries for help.
In 2004, 2,014 people attended 353 computer classes at Mercer County Library. In 2014, 4,080 people attended 760 classes.
Freedman has seen a similar trend at Bordentown Library.
"I get a lot of people who need computer and Internet access because they're unemployed and going back into the workforce," she said. She has explained to numerous patrons that for most jobs today you have to apply online and that if you don't have an email address nobody will respond to you. She said that the library offers a lot of one-on-one tutoring sessions to help people use computers and work on their resumes.
As the role of libraries have changed, so have their physical spaces. Kerr said that when the Mercer County Library branches underwent renovations from 1995 to 1997, "We went from a couple of meeting rooms to a lot of them. There are now many rooms just for community programs."
Bordentown Library's 2007 expansion also allowed it to add more meeting spaces. Freedman said that it gives entrepreneurs and people with home-based businesses a professional space to conduct meeting.
"It's sort of like an executive suite," she said.
Despite the all the changes that have come to libraries, traditional library services remain popular.
"Every time you add a new format, you always think it's going to be the end of the old format, but it's not. Our collection of books on CD didn't stop circulating when Hoopla was introduced. We didn't stop buying them," said McNamara.
In fact, circulation numbers, which don't reflect digital checkouts, continue to rise. In 1997, Mercer County Library had 1,252,534 items checked out. That number rose to 1,424,450 by 2004 and 1,466,028 by 2013.
Ultimately, in order to be effective community centers, libraries need to pay attention to what's important to their communities.
"Lawrence is headquarters, so it has more reference resources. Hightstown has a lot of Spanish-speaking people, so they have resources that would help and interest them," explained McNamara.
Mercer County Library has also seen a need in its communities for non-traditional services like delivering library materials to home-bound patrons, developing library gardens, lending museum passes, and running a blog.
One of the unique services provided by Bordentown is a special needs collection that the Bordentown Library Association helps fund. The collection involves books (including Braille books), DVDs and manipulatives. They also put on programs that specifically cater to adults with special needs.
"I think the future of libraries is strong and we will be around for years to come," said Burger. "The next generation of library leaders has to be very cognizant of what's going on in the communities they serve. They have to really pay attention to what's going on in their community, as opposed to jumping on a trend."
Bordentown Library to feature summer reading program
Among the many programs offered at the Bordentown Library are the popular summer reading clubs, which were set to begin June 23 and are scheduled to run through Aug. 15.
Participants should pick up their packets for this year's "explosive" program, "Fizz Boom Read" for Early Literacy and 3-12 year olds, and "Spark a Reaction" for the teens.
Kids can also stop by "Mad Science Mondays" to see what crazy concoctions are being mixed up and, on Fridays, the library will feature science themed movies.
Other July programs include Crafting for Tweens, Big Blocks & Legos, Yoga for Kids,  3-6 Year Old Story Time, Meet Pippi Longstocking, Teen DIY: Monster Bookmarks, Adult Book Discussion, Bordentown Area Photography Interest Group, History to Go: Benjamin Franklin, K9 Reading Time, Teen Cupcake Wars, Sci-Fi Movie Fridays, Mad Science Mondays, The Good, The Bad and the Bug-ly!, Science Story Time, Teen Jenga, Fitness Rock & Roll, Teen DIY: T-Shirt Tote, Baby/Toddler Time, Family Balloon Workshop and more.
Bordentown Library is located at 18 East Union St. in Bordentown.
For more information and a complete list of library events and programs, go online to bcls.lib.nj.us/bordentown. Phone: (609) 298-0622.
Community
,
News
library
burlington county library system