PANDA aims to end substance abuse

Jul 17, 2014 07:42AM ● Published by Community News Service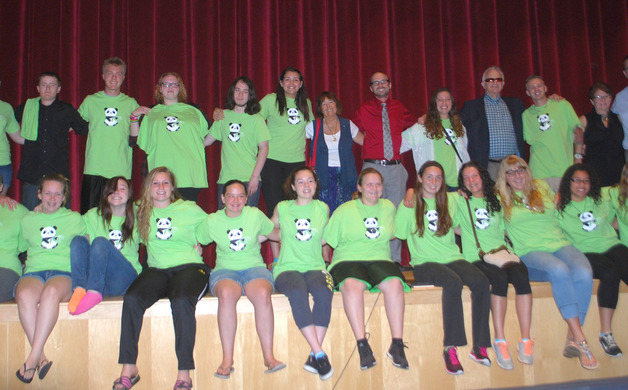 Members of the PANDA club (Peers...
Gallery: Panda Students [1 Image] Click any image to expand.
By Jess Talarick

As the school year draws to a close, students prepare to celebrate the end of their studies with prom and graduation parties—celebrations that are often associated with drug use and underage drinking.
Members of Bordentown Regional High School's Peers Against Nicotine, Drugs and Alcohol Club know that teens face the temptations of drugs and alcohol year round.
The club, started this year by student assistance counselor Nell Geiger, is dedicated to raising awareness about the dangers of drug and alcohol use, as well as mental health issues like depression.
Geiger started PANDA to create a place for students to talk to each other about substance abuse and their own anxieties.
"I—being in the prevention field—know that with all the prevention programs out there, in my experience, peer to peer groups work best," Geiger said.
The club meets during lunch and study halls. During meetings, students talk about their own anxieties and plan prevention events for the school community. In the club's first year, members participated in several projects to support their mission.
PANDA members went on a field trip to Bordentown Regional Middle School to speak to eighth graders about the club's mission. They talked to students about how drugs and alcohol affected their friends and family, taught them refusal skills and encouraged them to join PANDA next year. The eighth graders also participated in role-playing exercises.
On March 19, students placed 1,200 pinwheels on school grounds to represent lives lost to tobacco related illnesses in honor of Kick Butts Day, and this spring, PANDA Club partnered with the Burlington County Coalition of Healthy Communities to organize the Sticker Shock event. Students put informational stickers on alcohol products at Boyd's Pharmacy and Discount Liquor to discourage adults from buying alcohol for minors. Sticker Shock was also designed to reveal how some alcohol products are marketed toward minors.
PANDA's outreach culminated in an end-of-the-year presentation for the entire school June 5, the day before prom. The presentation was organized in partnership with the National Council of Alcoholism and Drug Dependence, which was looking to partner with a school in hopes of educating a younger audience. NCADD pitched the idea of presenting a skit, but PANDA members thought a panel discussion would have a stronger effect.
On the day of the presentation, students filed into the Performing Arts Center chatting about the post-prom parties they planned to attend over the weekend.
Geiger stepped on stage and immediately took the students attention.
"We're talking about a subject that's near and dear to my heart," Geiger said to crowd, "and that's the devastation of drugs and alcohol."
The presentation began with an overview of PANDA's goals and this year's prevention projects.
Next, Geiger shared a video called "Parents 360 RX" by the Partnership for Drug Free Kids. The chilling video featured interviews with parents whose teenage children were addicted to prescription drugs, some of whom died of drug overdose.
The presentation continued with some words from Geiger about seeking help, specifically coming to her with their issues. She told the students they were protected by 42 CFR, a part of the Code of Federal Regulations that requires confidentiality between patients and their counselors.
"Today's message is 'Please find someone to talk to, don't try to deal with it by yourself,'" Geiger said to the audience. She then showed the music video for "Demons" by Imagine Dragons, which depicted individuals who feel trapped by their inner demons.
The presentation's most poignant moment followed the music video.
The curtain opened to reveal a panel of five shadowy figures. One by one, each panelist shared how substance abuse affected their lives different ways.
First was Amanda, a 21-year-old recovering addict who is interning at the school.
Her story began at age 13, when she started drinking and smoking marijuana as a way of socializing with her peers. Despite her growing dependency on drugs and alcohol, Amanda thought she wasn't the type of person to become an addict.
Amanda became depressed and self medicated with drug abuse. When marijuana started losing its kick, she moved on to Ecstasy and prescription drugs she stole out of her parent's medicine cabinet.
"I was stuck in my own tornado of addiction," Amanda said.
When she was about 18 years old, a loved one sat down with Amanda and pleaded with her to get help. Amanda checked into a rehabilitation center and started a 12-step program to recovery. She is now three years sober.
"I would not trade my worst day sober for what I thought were my best days high," Amanda told the audience.
Next was Paul, whose son, Corey, died of an overdose in 2010.
Like Amanda, Corey began experimenting with drugs and alcohol at 13 years old. Paul shared how Corey's growing addiction had a negative effect on his entire family, including his wife and older son.
"Everything in our home was disrupted," Paul said.
Paul, who is blind, recalled the story of finding out his son had overdosed in Jersey City; he drove up north to feel his son's body one last time. Paul's last memory of Corey is hearing the zipper go up his body bag.
A BRHS sophomore also spoke of how a loved one's addiction affects the entire family.
The student told the audience about her bother, who has been addicted to heroin for five years. Her brother's first experience with drugs and alcohol was at a party where he was pressured to try marijuana. Since then, her brother has been in and out of rehab four times but has yet to stay sober.
"I'm telling you this because like my brother, we have a choice to not accept peer pressure," the student said. She ended her speech urging her peers to make good decisions at the prom.
The student passed the microphone to a BRHS class of 2003 alumnus named Kevin.
Kevin told the audience his addiction stemmed from smoking pot in high school. Like others on the panel, Kevin said he never expected he'd become a drug addict.
"I totally didn't see it happening," he told the audience. After graduating, Kevin moved on to harder drugs like Ecstasy, cocaine and heroin. During his drug dependency, he overdosed twice and totalled two cars.
He eventually checked into rehab with a $30,000 scholarship from City of Angels, a Hamilton-based organization dedicated to helping addicts find treatment. He maintains his sobriety through a 12-step program
Finally, a BRHS junior shared how her mother's alcoholism led to an addiction of her own.
The student told a story about waking up on Easter Sunday to find her passed out mother surrounded by smashed Easter eggs. Growing up around her mother's addition caused the student to become depressed, and she started smoking marijuana to deal with it.
After getting arrested for selling marijuana, the student checked in to Princeton House, Princeton HealthCare System's center for behavioral health. She returned to school and joined PANDA to stop students from making the same mistakes.
"My PANDA friends are my life and they are the best thing that ever happened to me," she said.
The curtain closed and the room remained silent, the audience soaking in the heart-breaking stories they just heard.
Following the panel discussion, representatives from Princeton House and City of Angels stepped on stage and explained how students facing substance abuse issues can get help. Then, principal Patrick Lynch concluded the presentation urging students to seek help and procedures for tomorrow's prom.
Geiger said the presentation was a huge success. Following the event, three students reached out to Geiger to speak about issues related to drugs and alcohol and 12 students asked to join PANDA next year.
"The most important thing about PANDA is helping others," Geiger said. She and her PANDA ambassadors hope to offer a listening ear for years to come.


News
,
Schools
brhs
drugs
abuse
education