ERA Central Realty Group's Yard Sale supports Muscular Dystrophy Association

Jul 17, 2014 09:57AM ● Published by Community News Service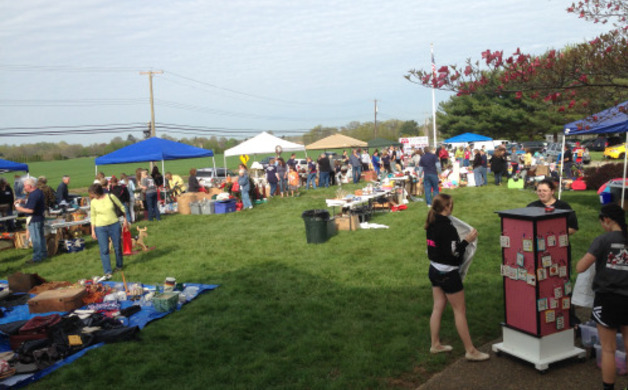 Shoppers browse at ERA Central Realty Goup's Yard Sale for Muscular Dystrophy Association May 3, 2014.
Lending a hand to help combat neuromuscular disease, ERA Central Realty Group sponsored a Yard Sale for the Muscular Dystrophy Association at the Cream Ridge branch office May 3.
More than 1,000 community members perused in excess of 10,000 items ranging from glassware, toys, tools and furniture to linens and vintage collectibles at the yard sale. The event raised more than $11,000, with all the proceeds benefiting MDA Summer Camp.
By becoming an MDA summer camp sponsor, ERA Central Realty Group can provide local children with many special summer memories. The cost of sending one child to camp for one week is $800.
According to N.J. Area Director of MDA, Erin Dresnick, the company's fundraising efforts will help send at least 12 children to camp.
"The effort of the entire team at ERA Central Realty is nothing short of amazing," Dresnick said in a statement," Their fundraising efforts will enable us to send at least 12 children with neuromuscular disease to MDA Summer Camp, with money left over to fund vital research."
The Yard Sale is one of hundreds of events organized by ERA Real Estate members nationwide to benefit MDA. Since 1977, ERA brokers and sales associates have collectively raised more than $36 million to fund research and provide services to help the more than one million Americans affected by neuromuscular diseases. The sole corporate sponsor of MDA from the real estate industry, ERA Real Estate is among the top corporate contributors to the organization each year.
To contribute to Summer Camp for MDA, send a check payable to "MDA" to ERA Central Realty Group, 210 Route 539, Cream Ridge, N.J. 08514.
ERA Central Realty Group has offices in Cream Ridge, Bordentown and Freehold, providing full service real estate to all of central New Jersey.
More information is online at eracentral.com
Business
era central realty
real estate
benefit