Camaraderie keeps Yapewi afloat

Jul 21, 2014 05:50AM, Published by Community News Service, Categories: Community
---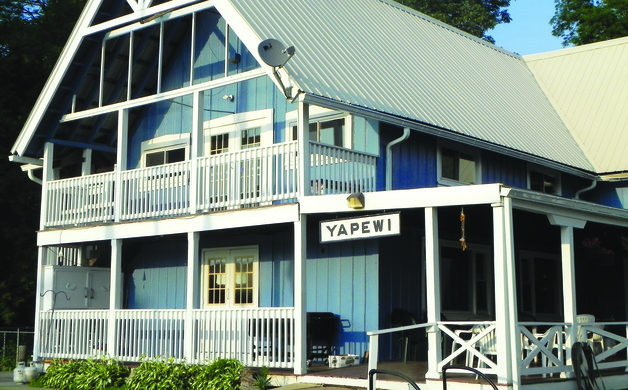 Yapewi Aquatic Club was rebuilt after a fire in 1988. (Photo by Chris Rightmire.)
---
Gallery: Yapewi Aquatic Club [2 Images] Click any image to expand.
---
---
By Chris Rightmire

As the setting sun reflected off the Delaware River and illuminated the freshly painted light blue clubhouse, it was easy to see why boaters had been attracted to the Bordentown City riverfront location for over 100 years.

Yapewi Aquatic Club, located next to Bordentown Beach, was established in 1892. It quickly became a local social hub and attracted notable visitors, said Zig Targonski, a current Yapewi officer and member since 1969.

Some of the notable visitors, Targonski said, included Cornelius Vanderbilt, one of the wealthiest men in American history, and several Army generals.

Yet, as illustrious as the history of Yapewi is, it is not a bastion for the rich and privileged.

"This is a working man and women's club," Targonski said. "There are no very wealthy people that belong here, and most members do all of the work for their boats."

The members put in hard manual labor to make the club shine. In addition to personally maintaining their boats, the club members also built the docks they moor their boats to, maintain the grounds, and are planning to rebuild the porch surrounding their clubhouse, Targonski said.

However, the tight knit club has come together to pull off even more ambitious projects.

In February of 1988, disaster struck the club. About half of the clubhouse caught fire and burnt to the ground. Despite the tragedy, the club banded together and rebuilt the clubhouse by November of that same year, Targonski said.

"I remember all the members bringing their cars up and shining their headlights when it got dark so we could get the construction done before it got cold," he said.

Undertaking such a large task together is indicative of the close family-like bond between the Yapewi Aquatic Club members.

"We're a very tight, family oriented community," said Frank Szczech, a Yapewi member from Ewing. "My children came here, and now my grandchildren come here. This is a great place to teach them how to boat safely."

Lessons in safety, a family feel and a hard-working attitude are all values that have been passed down over the years at the club. But not all has remained the same.

According to vice commodore and Bordentown resident Nick Kacey, the composition of the Delaware River has changed drastically over the years, causing the boats sheltered at Yapewi to change as well.

"We used to have a lot of sailboats," Kacey said. "If you look around now, these are mostly motorboats."

It has become more difficult to use sailboats in the Delaware River because of rising silt levels and the construction of the Interstate 295 bridge over the Delaware River, Kacey said.

Targonski, a former owner of a sailboat named Freedom, said, "I could only sail under the bridge during low-tide, so I would have to time it just right."

As a result, Targonski and other members sold their sailboats in favor of motorboats of all shapes, sizes and prices.

Despite the changes in the Delaware River, Targonski still believes Yapewi's location is what makes it unique.

"There are a lot of very nice clubs with bars and restaurants along the Delaware, but we have the nicest grounds and docking facilities," Targonski said. "We are also lucky to have a sand bar that protects our boats from the wake and stops them from getting rocked and bumped into the docks."
Targonski said other clubs with similar protection are off the beaten path, but Yapewi is convenient for its members, who are mostly from Bordentown, and it is right next to a stop for the Riverline.

Yapewi is also a member of the Delaware River Yachtsmen's League, an organization consisting of about 40 boating clubs on the Delaware River.

There is real camaraderie between these clubs, Targonski said. Clubs let other clubs' members keep their boats at their docks free of charge, and they often go to each other's events.

All the clubs along the Delaware will be invited to Yapewi's Fourth of July barbecue on the sand bar located nearby.

In addition to providing protection for Yapewi's boats, the sandbar is a favorite place for the club's members to frequent.

"We recently had some friends from California come out to visit us," Szczech said. "We took them out to the sandbar and they were amazed with it and all of Yapewi."

The Yapewi club offers many other events including luaus, barbeques, formal dinners and more, Szczeck said, but some of the members' favorite events are informally organized group boating trips.

According to Szczeck, those trips can go as far as Baltimore, a trip that can take 10-15 hours, depending on the tide.

Targonski recalled one of these trips with a smile on his face.

"It was raining and cold out," he said, "but luckily I've got an indoor steering station, so my wife put a roast in the oven so we were nice and warm and had a hot dinner."

The Yapewi members prove that you don't have to be a millionaire to own a boat; you need only a sense of community and a desire to put in the necessary work yourself.



---
---
---