Bordentown invaded by space swine and Maleficent

Jul 21, 2014 06:48AM ● Published by Community News Service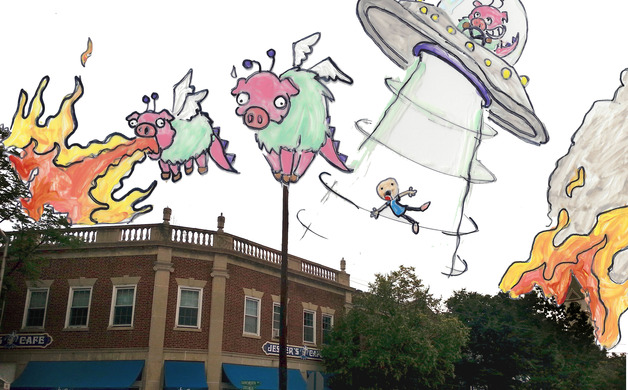 Catherine Epps created an animated image of space swine attacking Jester's Cafe at Firehouse Art Camp.
Gallery: Firehouse Art Camp [4 Images] Click any image to expand.
Look out above! Bordentown City is under attack by animated aliens.
Firehouse Art Camp students created images of Bordentown invaded by intergalactic species during their exploration of animation cells in the Disney style. Campers also made comic book covers, flip books and comic strips.
Serving students age seven to 16, the Firehouse Gallery of Bordentown is finishing its 20th year of Summer Art Camp.
This year students made cement teddy bears, exploded paint with Alka-seltzer, did plein air painting along the Delaware River and created wind sculptures.
Firehouse Gallery owner and camp director E. Gibbons shares lessons and camper's artwork with art teachers across the nation on his blog, artedguru.com. Gibbons' lessons have been featured in several publications, often on Amazon's 100 top sellers of art education titles, particularly The Art Student's Workbook.
Gibbons isn't the only artist teaching campers. Certified teacher Colin Temple has taught at the camp for eight years and classroom aide Tim Lin has been with the camp for four years. Visiting teachers include Gail Fountaine, Howard Michaels and Taryn McGee.
Gibbons says the Firehouse Art Camp team works together to help students create unique projects.
"Our focus is squarely on the students and making sure our projects are expressive, personal, and original. Some have come for many years, and we want to be sure each year is a fresh experience that is both fun and educational. It's the program I wish I had when I was a child," Gibbons said in a statement.
Camp is set to conclude Aug. 1, but may be extended next year into August.
An exhibition of work created this summer to launch next year's registration is scheduled for March 7.
More information is online at firehousegallery.com.
News
,
Arts+Entertainment
art camp
firehouse gallery
animation