Lifeguards return to their roots at CDA swimming club (PHOTOS)

Jul 30, 2014 11:00AM ● Published by Community News Service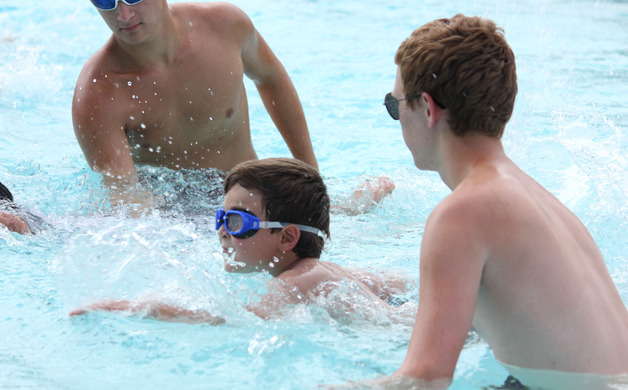 Lifeguards watch over a swimmer at the CDA swim club's annual races July 22, 2014. (Photo by Kyle Kondor.)
Gallery: CDA Swim Club 2014 [30 Images] Click any image to expand.
By Kyle Kondor
Lisa Brown began taking swimming lessons and water safety classes at the Community District Alliance swimming club in Bordentown when she was 5-years-old. Brown struggled in the swimming pool early on. In fact, it took her three years to complete the program's first level of difficulty.
"I didn't even want to get my face wet at first," Brown said. "It took a long time for me to get through the beginner level but once I did I just never stopped."
Now, at 38, Brown is the program's head Water Safety Instructor and she is one of two qualified Lifeguard Instructors at the swim club.
After working as a lifeguard for three years, Brown received her certification to teach water safety at 18, when first eligible, and her lifeguard teaching certification at 25.
The CDA swim club was founded by director Dr. Sally Fisher in 1962, and now takes place at the Southgate Apartments on Ward Avenue for four and a half weeks — from the end of June through all of July. This year's club consisted of about 260 students between the ages of 4 to 15. Each day during the week from 8 a.m. to noon, kids take to the pool to learn new swimming techniques and safety skills.
"We don't just teach swimming. We teach swimming and water safety skills and that way the kids have the opportunity to enjoy swimming as well as save their life if they ever needed to," Fisher, 76, said.
Like Brown did when she was a child, each kid starts the program hoping to complete the six levels of difficulty that prepare you to become an advanced swimmer. The program is run through American Red Cross.
Brown teaches the higher level courses. Her brother-in-law, Joe Knox, teaches the intermediate level, and sister Kristie Knox teaches the lower level.
Once children have accomplished the skills necessary to complete a specific level, they move on to the next. It typically takes one year per level, sometimes more.
The first two levels take place in the low end of the pool where the water sits just three feet from the ground. Here they are taught simple skills such as treading water, kicking their feet, and using "big arms."
Levels three to six take place in the deep end where the surface of the pool lies nine feet below the water. Here they are taught much more advanced skills such as treading water with no hands, swimming 300 yards without stopping, and diving to the bottom of the pool and moving 10-pound bricks from the deep end to the low end.
On July 22, the club hosted its annual swim races. On the last Monday of the program, almost every kid who participated throughout the summer put their learned skills on display in a race against the other swimmers of their skill levels. Family and friends gathered to watch kids receive ribbons after completing their races.
Fisher swims half a mile each day for exercise. She is the other qualified lifeguard instructor at the pool and she stresses the importance of completing the program.
"I like to get a lot of these children to have the swimming skills that I have so they can use it as a life span sport," Fisher said. "If you're a very strong self-taught swimmer than you could become a lifeguard without having gone through the levels, but it's very difficult."
The program offers American Red Cross lifeguard training each Monday from 1-5 p.m. to people ages 15 and older. The students taking this course are also to take three 4-hour classes taught by Lisa Brown at Bordentown Regional High School. The indoor class teaches aspiring lifeguards first AID training as well as CPR and AED. It also requires you to pass a written test as well as a practical test in the pool. 
This type of course is necessary for anyone trying to receive a lifeguard certification that must be renewed every three years. About 12 students per year complete the course through the CDA swim club in Bordentown.
"The stuff they have to complete is not easy. It's a demanding class," Fisher said. "Sometimes they'll complete level 6 twice before taking the class just to assure that they're capable of passing"
On any given day, there are eight lifeguards on duty during the CDA club's water safety training. There is typically one life guard per two students in the pool as well as all of the instructors.
Throughout the 30-plus years that Fisher has been director of the club, she has only hired lifeguards that completed her water safety program. She assures each of her students that they are guaranteed a job as soon as they finish the program and receive the necessary qualifications.
"We like to know the caliber of the person and know that they have the lifeguarding skills we want them to have because they've done it in our program," Fisher said.
Andrew Castagna, a 17-year-old Steinert High School student, began taking courses at the club when he was 13, and has been lifeguarding there since he was 15.
"I feel that without this program I wouldn't have been able to become a lifeguard and I wouldn't have learned the skills I need to know how to swim," Castagna said.
At the club, Castagna helps train young swimmers and completes usual lifeguard duties such as cleaning the pool and overseeing the daily activities.
"I enjoy doing this," Castagna said. "Until my life takes me somewhere else, this is where I'll be for the rest of my summers."
Castagna works about 60 hours per summer at the swim club and he hadn't had to "make a save" until the fourth week of this year's program.
"The boy swallowed water and panicked so he began to go under water, so I jumped in and saved him," Castagna said. "It was different because I wasn't expecting it. I'm glad that the abilities I've gained throughout my years as a lifeguard allowed me to help out."
Fisher could only recollect one occurance in which a student went unconscious during her many years running the program. Twenty years ago, one of her students had a seizure while trying to swim three body lengths under water before rising above. She saw him try to grab for the wall and fail.
"Of course I was in the water immediately and went and got him. We gave him two breaths and he was breathing again," Fisher said. "It was taken care of so quickly that not many people even noticed what had happened. It was totally unexpected and that was the most serious thing I've ever seen or gone through."
Fisher is thankful that to this day her club has been operated smoothly.
"I like how this program is run," Lisa Brown said. "Dr. Fisher does a great job. She knows everyone at the club and takes pride in all of her employees."
Sports
,
Today
,
Community
swimming
bordentown cda
lifeguard