No sun needed for Hollywood tan

Aug 04, 2014 06:00AM ● Published by Scott Morgan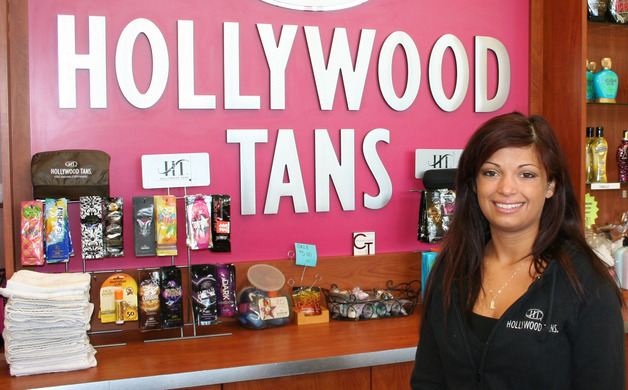 Hollywood Tans assistant manager Becky stands in the Bordentown store. (Staff photo by Lexie Yearly.)
By Scott Morgan
Here's a question you might have asked yourself—in places where there's ample heat and sunshine, why pay for an indoor tan?
For Tony Nardello, who owns Hollywood Tans Bordentown with his wife Vickie, the answer is simple: people who don't prepare their skin for being outside in the summer sun, he says, are setting themselves up for a world of hurt.

The first thing you will notice when you enter our salon is the clean and professional appearance. The atmosphere is bright, the staff friendly, your experience here is sure t... Read More
Nardello takes his own advice before heading to sunny locales. Before he and Vickie took a trip to the Mediterranean, he spent two weeks getting a base tan in his salon. He did the same before he went to California.
It's not a frivolous venture, he says, it's preparing the skin for the punishing effects of high-intensity sunshine.
"If you go to the beach for eight hours and toast, you'll get third-degree burns," he says. "You need a base tan."
Nardello recommends that his clients visit every other day for two weeks prior to when they know they'll be exposed to heavy sun. More frequently and they might damage their skin; less and they could be at risk for sunburn, he says.
That Nardello knows this and that he runs a business for those looking for tans is still somewhat of a surprise to him after seven years. In 2007, he finally listened to his daughter, Gina, who'd worked for the company's franchisors and kept telling her parents that it was a solid idea for a business.
She first convinced her mother. "And they ganged up on me," Nardello laughs. Other than when he was a kid working in a pizzeria and thought he'd maybe one day own one of his own, he never gave entrepreneurship a thought.
Nardello is a maintenance manager, which is his full-time job, despite that the salon is doing rather well, he says. Vickie is a retired home health aide who runs the day-to-day of the business while Nardello does the books and recordkeeping. Gina works for them once a month or so, helping her parents train new employees, but Nardello says she lives too far from Bordentown to make going there every day worth it.
Nardello says Hollywood Tans Bordentown, located on Route 130 just outside Fieldsboro, boasts the cleanest tanning facilities in the region, partly due to the salon's standing tanning stations. The salon has lie-down beds too, but standing tans are a popular endeavor.
Nardello says that in general, standing tans are more sanitary than tanning in beds, but the big draw for standing is no pinch points. In other words, if you're lying down and your skin folds, you'll get a discoloration. Even for avid fans of lying down, Nardello recommends a standing tan every few goes to help keep skin tone even.
Spray tans are, of course, a major draw for those who want to look bronzed but not subject themselves to UV light. Nardello says they're becoming more popular as more people become concerned over the long-term effects of frequent tanning.
Spray or traditional indoor tan, there are perks to membership at Hollywood Tans Bordentown. Members get lotions at 10 to 15 percent off, and if they buy four, they get a bottle free. Same goes for tanning sessions. And, if you're in a bridal party and all members of the party tan, the bride tans free. And it's all air-conditioned, so you don't have to sweat through a tan.
It's all part of the Nardellos' effort to keep customers happy, which Tony says is his favorite thing about running the business.
"You see smiling people and it's good to know we did that," he says.
Hollywood Tans Bordentown is located at 271 Dunns Mill Road in Bordentown. Phone: (609) 298-3302. On the Web: hollywoodtansbordentown.com.
Business
,
Community
spray tans
hollywood tans
indoor tanning