Anchor House riders pedal 500 miles

Aug 07, 2014 05:37AM ● Published by Lisa Zola DeLibero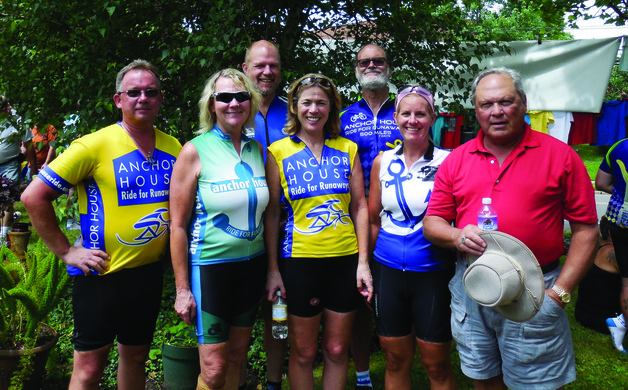 Seven Bordentown residents participated in the Anchor House Ride for Runaways July 12-19, 2014. Pictured are (front) Peter Downey, Mikki Quinn, Chrissy Brennan, Rebecca Busch, and Tom Csapo, (back) Paul Butterfield and Father Mike Burns.
By Lisa Zola-DeLibero
It's for the kids. Plain and simple. This is why the Anchor House Ride for Runaways participants ride their bikes almost 500 miles in a 7-day span from Lexington, Virginia to a warm welcoming celebration at Quaker Bridge Mall in Lawrence, making a difference with every mile and raising more than $517,000.
The annual ride, which first began 36 years ago, raises money for Anchor House, a shelter in Trenton for runaway and/or abused teenagers.
This year, seven participants hailed from Bordentown, each riding for a different reason and setting their own paces along the way.
Bordentown City resident Mikki Quinn, a 61-year-old grandmother and retired Trenton art teacher, saw firsthand what Anchor House has done for many of her students who needed a safe place to go to when in distress.
"I know the home situation that many of my students came from," Quinn said. "They knew that they were always welcome at Anchor House, even if it was just for counseling. No one is ever turned away. Lots of the teens may just be dealing with the typical angst. Some cases are much more serious, and DYFS needs to be called. No matter what the situation, Anchor House has been there for the kids day after day as the kids' safety net."
The ride began on July 13 after riders were transported to the Virginia starting point via buses from Arm and Hammer Stadium in Trenton. It ended on July 19, and for many of the riders, the ride was the best one yet.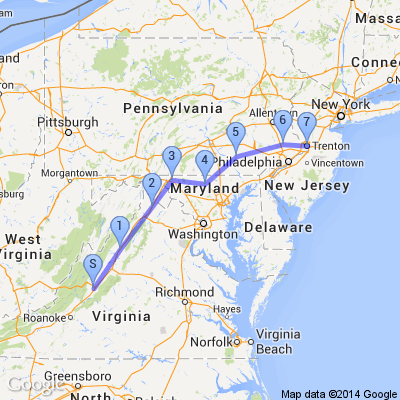 This map shows the route the riders took through Virginia, Maryland and Pennsylvania.
Quinn, who just finished her 12th ride, said the best part of this ride was the weather.
"The weather was absolutely beautiful the entire week," said Quinn, who most enjoyed the rolling hills and high corn fields of Amish Country in Lancaster. "There were areas that have been extremely hot, rainy, and just awful in the past, with water splattering up on us as we rode. This year though, the skies were clear and sunny, and the temperature was perfect. When I ride, I go at my own pace so that I can look around and breathe everything in. The ride becomes a part of my being—wake up, put on bike clothes, ride eight hours, shower, eat, sleep…repeat…for seven days."
The reason for this gift of wonderful weather? According to Quinn, it was because of Monsignor Rick Tofani—a friend of hers and of many of the other riders—who passed away recently.
"We all know that it was Rick who made sure that we would all have the best weather conditions on this ride," Quinn said. "On Wednesday, we all wore purple in memory of the riders whom we have lost over the years, and for our own personal losses. For me, I lost my mother this past year, so I felt that my mom and Monsignor Rick were riding with us."
Tom Csapo, Quinn's fiancé, drove his Chevy pick-up during the ride as one of the Rovers for his eighth year.
"After riding my bike for 15 years, I started driving to help everyone out," he said. "If someone has a flat tire that needs to be fixed, or someone needs to be picked up anywhere during the ride for any reason, needs a lift to the next site, or needs shelter due to an electrical storm, the Rovers are there for them. We will do anything, except deliver pizza."
Chrissy Brennan, a CPA and executive director of the Mercer County Bar Association and mother of son Tom, felt invigorated after completing her seventh ride this year.
"This was the most beautiful, perfect weather that any cyclist could want," Brennan said. "The ride was a very challenging 480 plus miles, with a lot of hills. But because we are a family of cyclists, supporting one another the entire week, it makes it much easier to complete."
Brennan, 51, heard about the ride years ago on WPST when she was growing up in Trenton. Though she left to live in Chicago, she eventually returned back to the area, set her roots in Bordentown, and was encouraged by a neighbor to do the ride.
"It is such a great, great charity," Brennan said. "Tom (Csapo), who is a very good friend of mine, encouraged me to do the ride. He knew that I had done some cycling for charity in London while attending graduate school there. I decided to do it, and have been riding with a wonderful group of women."
During the ride, Brennan ran into a bit of a problem with her bike. The support staff came by and was able to fix it, and then Paul Butterfield—one of the other Bordentown participants—and his fellow riders found Brennan and continued to ride with her the rest of the way.
Butterfield, a 57-year-old teacher at the Mercer High School for multiply handicapped children, has been a resident of Bordentown Township for many years. He just completed his 19th ride, after having to miss last year due to a scheduling change in his summer job.
"This year was like heaven for me," Butterfield said. "I started to ride because of a student of mine many years ago, who was homeless and who slept on the floor at the school. This is why I do this."
Butterfield met his wife, Barbara, at a ride 25 years ago. (There were four other couples who met their future spouses that year, too.)
"This past week, I rode with a couple that met 10 years ago, and are now married with kids, just like my wife and I and the other couples who met years ago this way," said Butterfield, who has a daughter Kaleen, a student at Rider University. "All of us who ride are like a family. We all help each other out. It doesn't matter who you are or what you are, everyone is part of the family. It is a tradition."
City resident Rebecca Busch started riding for Anchor House after she previously competed in several triathlons and found she enjoyed cycling. The 47-year-old mother of two has followed the articles about Anchor House, and said she always knew she wanted to become a part of it.
"I have met the most wonderful and amazing people through the ride," she said. "I have actually become extremely close friends with Chrissy Brennan, and she and I were roommates the week of the ride. Other than an 8-hour patch of scary rain, the rest of the trip was scenic with beautiful rolling hills. The people that we met along the way were really nice. We stopped at several churches where people supplied food and beverages for us. They were so kind and so gracious."
At age 46, Bordentown City resident Peter Downey, who works for Princeton Insurance company, just completed his 8th ride, one that he will always remember for the beautiful weather and the reconnection to all of the riders and support staff, who have become his friends over the years.
"When I was younger, my brother was working on a project for his Eagle Scout Badge and Anchor House was one of the places that showed up as a place to research," said Downey, who is also part of the Capital Singers of Trenton. "I thought at the time that Anchor House was a wonderful organization, and was reminded again some years later when I was at Quaker Bridge Mall during a welcome back ceremony. After that I knew I just had to do the ride. I have fallen in love with doing this every year. It is the most awesome thing I have ever done. I'm hooked."
The Rev. Mike Burns, 66, who will be celebrating his 24th year as a priest at St. Mary's in Bordentown, just completed his 19th ride.
"This year was wonderful and one of the best because the weather was favorable, and the ride was beautiful," he said. "We rode through woods and farmland with beautiful natural scenery. It was all very nice. When we came back, there were over 100 people welcoming us back as each individual rider had their name announced as they rode in on their bike. This ride is very important because there are so many children in crisis that don't come from loving, caring close families. Anchor House has changed many lives around, giving the kids of today hope."
Learn more about Anchor House on their website: 
anchorhousenj.org
Visit the official Ride For Runaways page at: 
anchorhouseride.org
Sports
,
Community
anchor house
trenton shelter
bicycles
cyclists
charity bike ride