Family of field archers finding success

Aug 18, 2014 06:46AM ● Published by Kyle Kondor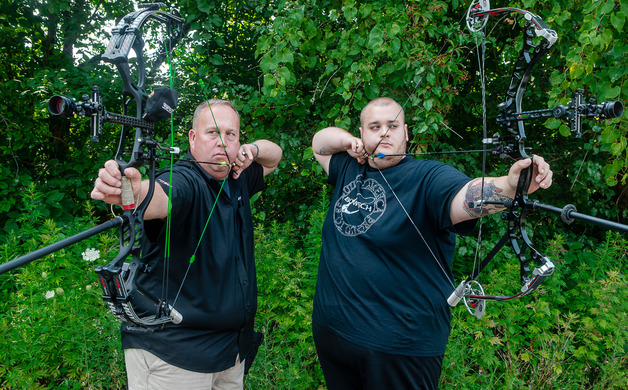 Vincent and Greg Mancini are accomplished archers.
By Kyle Kondor

When Greg Mancini was 3-years old, he'd watch his dad Vincent repeatedly shoot arrows out of his compound bow at a target in the backyard of their house in South Amboy, practicing for his next tournament.
When Vincent was done shooting, he would set up a chair and watch his son do the same.
At the time, Greg had no idea that he was doing something that he'd continue for the rest of his life.
Now, at 22-years old, the Bordentown resident has become one of the most accomplished young field archers in the state of New Jersey, having finished in third place amongst 200 competitors at the Bigfoot Open at the Black Knight Bowbenders in Jackson. The Bigfoot Open, which took place on July 12, is the state's largest outdoor archery event.
The event takes place outdoors, which isn't quite as popular as an indoor archery event, though the two are extremely similar. (The argument can also be made that outdoor archery is a lot more complex due to the distance of the shot and the amount of targets.)
The outdoor course at the Black Knight Bowbenders consists of 28 targets that range from 15 to 80 yards away from the shooting point. Each archer shoots four arrows at every target for a total of 112 arrows shot throughout the round. Each arrow is worth up to five points depending on the accuracy of the shot. At the conclusion, a shooter can earn up to 20 points at each target for a total of 560 for the entire course, though a perfect score is extremely rare.
At the Bigfoot Open, Greg Mancini shot a nearly perfect score and a personal best of 554 of 560, which outdid a handful of professional archers who competed against him. Greg's previous best of 548 is good, but it can be considered much lower than what he shot that day. He trailed only two other archers who shot scores of 556 on the day; one of whom was 40-year old Mark Pasmore of Bridgewater, the National Field Archery Association's Amateur Shooter of the Year.
"It's one of the best things that I've ever done," Greg Mancini said. "Not just in archery but in my entire life."
Greg has been winning competitions since he was 5-years old.
He's considered an up and coming archer by his peers, but he still has a long way to go before he can accomplish what his father has.
Vincent Mancini was drawn to the sport in 1982 by his brother-in-law, whom at the time was an avid hunter.
Vincent, 53, is a professional field archer, and earned that title after winning national championships in 1988 and 1989. Those titles are just a few of many that Vincent earned during his yesteryears as a field archer.
Right before Greg was born, Vincent's wife, Denise Mancini, also participated in local archery competitions, including the Atlantic City Archery Classic in the amateur women's division. Today she just shoots recreationally.
During the mid 1980s, Vincent Mancini opened up his own archery pro shop in South Amboy, but it wasn't long before he had to close up in January of 1992 due to lack of business.
Shortly after, Paul Sisz, owner of the Sportsman Center in Bordentown, which opened in 1972, contacted Vincent through a mutual friend who worked as a sales representative.
Sisz, highly aware of Vincent's expertise in the archery field, offered Vincent a managerial job at the Sportsman Center, and Vincent has worked there ever since.
"Archery pro shops aren't on every corner, so if you have a talent or a specialty like that, than you need to take advantage of the opportunities that present themselves," Vincent Mancini said. "I enjoy selling archery and ingraining some of the fundamentals into my customers, so I'm happy with the decision I made."
The job caused the family to move to Bordentown 17 years ago, just after Greg's younger brother Nick was born. Greg graduated from Bordentown Regional High School in 2010, and Nick graduated in 2012.
Nick also showed a lot of potential as a young archer, but chose to pursue hockey in high school and a career in personal training instead.
The Sportsman Center that Vincent has worked at for 22 years can be considered the hub of archery in the state.
At the store, Vincent is in charge of ordering all the new archery products and managing employees, including Greg. Both Vincent and his son make sales in the archery department and work as consultants, telling customers what's new and making sure all of their equipment is in good condition.
According to Greg Mancini, who's worked with his father since he was 16, other pro shops in the area come to their store for advice on archery.
The Sportsman Center has been running indoor target leagues for a couple decades now, and has also started an outdoor league; it now takes place at the Black Knight Bowbenders (it previously was held right outside the store). The indoor league typically runs from January until March; this year's outdoor league began on June 2 and was set to run for 12 weeks until the end of August.
Greg Mancini is the coordinator of this year's annual outdoor target league. The league consists of 36 archers who pair up to make 18 teams. The pairs are matched up head to head against another team on a weekly basis. The weaker team, which is decided based upon their point average from the prior weeks, receives handicap points at the start of the match so the teams are evenly matched, despite the possible differences in talent level. Some league members travel from an hour and a half away just to compete.
Jose Cuevas, 53, is an accomplished archer who's been a part of the Sportsman Center leagues for about 15 years now.
"The league is very competitive and a lot of fun to shoot," Cuevas said. "Greg does a great job running the league. It can be a pain in the neck for him because he's doing a heck of a lot of work just to make everyone happy."
Greg is in charge of scheduling as well as calculating all of the scores and standings. He runs the league purely out of passion, and receives no bonus money for doing so.
"I knew that Greg was smart enough to run the league but I never knew he was this organized," his father said while chuckling. "Whenever I try to help him with something I realize that he's already finished the task."
Cuevas has been a good friend of Vincent Mancini's for 30 years. In fact, Greg Mancini refers to Cuevas as "Uncle Jose."
"The Mancinis are a very hardworking family," Cuevas said. "I can compare Greg to myself when I was a younger archer because he's very determined to win but he knows how to deal with losing."
Cuevas and Vincent Mancini have partnered up and won several leagues in the past and continue to do so to this day, though neither of them were able to recollect the numerous amount of times that they've won the Sportsman Center's indoor and outdoor target leagues.
Vincent Mancini has shot outdoor scores of 558 in his lifetime, and he's also shot a perfect 300 on multiple indoor courses.
Vincent and Greg have also won leagues together, and one thing that Greg can certainly remember is the first time he defeated his father shooting against him one on one.
"I've been pretty into the sport since I was kid," Greg Mancini said. "But the first time I beat my dad was a turning point for me. It was an amazing experience."
Greg claims that this moment occurred two years ago and hasn't happened many times since.
"I can count on one hand how many times I've beat my dad," he said. "And when I do it's never by more than one or two points."
Now, Greg shoots 100 arrows a day six days a week on average in pursuit of one day becoming a professional archer. He earned an associates degree in business administration from Burlington County Community College in 2012, but his goal now is to try to follow in his father's footsteps, and continue to work at the Sportsman Center.
Sports
,
Community
field
archery
bow
arrow